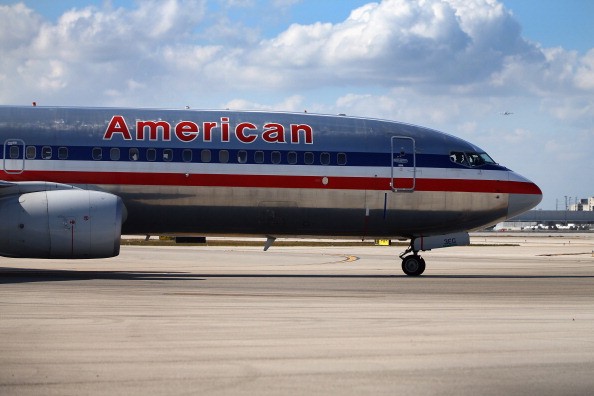 A walk-up bar, Bose noise-canceling headsets, menus that give you a choice of four entrees and several wine and liquor selections. Any of this sound goo to you? Well, American Airlines new 777-300 planes will be providing that type of luxury on overseas flights.
"You spend a lot of time on an airplane so we wanted to make sure the design and the finishes allow for a peaceful journey," said American's vice president of global marketing, Fern Fernandez. "We're in the business of transporting you from point A to point B, but we want to make it in a comfortable sort of fashion that puts you at ease."
American acquired its first 777-300ER in January 2013, and the company now presently possesses 10, with 10 more already ordered. These planes seat up to 310 passengers and travel from Dallas, Los Angeles, and New York to locations like Hong Kong, London, and Brazil.
Most importantly, however, American Airlines' fleet of 777-300s offers aisle access and lie-flat seats in both business and first class on each of the planes. New features like these now allow American Airlines to compete with United Airlines and Delta Airlines.
"If you're looking to compete with international carriers, you need these premium products," said Snyder, who experienced American's new 777-300 aircraft on a flight from Los Angeles to London's Heathrow Airport last summer. "I think it's a great product, and it's something they can build off of."
The 777-300's business class seats become flat beds and are 6 feet and four inches long, and the first class seats recline flat and are four inches longer than the business class seats. Two meals are handed out during overseas flights, which can be served at whatever time is convenient for the passenger, and there is also an extensive snack bar with numerous different selection options. Finally, all fliers have the opportunity to buy Wi-Fi connections for the whole flight, with access to power outlets and USB ports in their seats, and there are also hundreds of movies, television shows, and other audio content that can be accessed through the touchscreen monitors in each cabin.
"You can fly around the globe 15 times and not view the same content twice," said Alice Liu, American's managing director of onboard products and connectivity. "It's a great way to entertain our customers."
Whether passengers can find a movie they like or not, I doubt many will be complaining if they have the opportunity to enjoy the full perks of flying on an American Airlines' 777-300.
Photo by Joe Raedle/Getty Images