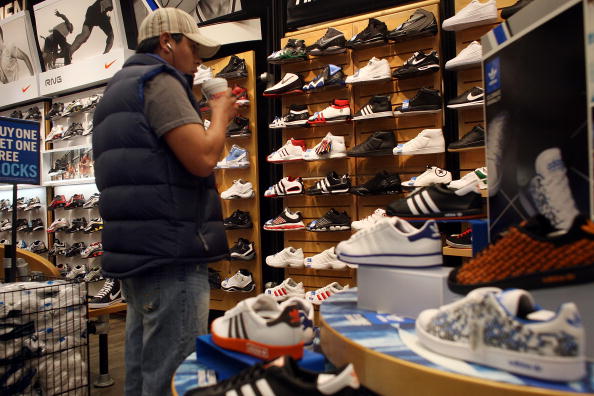 Almost everybody has at least one pair of sneakers. This popular style of shoe is worn either for sports or casual day-to-day wear. It is not an item most people would expect to spend a fortune on. However, some sneakers have sold for figures that have to be seen to be believed. Nike feature strongly in this list. The top fifteen most expensive sneakers ever are as follows:
1) Autographed Nike Air Jordan I – $60,000
In first place is the Nike Air Jordan I sneakers that are autographed by Michael Jordan. This unique pair was sold via an eBay auction.
2) Nike Air Force One by Prryya & Chinatan's Couture and Jewelry – $50,000
Rapper Big Boi received the generous gift of the gold and diamond adorned shoes from Atlanta based boutique, Laced Up. This is the most expensive pair of Nike Air Force One's ever known.
3) Autographed Kobe Air Zoom – $30,000
These are very rare sneakers, hence the price tag. Not only are they signed by professional basketball player Kobe Bryant, there were also only 25 of these shoes ever made.
4) Air Jordan I – $25,000
Originally red and black,the designer Peter Moore had to add white to the design after the NBA banned the originals. Their rules state that all basketball shoes must contain white in the design. There were only 12 pairs of these shoes, meaning they are very rare and highly coveted.
5) Air Mag – $25,000
Originally worn by Michael J. Fox and made famous in the 1989 science fiction film 'Back to the Future', Nike release just 20 pairs. It is this level of rarity that adds weighting to the value of these shoes.
6) Air Jordan V – $10,000
In 1990, Nike designed a special pair of these shoes for Michael Jordan with the number '23' emblazoned in black and silver. It features lace locks, a reflective tongue and a clear sole.
7) Air Jordan I – $8,000
1,200 pairs of this shoe were released for sale by Nike in 1985. The design consists of pearlized leather with metallic white and silver.
8) Air Jordan VI – $7,200
Jordan wore the carmine black and white version of these Air Jordan VI's when he played in the Dream Team for the 1992 Olympics. Customers buying these off the shelf could choose from five different color combinations and were the last sneakers with the Nike Air logo on them.
9) Gold Dipped Nike Dunks – $5,405
If you only want to look at your sneakers rather than wear them, then these gold-dipped Nike Dunks could be just the thing you are looking for.
10) Air Jordan III – $4,500
Tinker Hatfield replaced Peter Moore as Nike's designer and this is his first creation. When Jordan saw these shoes he decided to stay with Nike. He had intended to leave when Moore went.
11) Nike Dunk Low Pro SB – $3,500
The unusual and funky design of these sneakers makes them popular among collectors. However, as there were only 202 pairs made, they are difficult to come by.
12) Adidas KB8 Selection – $3,000
The Adidas KB8 Selection is the only non-Nike product to make it onto the list of top fifteen most expensive sneakers. This sneaker is named after Kobe Bryant and his shirt number. They were designed for Bryant to wear in the 1998 Slam Dunk contest and only two pairs of this sneaker, also called the 'Golden Shoe' were made. They were never worn as the contest was canceled. When Bryant left Adidas it was renamed Crazy 8.
13) Air Jordan XI – $2,700
First worn in 1995, Jordan wore these for two seasons and also during his role in the movie 'Space Jam'.
14) Air Force I Chamber of Fears – $2,500
These red, gold and black sneakers were released in 2005. Air Force I Chamber of Fears are no longer available to buy and can only be obtained by auction or as a giveaway item.
15) Air Force I Four Horsemen – $2,500
Only 12 pairs of this design were made. They were originally made for LeBrom James to wear at the 2004 ESPY Awards.
Image via Thinkstock