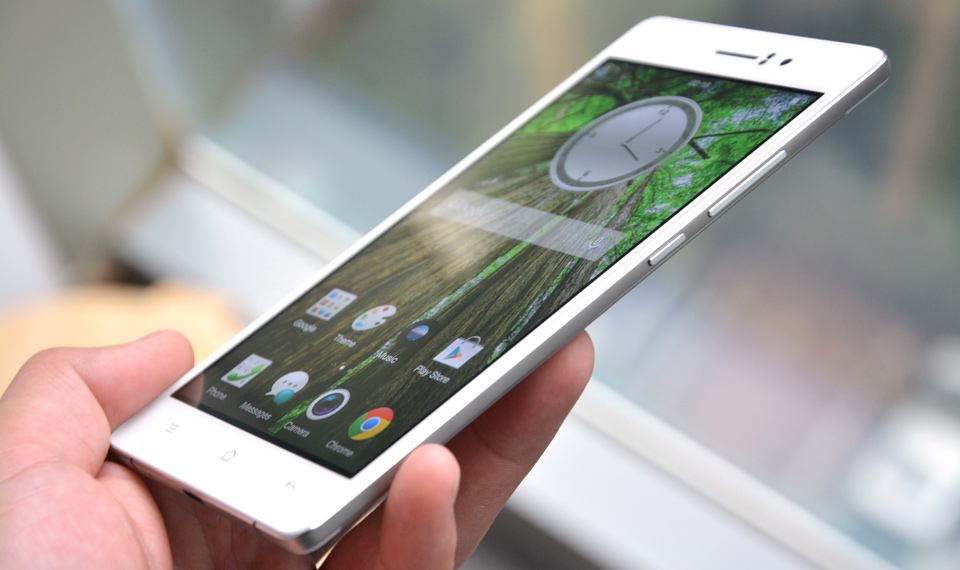 Chinese electronics and technology manufacturer Oppo Electronics Corp. has unveiled a 4.85 millimeter thick smartphone, the R5. The R5–the successor to the Asia-only R3–is the slimmest smartphone on the planet, beating out the 5.15 millimeter Gionee Elife S5.1 and the Kazam Tornado 348, which were both introduced towards the end of September. The R5 is so thin that it doesn't even have room for a standard headphone port, yet users will still be able to listen to music and carry calls through either a Bluetooth headset or the USB adaptor that comes with the smartphone. Oppo's R5 features a hand-polished reinforced industrial grade aluminum alloy micro-arc frame and case, interior thermal efficiency, a 5.5-inch AMOLED full HD touchscreen with 180 degree visibility, an octa-core Qualcomm Snapdragon 615 processor clocked at 1.5GHz, 16GB of storage, 2GB of RAM, and a 13 megapixel fast focus photo and video camera capable of filming in 4K. The world's slimmest smartphone is also 4G compatible and runs Android KitKat. The newest record holder is planned to go up for sale this December for just under $500.
Believe it or not, another Chinese electronics company is planning to unleash a handset that's even thinner. Vivo, a company notably known for being the world's first to introduce a handset with a Quad HD display, plans to introduce the estimated 4.75 millimeter thin X5 Max in the not too distant future–the smartphone was recently approved by China's Telecommunications Equipment Certification Center. But, as of now, Oppo's R5 holds the record for the slimmest smartphone in the world currently planned for release. According to Oppo's website, "In searching for a 'reason for being' for our R5, we challenged ourselves, put the pen away, and visualized the concept of what makes mobile technology amazing, and how we transform it for our purposes. We approach technology from where we want it to be." Based in Dongguan, Guangdong, China, Oppo Electronics Corp. is an electronics manufacturer founded in 2004 by Tony Chen. The company's major product lines include MP3 players, portable media players, LCD-TVs, eBooks, DVD/Blu-ray players, and mobile phones. Oppo's brand name has been registered throughout the world and even has an Oppo Digital Inc. operation based in Mountain View, California.
For more information on the world's slimmest smartphone, visit global.oppo.com and check out a recap video from the launch event of the company's N3 and R5 in Singapore last month.
https://www.youtube.com/watch?v=6tEVSoS2Vmk
Video by OPPO/YouTube.com
Photo by engadget.com