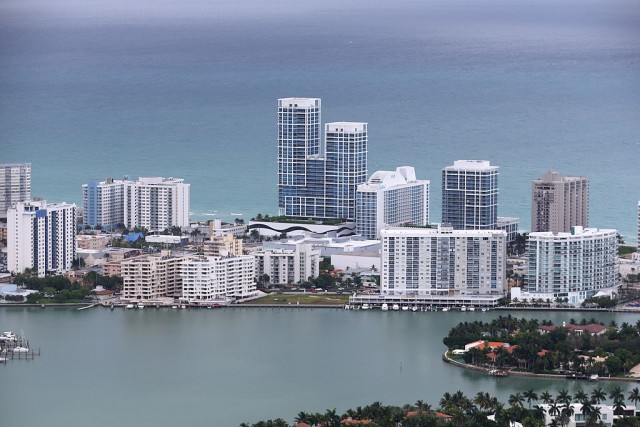 Dining in Miami is one of the most decadent things you'll do while in the city. With hundreds of amazing restaurants, it's often difficult to choose which are the best. Of course, choosing one with an ocean view is how many people go about deciding where to eat; and that's what works well. With so many fabulous ocean view restaurants from which to choose in Miami, we know that we will miss someone's favorite and that it is a highly personal decision based on your dining preferences. We, however, took the time to go through all the ocean front restaurants in the city to choose the best ones, and we have them here for you. Make your reservations now, because it's not easy to get into these restaurants with their amazing views and their decadent menus.
Smith & Wollensky
Sure, you can eat here in almost every major city in the country, but you won't get the oceanfront setting or the amazing sunset. With a patio right on the rocks, you're on an island that overlooks the ocean and downtown Miami, and you get to see the most breathtaking sunsets in the world sitting right here. It's everything that you want when dining oceanfront in Miami, and that is why so many people fight to make reservations here.
Rusty Pelican
There might not be another seafood restaurant in Miami with such expansive views of the Biscayne Bay and downtown Miami. You are so close to the water here that you might feel as if you need your swimsuit. The menu is more than stellar, the views so beautiful and the atmosphere so typical of Miami that you'll never notice you are on the bay and not the ocean.
Lido Restaurant and Bayside Grill
Located in Miami Beach, you are going to be hard pressed to find another spot with such a breathtaking water view. Clear blue water, a gorgeous deck with large umbrellas for shade and a menu that's to-die-for, you'll never want to leave. The Mediterranean menu is tropic and healthy, and it's located in the Standard Hotel.
La Mar by Gaston Acurio
Located in the Mandarin Oriental in Miami, this is not a restaurant with an ocean view. However, it is one of the best restaurants in the entire city, no matter who you ask. This is a restaurant with a water view, though, and that makes up for the lack of ocean. With impressive views of the Biscayne Bay and the Miami Skyline, you get more than just the best of both worlds here.
Red Fish Grill
If you want to practically sit right on the white sand beaches of Miami, this is the place for you. Technically in Coral Gables, it's close enough to Miami that you will never even notice you left the city. With tiny white lights decorating the trunks of dozens of palm trees, a gorgeous outdoor setting and ocean, ocean, ocean as far as the eye can see, you'll forget that you're there for the amazing seafood.
Photo by Getty Images