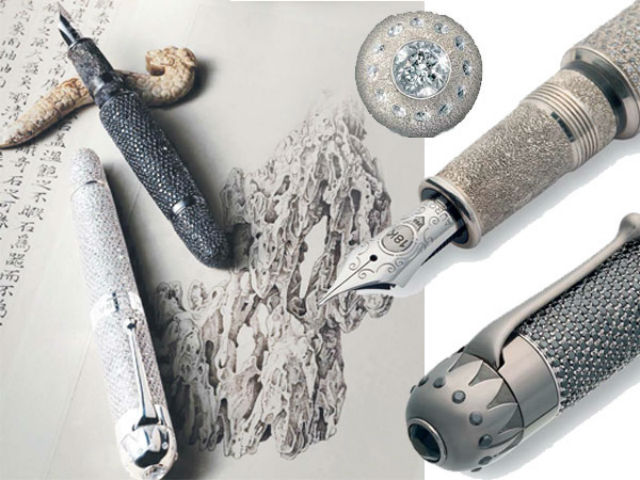 A designer pen is a staple in the briefcases of many businessmen and women. A quality pen speaks to a man or woman's seriousness, intelligence and importance in way many people don't realize. It's a great way to make an impression whether you're signing your credit card receipt at an upscale restaurant or signing a contract with a new client. Anyone looking to impress with a writing utensil will appreciate the five most expensive pens currently for sale.
Caran d'Ache Gotica Pen, $407,000
Even though the price tag is large for a pen, it's significantly less expensive and "sparkly" as the rest of the expensive pens on this list. This pen features six sides, each covered in blue enamel that was applied by hand. It's a collector's edition that features a 18k gold tip and it is sold in a handcrafted wooden case. There are just over 1100 in the world.
Limited Edition Mystery Masterpiece by Montblanc and Van Cleef and Arpels, $730,000
Both Montblanc and Van Cleef and Arpels are high-end designers and both celebrated their centennial in 2006. This coincidence prompted the luxury brands to join forces and create a luxury pen so high-end and so gorgeous that there are only 9 in the world. The 9 pens each alternate 20-carats in rubies, sapphires, and emeralds that weigh approximately 20 carats. There are an additional 840 diamonds on each pen.
Heaven Gold Pen, $995,000
Created by Anita Tan, this pen is made especially for the ladies. It's a lovely, brilliant shade of rose gold with 161 flawless diamonds. The pen also features a rare Tsavorite gemstone that is nearly 2 billion years old. There is 43 carats of this gorgeous gemstone in the pen. The price is almost a million dollars because of the rarity of these beautiful gemstones.
Caran d'Ache 1010 Diamonds Limited Edition Fountain Pen, $1 Million
This pen is perfect for a man or a woman. It's white gold and designed with 850 perfect diamonds. Each one is either brilliant, emerald or baguette style and the weight of the diamonds is just shy of 25 carats. Designed to look like a cage of some sort, there are the 18k gold tip is made to allow ink to flow seamlessly onto paper.
Aurora Diamante, $1.47 Million
When a pen is constructed of diamonds from De Beers, it's certain to be a blinding beauty. With a total weight of more than 30 carats, this brilliant pen is the only pen in the world with so many diamonds. The tip is made of 18k gold and features a rhodium treatment to keep it looking flawless forever.
Photo Source: Luxpresso