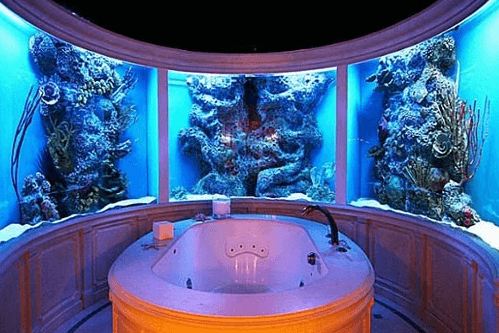 For lots of people, having a home aquarium is nothing more than a simple hobby. After all, most people are much more interested in having furry four-legged pets, and there is only so much time and money that they are willing to invest in a fish tank. However, for others, a beautiful home aquarium is a source of pride, and is something to be taken very seriously. They see the creatures in their aquarium as much more than pets, and they're all about coming up with the move eye-catching and lavish designs. Although you may think home aquariums are a joke, you'll probably change your mind after seeing this. Here are the 20 most lavish home aquariums in the world.
image via cityaquarium.blogspot.com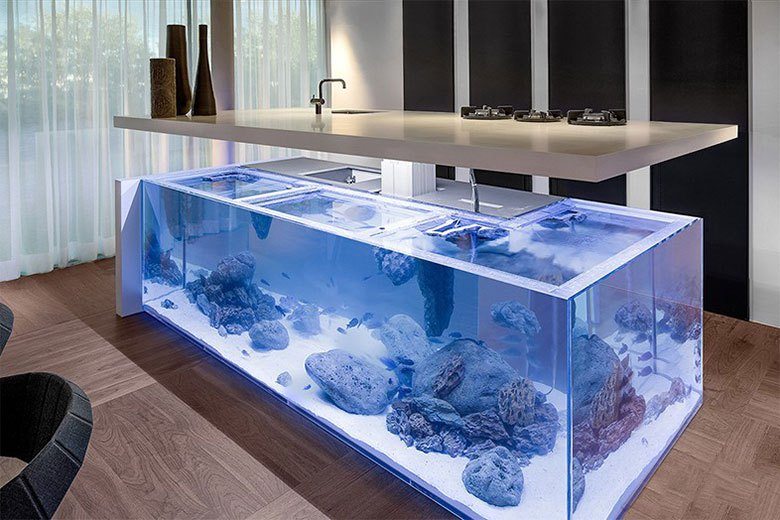 Having a fish tank in your kitchen isn't all that uncommon, but having one like this certainly isn't something you see every day. This beautiful home aquarium takes the idea of having an island in your kitchen to a whole new level. Built directly into the base, this salt water aquarium is certainly one of a kind.
image via hypebeast.com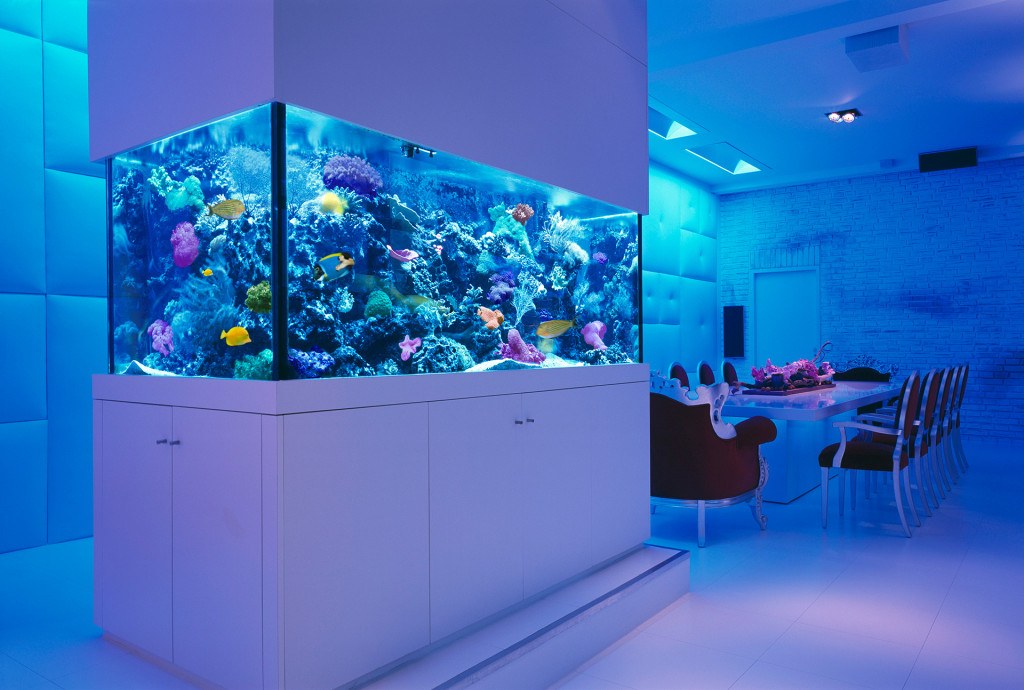 Sometimes simplicity is key, and this custom home aquarium manages to keep it simple while still being lavish and attractive. Unlike many home aquariums that are built into the wall, this one is built like a pillar which allows for viewing all the way around.
image via www.aquariumwall.website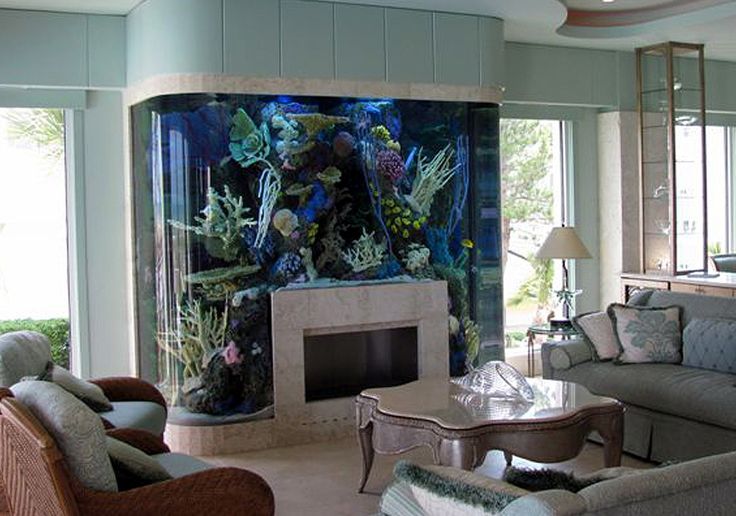 Lots of people take pride in their fireplace's mantel, but there aren't too many people who can say they've got one like this. This home aquarium, built directly on top of the fireplace, is extremely creative and unique.
image via digsdigs.com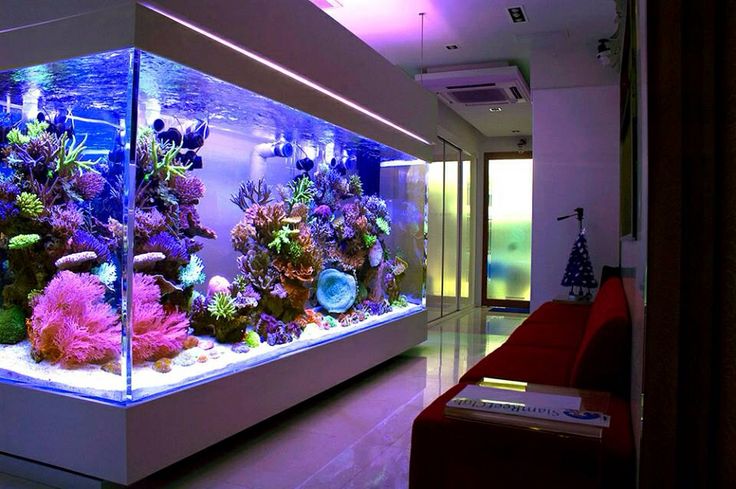 This custom reef aquarium is all about putting some of the most beautiful sea life on display. With a nearby couch for optimal viewing, this approximately 300 gallon tank is perfect for a sea life lover with lots of cash to invest in an aquarium.
image via https://www.pinterest.com/explore/reef-aquarium/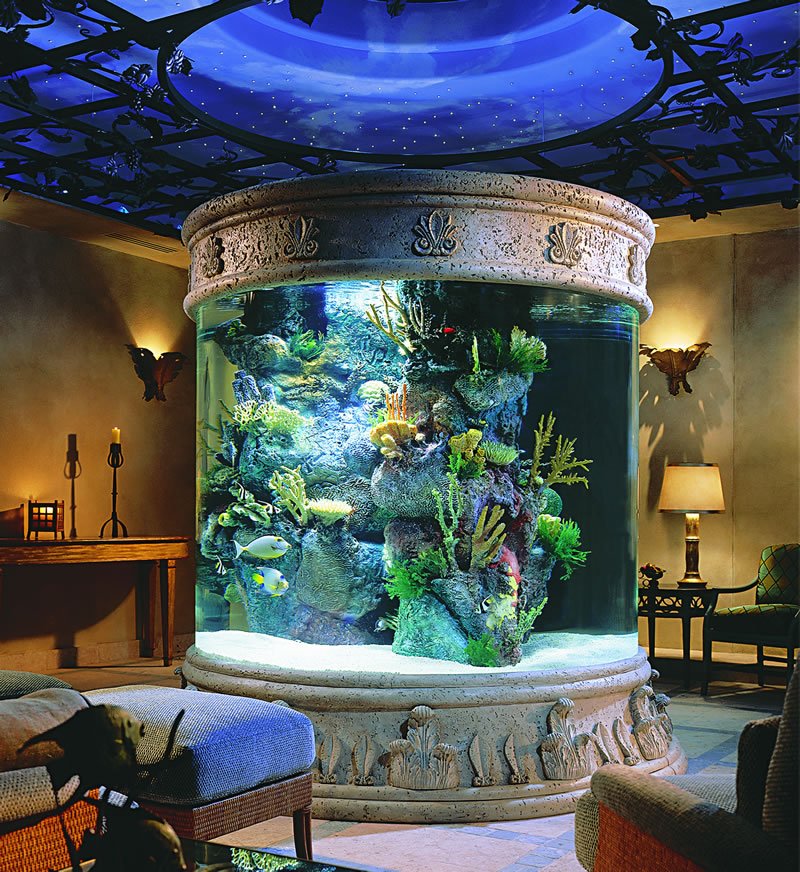 Most aquariums, home or otherwise, tend to be square or rectangular.  However, this custom circular aquarium takes a different approach with its column-like build. Coming home after a long day at work might be a little better when you can sit down in front of this grand aquarium.
image via www.home-designing.com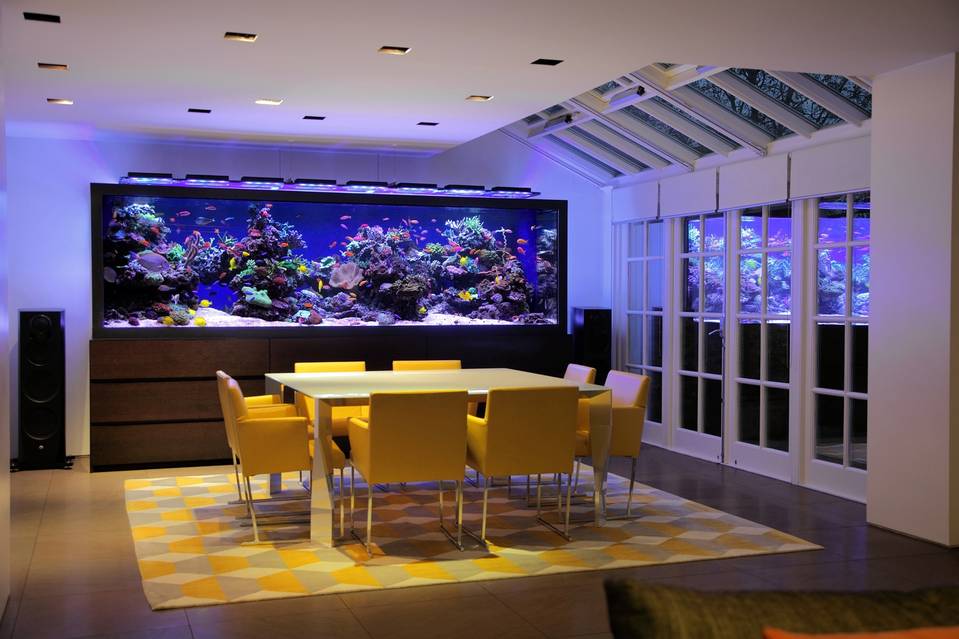 This $1 million home aquarium almost has the appearance of a very large flat screen TV. Built next to the casual dining area, this salt water tank is a great way to impress dinner guests. Who needs to watch a favorite show during dinner when you can look at a tank like this.
image via www.wsj.com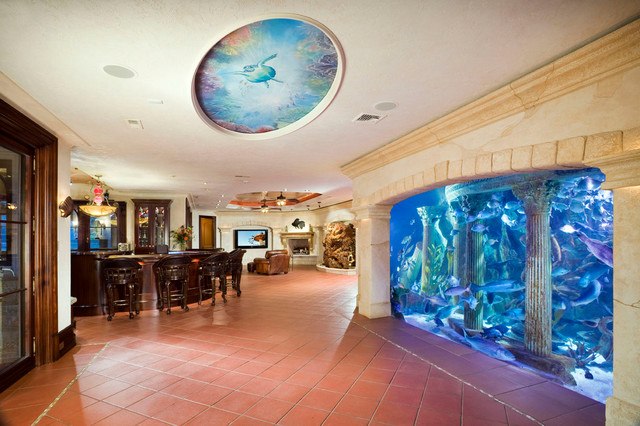 If you're going to do something, you might as well do it big, and that's what this design is all about. Borrowing its theme from Mediterranean architecture, this home aquarium takes up an entire wall with its grand appearance.
image via houzz.com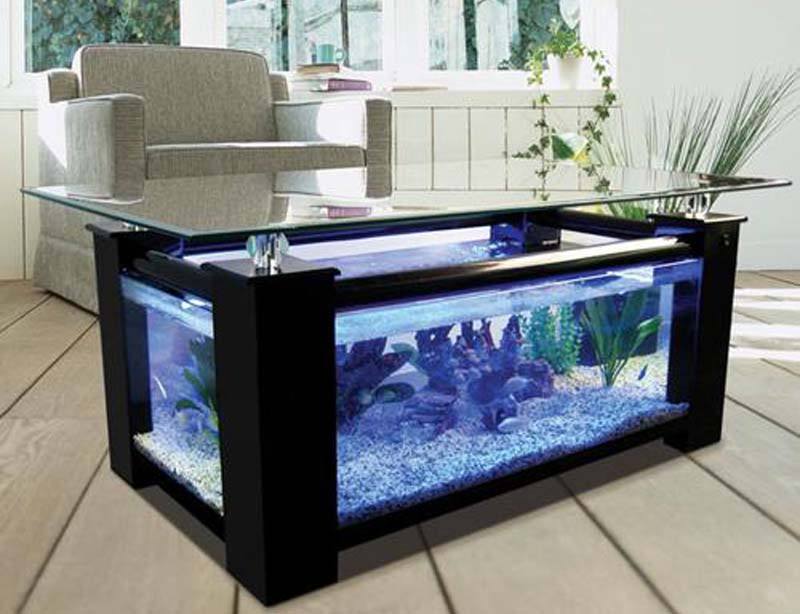 A coffee table is probably the last place that most people would think about for building an aquarium. However, this unique design proves the anything is possible. It also remains practical by still managing to be a useable table.
image via idealhomeinterior.com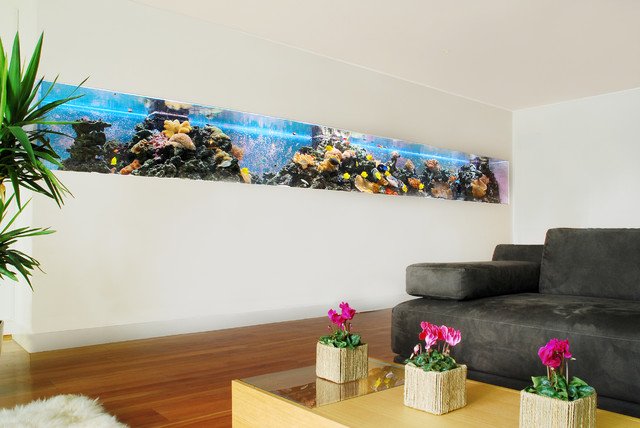 This approximately 300 gallon aquarium is the perfect touch to this modern living room design. It's noticeable without sticking out, and provides the space beautiful pops of color and a little bit of extra light.
image via home.fang.com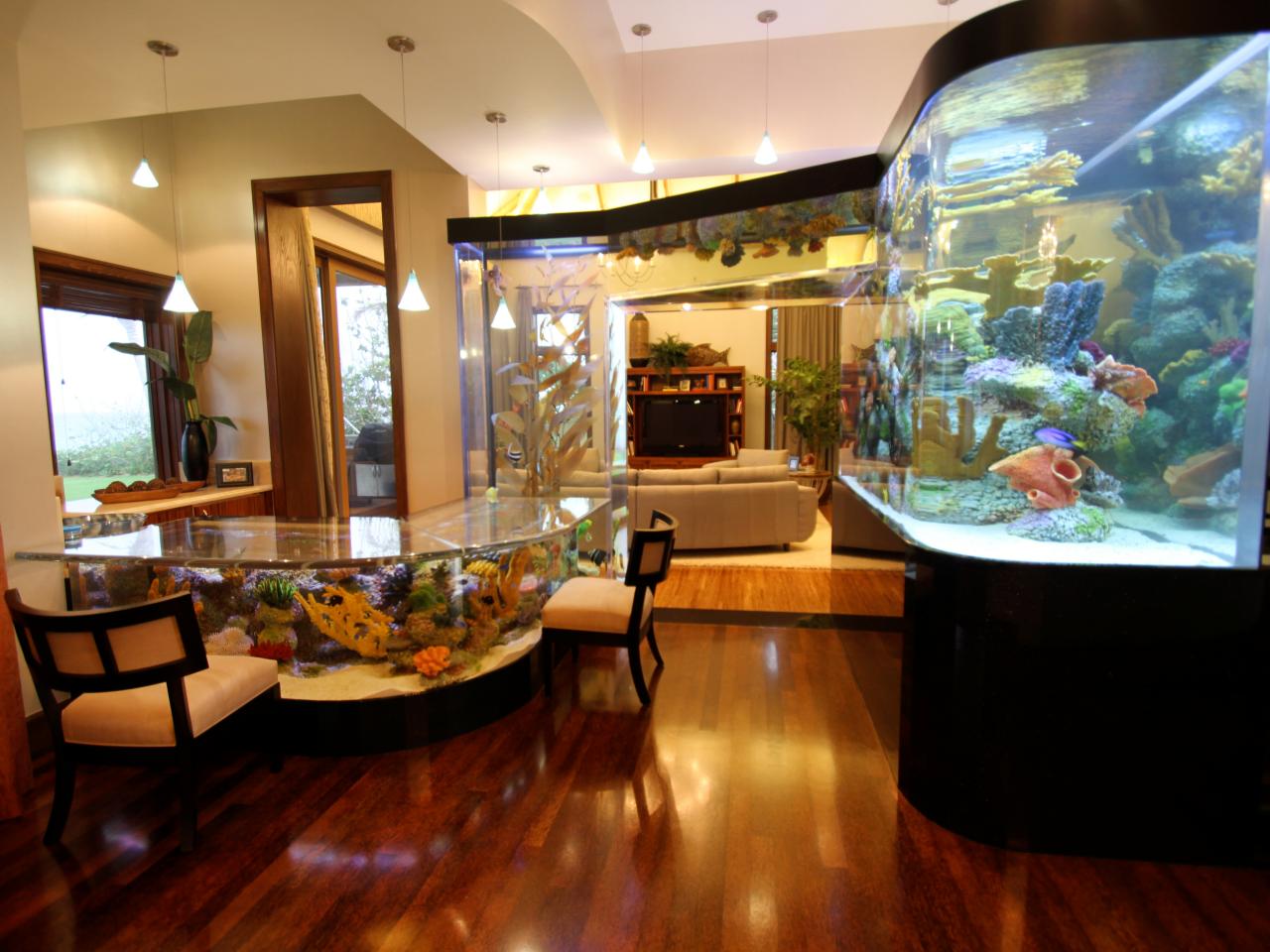 This $2 million dollar aquarium is unbelievable. Extending from the bar, all the way across the other side of the room, this design is almost everywhere. While most people will probably find this a little over the top, those who love lavish aquariums can't help but admit that this is pretty cool.
image via hgtv.com

Why build an aquarium in the wall when you can build it into the ceiling?  If you love aquariums than this is one that will certainly appeal to you. Replacing what could have been a traditional sky light, this modern home aquarium is all about pushing the limits to provide an unforgettable experience.
image via modernhomedecor.eu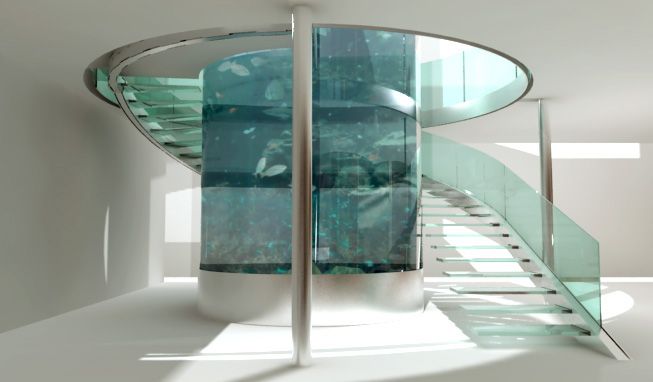 One of the keys to luxury is creating something beautiful in a space that may have otherwise gone unused; this large aquarium does just that. Built into the center of this staircase, this sleek circular aquarium adds an even more lavish look to this mostly glass design.
image via www.rsfmagazine.com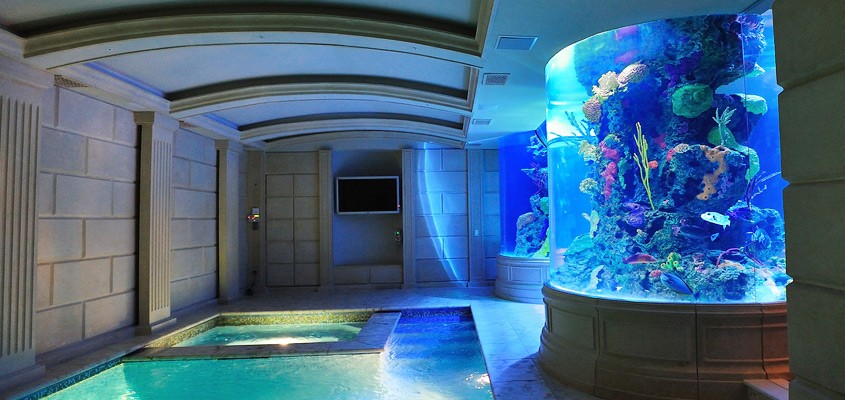 What better place to admire your aquarium than the pool or the hot tub? If water is your thing, this incredible design will be right up your alley. This large salt water aquarium boasts a two column design and  a large stone base.
image via www.customaquarium.com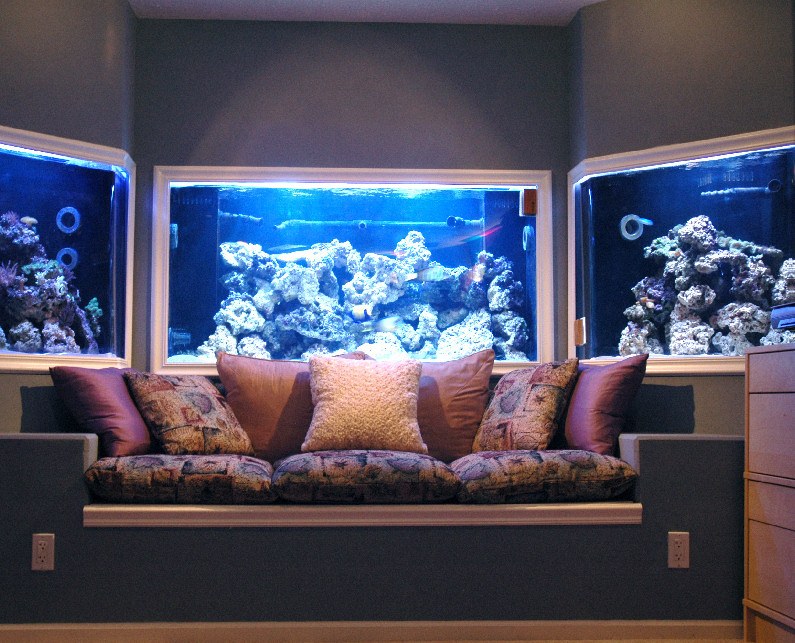 Custom built to cover all three sections of the wall, this home aquarium takes a casual, yet beautiful, approach. In a space that can be used as a reading nook, people can also enjoy looking at their favorite fish and sea creatures.
image via www.homeremodelingspringtexas.com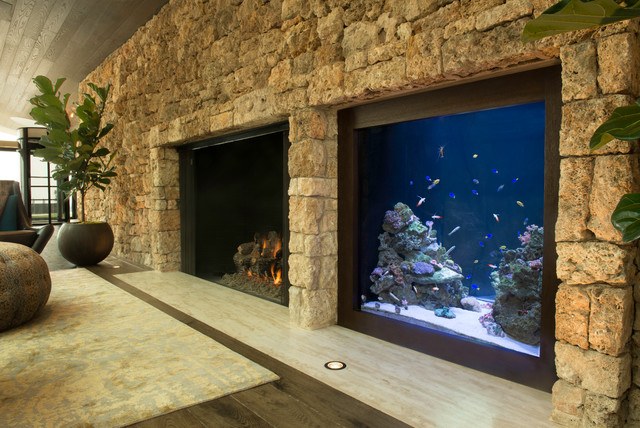 Imagine walking into your living room every day and seeing something like this. This 400 gallon living room fish tank is simply amazing. Built next to an oversized fireplace, this design makes great use of stone and wood.
image via https://www.pinterest.com/savinobabe/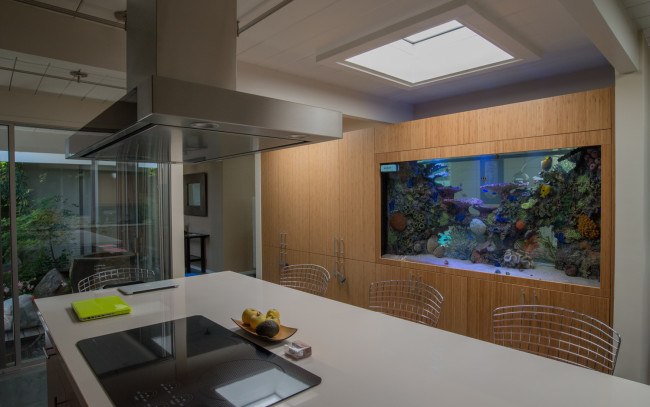 If you're looking to add some color to your kitchen, an aquarium might just be the answer. This seemingly simple kitchen aquarium is all about blending in with its surroundings. Built into a wall of wooden cabinetry, this design doesn't call much attention to itself, but it's still very worth noticing.
image via www.midwestcustomaquariums.com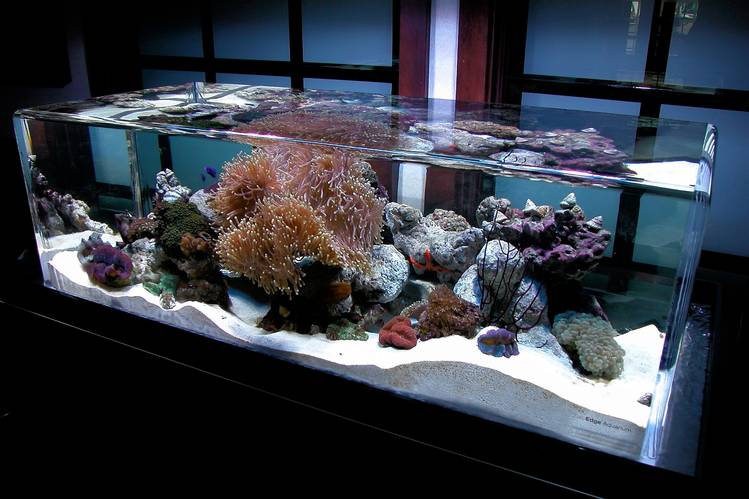 This beautiful custom aquarium may have cost $1 million, but it was definitely worth it. Completely glass all the way around, this design was created by Zero Edge, and takes the idea of a typical aquarium and turns it into something smooth and futuristic. This set up is perfect for people who don't want to stray too far from the traditional design, but still want to have something uncommon.
image via sixgig.com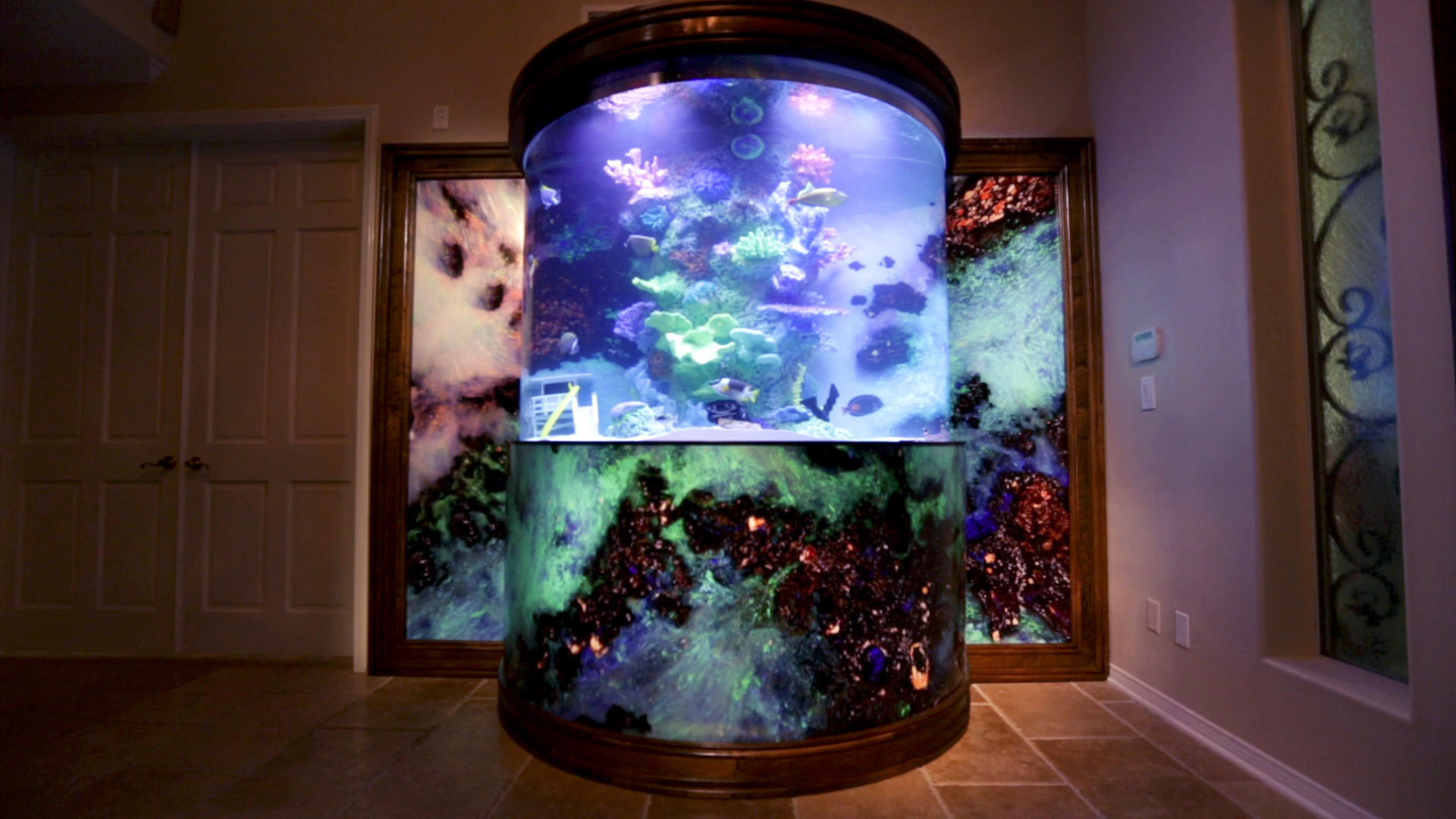 This custom aquarium belongs to none other than Baywatch star, David Hasselhoff. According to Hasselhoff, "I wanted bright fish that I could strike up a relationship with. Specifically, sharks and fish that have great personalities that would know you." He also says that designing and owning the tank has been a very calming and spiritual experience.
image via animalplanet.com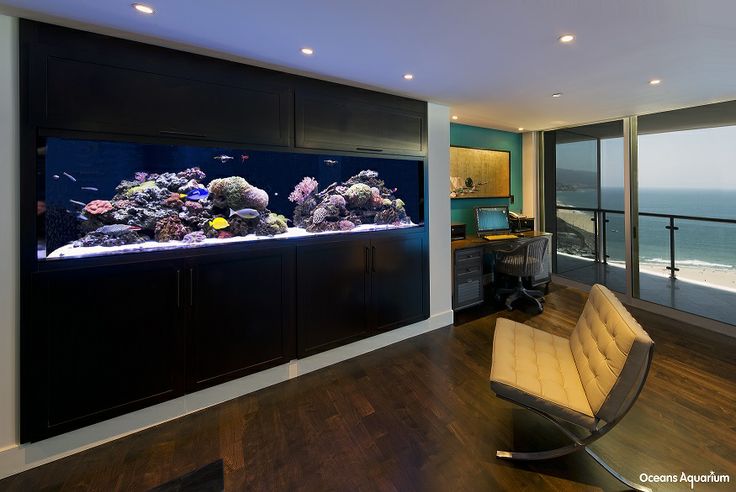 This 300 gallon custom acrylic tank has a subtle design that blends well with this casual and laid back living space. The way tis tank is built into the black paneling also gives it the appearance of a very large picture in a frame.
image via https://www.pinterest.com/oceansaquarium/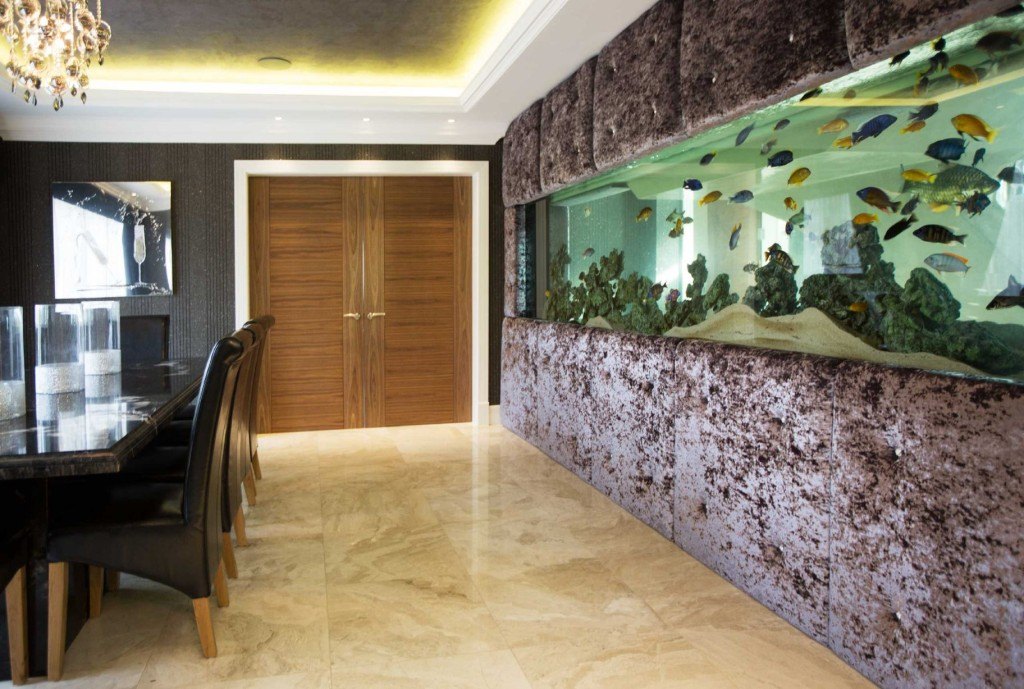 Located in a home in Cheshire, this lavish aquarium is built directly into the dining room wall. Its unique stone appearance will draw guests' eyes immediately toward the fish, and hosting holiday dinners will certainly come with an added bonus.
image via www.aquariumwall.website