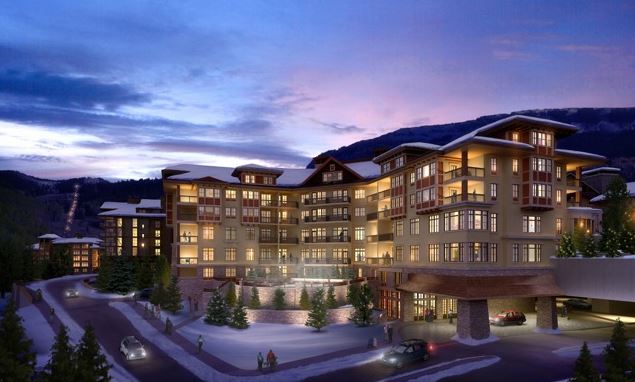 The Little Nell is what you might call amazing. It's the only hotel in Aspen to have not only a five-star hotel rating, but also a AAA Five Diamond award, as well as a Forbes Five Star rating. If that doesn't show you just how amazing this hotel is, nothing really will. When I think of Aspen, I think of celebrities and their winter vacation location. I think of skis, big black SUVs and designer boots and scarves propped up next to luxury fireplaces while hot toddy's and red wine are poured into glasses very generously. I think luxury, and The Little Nell might not sound as luxurious as something like the Four Seasons or the St. Regis, but that doesn't mean it can't hold its own.
For only $995 per night during the off-season (starting price, I might add) you, too, can experience the most amazing hotel in the entire city of Aspen. Let me just tell you that you want to visit this location. You want to know what it's like to feel like the most important person in the city, and nowhere else you visit will make you feel that way other than The Little Nell. Even if you're just here for a meal at one of the most amazing restaurants or a massage at the spa, you are the most important person here. What I love so much about The Little Nell is that you're family; it's the most prestigious hotel in Aspen, but you never feel over-crowded and the hotel itself never looks like it is teeming with guests even when it is at capacity. It's gorgeous, and there's nothing more important.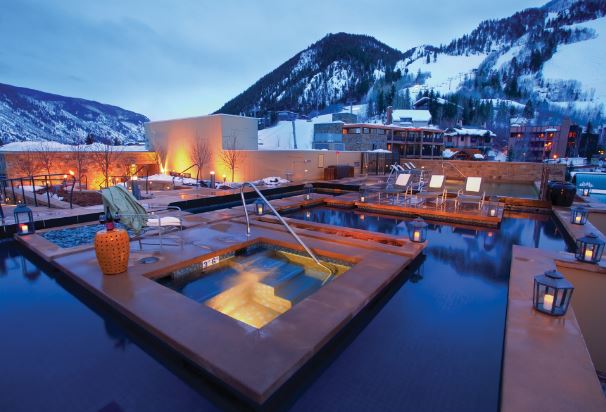 History
What you will notice first and foremost about this hotel is that the staff is very proud of its history. The hotel itself was built in 1989, which makes it fairly new in some circles. However, the site on which the hotel was built is one of the most prominent in the land. Before it was a luxury hotel with a world-class reputation, the land on which The Little Nell sits was an Indian hunting ground. It was also a railroad depot at one point. It was a bar at one point, and it was a pasture long before that. You'll find that the hotel is quite proud of all that its land had to offer in the past, and that does make it quite special.
When the hotel was built, the owners decided then and there they wanted to make it a retreat for the world's rich, famous and important. The good news is that the hotel doesn't view only dignitaries and celebrities and politicians and business owners as important; anyone who walks through the front door of this gorgeous hidden gem is considered a VIP guest no matter their fame or fortune. It is what sets the hotel apart from any other location in Aspen – you are always going to want to spend your vacation at The Little Nell being treated like a celebrity.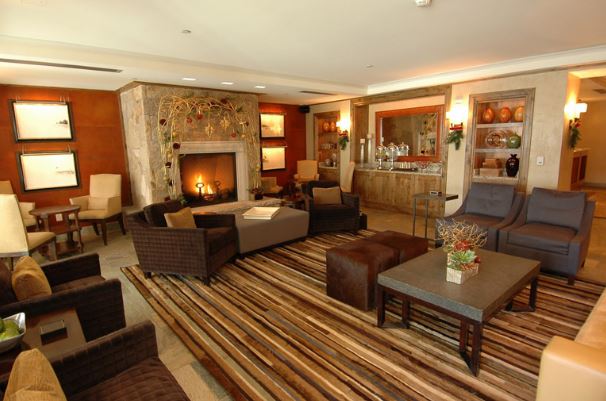 Features
One thing that The Little Nell features that not every hotel in the area does is the many features that you might not expect. For one, this is a hotel with several amazing restaurants (we will get to that) but it boasts the ability to walk to more than 80 different restaurants. Additionally, the hotel offers many different custom bikes on which to enjoy the many nature trails. If you are a dog lover, you can bring your pet to The Little Nell and find that it's treated just as well as you. You need only keep your dog on his or her leash, but you can do anything else you want from order a special dog bowl to gourmet room service dog meals to special menu selections for the discerning dog.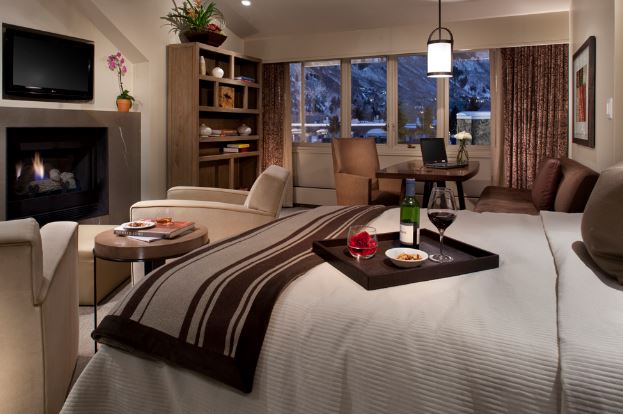 For the business minded or those looking to throw a gorgeous event, you'll find that the banquet rooms hold as many as 350 guests, and Wi-Fi is included in your room and visit. Now that's something that you cannot find just anywhere you go in Aspen.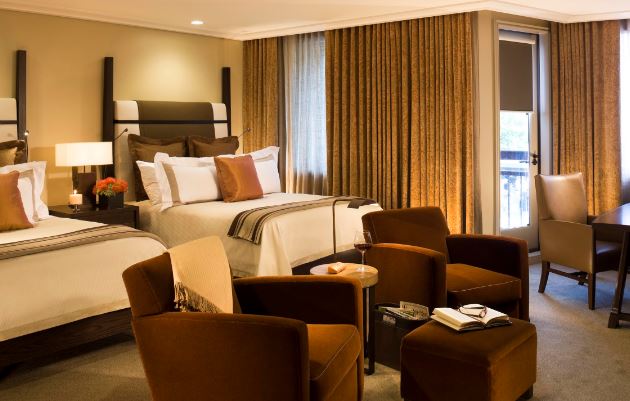 Amenities
Element 47 and Ajax Tavern are the two onsite restaurants at The Little Nell, and both are spectacular. Element 47 is all about fine dining and an extensive wine list. It's named after the silver found in the area, and it's open for all three meals every single day. Did we mention it is the only restaurant in Aspen with a Five-Star restaurant award? That should speak volumes to the level of service and decadence you are certain to find here.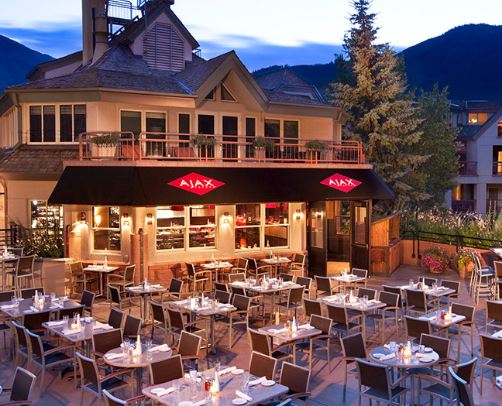 If you're here when the weather is beautiful, you can sit outside on the gorgeous deck and enjoy a meal. It's nothing short of beautiful with mountain views, fresh air and everything you've ever wanted in life. it's glamour epitomized, but it's also casual enough to ski right into. The atmosphere here is unbeatable. It picks up at lunch and parties into the night in the most elegant but casual manner imaginable. There is also room service at the hotel, and three bars perfect for cocktails at any point during the day. With fireplaces, picture windows and gorgeous views, there is nothing here you won't fall madly in love with.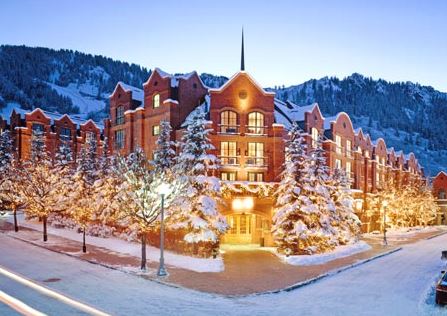 One of the other most amazing amenities here is the spa. It's gorgeous, it's upscale and it's more than just a little bit relaxing. It's everything you ever wanted in a spa experience, even if you are not a guest of the hotel.
No matter what you want to do, whether it is take advantage of the ski-in, ski-out atmosphere or just revel in the beauty of asking the concierge to set up a hot air balloon experience, a round of golf or a horseback riding adventure, you'll find it here.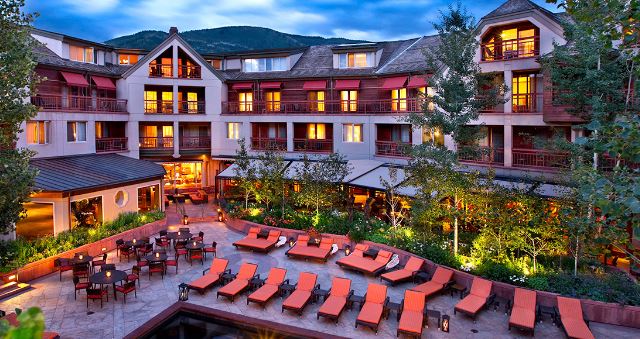 What Sets The Little Nell Apart
We've already mentioned the staff's level of appreciation for every single patron of this hotel. But did we mention that every single room here is beyond everything you could imagine? It's all rustic glamour, perfect for a mountain town in the west. It's high-end amenities and upscale décor. It's comfortable, but elegant; and that's what people want.