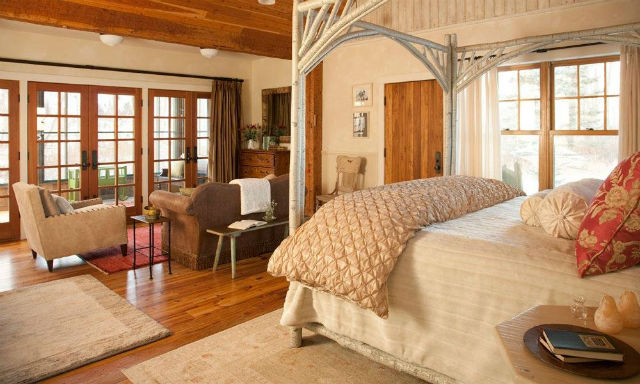 Not all luxury resorts are beach front getaways overflowing with fruity umbrella drinks and tan bodies. Some luxury resorts are nestled among the mountains, amid lakes and forests and wildlife. The Ranch at Rock Creek, located in Montana is one of the most breathtaking resorts in the country. This upscale resort features high-end accommodations, privacy, five-star dining and the ability to live life in the wild while enjoying the feeling of relaxation.
Accommodations
The Ranch at Rock Creek is what true luxury travelers refer to as glamping; the accommodations are five-star all the way, but the idea of camping is there. From roasting marshmallows in gorgeous fire pits to fly fishing on the lake and hiking in the mountains, this is a "glampers" paradise. The rustic cabins feature nothing but the best in terms of amenities. From flat screen televisions to marble baths, each cabin is uniquely your own and completely upscale.
Activities
Outdoor living is the way of life in Rock Creek. Guests of the resort will enjoy a variety of amenities that include everything from fishing to fires and everything in between. Guests can choose from horseback riding through the mountains, target-shooting, fly-fishing, hiking, mountain biking and even wildlife viewing. There is no shortage of entertainment for those who love the outdoors. There's also a children's club, a saloon and a pool and Jacuzzi. A stagecoach might be the perfect way to ride off into the sunset for a little romance.
The Spa is a beautiful place to spend a relaxing day. Each of the specially trained staff is capable of creating a relaxing atmosphere as well as high-end spa treatments designed to help transform your body from the outside in.
During the winter, the hotel transforms into a winter wonderland complete with skiing and other winter activities. Cozy up and enjoy the beautiful weather year-round when you're at Rock Creek.
Dining
Five-star dining is what Rock Creek is known for. The Dining Room is everything you'd expect of a high-end mountain restaurant. With dark wood paneling, custom made seating and a glowing fireplace, there's nothing missing. The menu is world-class, the wine list extensive and the full bar waiting for you to relax. The Blue Canteen is a great place to sit with a cup of coffee or a glass of wine while the sun rises and sets. Room service is available for all.