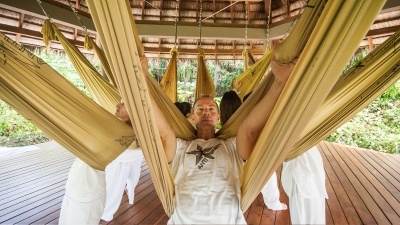 The antigravity yoga experience is one that has people crazed. Yoga lovers everywhere are dying to try this new form of yoga that defies gravity. It's great for your body, mind and spirit and it's a big draw for people who are traveling somewhere that it is offered. Now guests of the Four Seasons Resort in the Maldives can enjoy Christopher Harrison's new antigravity yoga experience when they come to visit.
The Four Seasons added, in the middle of their jungle setting, a hexagon-shaped gazebo in which guests can enjoy this new yoga experience. It's designed to offer peace and make guests feel good about their body and their time in the Maldives. The class is for guests 16 and up, and it uses hammocks built into the ceiling to allow guests to experience the antigravity motion of each pose. The hotel says that the experience releases happiness and feelings of joy that are from the feeling of flying.
Christopher Harrison personally went to the spa to train employees to properly teach this class. "It is about reconnecting the body and mind, and rediscovering balance – a process that is accelerated by the incredible natural surrounds of Landaa Giraavaru," says Harrison of the experience.
The Spa Director at the Four Seasons, Sandie Johannessen, says, "AntiGravity Yoga is new, exciting, incredibly beneficial, and aligns perfectly with the Landaa philosophy." She goes on to explain that it's a fun way to work out and that it leaves people feeling really good about themselves. It's part of the reason the spa chose to incorporate this new location and class into their resort. Now that the antigravity yoga location is open, guests of the Four Seasons resort in the Maldives can enjoy their time working out, relaxing and unwinding while they visit the resort in this gorgeous setting.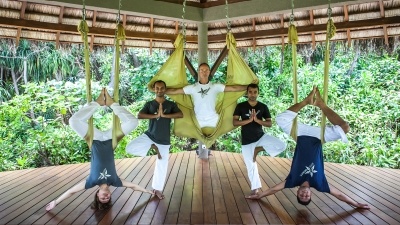 Photo Source: Four Seasons