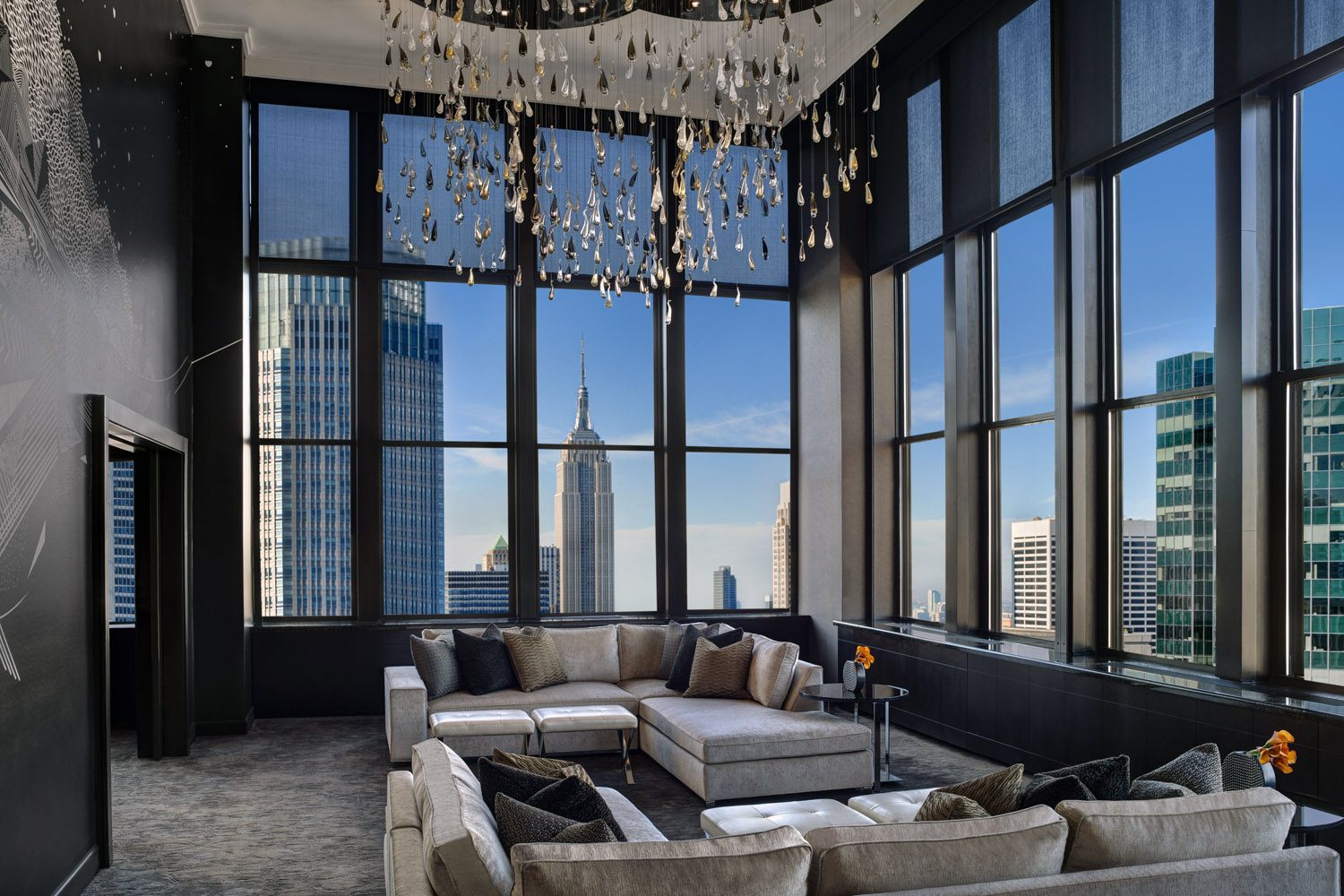 Designed by notable New York-based design firm BBG-BBGM and led by interiors partner and principal designer Amy Jakubowski, Dom Perignon hotel Suite was recently opened at The New York Palace in the heart of New York City. Rates for the suite begin at $25,000. With a design inspired by Dom Pérignon, the Champagne Suite includes a Modern Art Deco design, two beds, the ability to accommodate six guests, 5,000 square feet of space over three floors, and a view of St. Patrick's Cathedral and the surrounding New York City skyline.
According to the New York Palace's Champagne Suite website, the Champagne Suite "is among the most luxurious accommodations in Manhattan, inspired by the exquisite taste of luxury champagne."
A backdrop of warm black and bronze tones, a Nouveau Nero polished marble foyer, rustic Italian stone textured walls, carefully curated art–including a 29-foot-wide mural by French artists Alex et Marine–and a shimmering crystal pendant chandelier add to the luxurious champagne theme.
Other features of the $25,000 hotel suite include a 10-seat formal dining room with hewn woods and polished finishes, a fully stocked wine cave, a winding marble staircase, a fully stocked cocktail bar, iPad climate and window controls, walk-in closets, a master bedroom suite with a Chardonnay color story and a double queen guest room covered in shades of Pinot Noir and rosé, each with its own bath.
The library–which also doubles as a tasting room–provides a comfortable and rustic sitting area for wine tasting and socializing. The third floor, which can be reached by a private in-suite elevator, features a second sitting area with a wood burning fireplace, a pantry, and a rooftop terrace with a custom-design waterfall spa.
Not only does the Champagne Suite feature all of the above-mentioned luxury amenities, but it also offers high speed wireless internet, house car drop-off service, nightly turndown service, 24-hour room service and housekeeping, maître d'etage service, multilingual concierge service, and packing and unpacking services.
Visit the Champagne Room's website for more information or go to newyorkpalace.com to book a stay.





Photos by CNNMoney