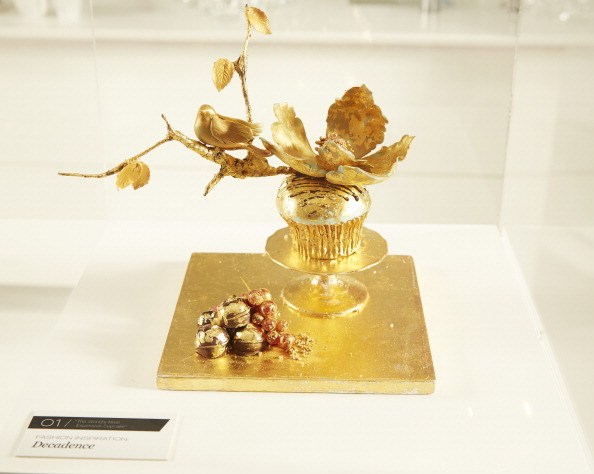 For anyone who knows me, I'm such a steak and potatoes guy that it's not even funny. And although I'm currently on this vegetarian tip for Lent and counting down the days until I can enjoy a nice, juicy filet mignon, there are some meals that I couldn't enjoy even if I wanted to.  That's because there are actually meals out there that are a heck of a lot more expensive than the $40 steak that I'm going to enjoy Easter night—and these are some of them.
5. Margo's, White Truffle and Gold Pizza – $2,420
While it may seem ridiculous to pay $30 for a gourmet pizza these days, try over $2,400 for one! That's what you'd do if you ordered the white truffle and gold pizza from Margo's in Malta. Forced to order a week in advance, the pie is made with truffles that are flown in from Piemonte, then topped with organic water buffalo mozzarella and a 24k gold leaf. Sounds delicious—but for that price, one can get about 245 Domino's pizzas.
4. Fleur, FleurBurger – $5,000
As mentioned above, I love me some beef, but there's no way I'd pay $5,000 for a piece of it. For those who would, though, there's the FleurBurger at Fleur in Las Vegas. Made with mouthwatering Kobe beef, it's topped with seared foie gras and truffles on a brioche truffle bun. That sounds great and all, but the dish also comes with a bottle of 1995 Chateau Petrus and two crystal stemware glasses that the restaurant delivers to the home of the person who ordered it. So it's more than just a good piece of meat.
3. The Fortress Resort and Spa, Fortress Stilt Fisherman Indulgence Dessert – $14,500
The Fortress Resort and Spa in Sri Lanka really likes to take care of its guests. On top of giving them high-end amenities and world-class service, the place also offers a dessert that's made for a king, thanks to its presentation and taste that costs $14,500. Made with gold leaf Italian cassata and flavored with fruit-infused Irish cream, this handmade chocolate also comes with a 80-carat gemstone. Like a few others on this list, it must be ordered a day in advance.
2. Lindeth Howe Country House Hotel, Pudding – $35,000
I'd think that even Bill Cosby would love to get his hands on some of this pudding, dropping the Jell-O that he's so famous for. That's because with a price tag of $35,000, the chocolate pudding made of high-end chocolate, gold leaf, champagne and a caviar has to be pretty darn tasty. Just don't expect to sit down and order this thing, though. It actually has to be requested two weeks in advance.
1. Arnaud's, New Orleans, Strawberries Arnaud – $3.95 million
Just when you thought it couldn't get anymore insane, New Orleans restaurant Arnaud's replaced the $1.4 million dessert on its menu with one that costs $3.95 million. While the strawberries arnaud dessert is probably delicious, I'd think that patrons are more intrigued by the diamond ring that comes with it, seeing how it's a seven-carat, pink diamond that accompanies the sweet treat.
Photo by Nicky Johnston/Food Network UK via Getty Images