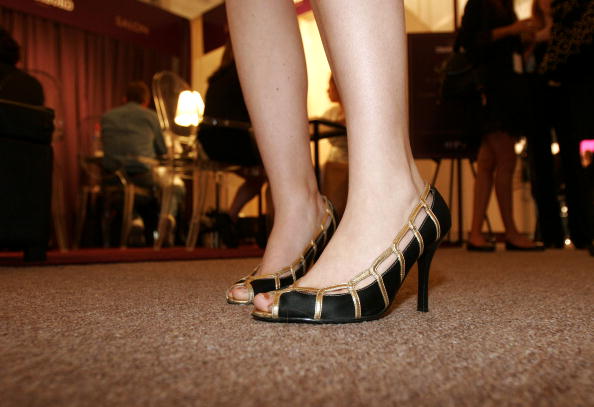 What Are The Most Expensive Shoes In The World?
Shoes are usually something we all take for granted to some extent. One gets up in the morning and one of the first things that is completed is dressing. You are not really fully dressed unless you are wearing shoes. But there are only a few people in the world who can claim to own shoes so expensive, that they cost more than what most people earn in a year. In this edition of the Most Expensive List we take a look at the 10 most expensive shoes in the world:
1) Slippers Worn by Indian Prince
These rare slippers were created with diamonds and rubies. They were worn by an Indian Prince named Nizam Sikandar Jah of Hyderabad during the 18th century. The slippers were on display at the Bata Shoe Museum in Toronto, Canada. The shoes were stolen in 2006, but were recovered by an anonymous tip. The price tag: $160,000
2) Stuart Weitzman's "Diamond Dream" stilettos
Any woman would be proud to wear these dazzling, diamond encrusted shoes. These extravagant dream shoes have no less than 1420 glittering diamonds adorning them. These gleaming diamond shoes were created together with the jeweler's at Kwiat. The stunning shoes were displayed by Anika Noni Rose at the Academy Awards. The sparkling jewels set off the delicate straps perfectly, as no one could keep their eyes off her feet that evening. Cost is $500,000.
3) The Original"Ruby Slippers" from The Wizard of Oz.
Today there are only 3 pairs of these famous shoes from the 1940s movie left. One pair was reported sold for $612,000 to a private bidder at Christies. There is another pair on display at the Smithsonian's National Museum of History, Washington D.C. The 3rd pair went to auction, but the starting bid of 2 million, could not be met.
4) Stuart Weitzman's "Retro Rose" Pumps
These elegant shoes were created after the popular 1940s Hollywood style. They featured the famous T-strap. These glittering shoes were covered with 400 shimmering diamonds, while the intricate roses on the toes of the shoes were studded with 1,800 Kwiat diamonds themselves. The price tag was $1,000,000.
5) Stuart Weitzman's "Marilyn Monroe" Shoes
These shoes are created with glittering Swarovski crystals and shimmering satin. These stunning stilettos, are made with the most intricate craftsmanship, and are work of art. Additionally, the crystals that cover them are made from an actual pair of earrings that the actress once owned. Regina King wore these beauties for the 2005 Oscars. They were later sold at a celebrity auction for Charity for $1,000,000.
6) Stuart Weitzman "Platinum Guild" Stilettos
There were no less than 464 perfectly cut diamonds to create these opulent designer heels. Another great feature to these stunning heels is that the gems can actually be removed and worn as a necklace or bracelet. This prized set of jewels was worn by actress Laura Harring. She was the very first Oscar nominee, to ear million dollar foot to the Awards. These elegant shoes sold for $1,090,000.
7) Stuart Weitzman's "Ruby Slippers"
Another fabulous pair of shoes designed in remembrance of the 1940s movie, Wizard of Oz. 642 Burmese rubies were used to make these shoes as well as a pound of platinum. Together with red satin, these shoes made a bold, yet elegant statement. They were displayed at Harrods in London in late 2003. The price tag for these was $1,600,000.
8) "Tanzanite Heels"
These amazing heels were also designed by Stuart Weitzman and Eddie Le Vian of France. These elaborate jeweled stiletto heels are sure to attract attention. The silver framework of the shoe is set off perfectly by 185 carats of dazzling blue Tanzanite and 28 carats of glittering diamonds. These shoes are a work of art in their unmatched beauty. A price tag of $2,000,000.
9) "Rita Hayworth Heels"
These elegant shoes were inspired by the iconic movie legend, Rita Hayworth. The claim to fame on these is the pair of earrings that were once owned by Rita herself, was incorporated into the shoes. With a rich chocolate color, set off by the earrings, these shoes were a hit when were first worn by Kathryn York at the cademy Awards. Each shoe features sapphires, rubies and diamonds. The dazzling shoes now belong to her daughter, Princess Yasmin Aga Khan.
10) House of Harry Winston's "Ruby Slippers"
The fascination with the Wizard of Oz has been going on for decades. The original shoes were made with sequins, there are only 3 pairs left in existence. Jewelry designer Harry Winston's son Robert wanted to remember the classic movie on its 50th anniversary. He created these glittering shoes using 4,600 rubies and 50 carats of diamonds to adorn them. After 2 months of painstaking work, these opulent, designer shoes were on display at House of Harry Winston. The price tag was $3,000,000
Photo by Charley Gallay/Getty Images