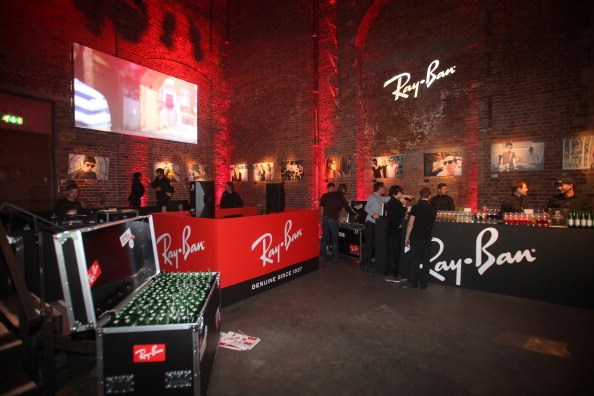 From Wayfarers to Aviators, the Ray-Ban brand has been popular staple in the sunglass community since the brand's inception in 1937.  For years, Ray-Ban sunglasses have donned the faces of some of the world's most loved celebrities; including: Marilyn Monroe, James Dean, Bob Marley, and Bob Dylan.  Ray-Bans offer several designs, colors, and lenses; assuring that there will be a pair of sunglasses for every type of sun protection seeking wearer.  With a history that includes many stars, it should come as no surprise that authentic Ray-Ban sunglasses come with a hefty price tag.  Here is a list of Ray-Ban's most expensive sunglasses.
5.  Club Master Folding – $280
This model of  Ray-Ban sunglasses has been worn by countless celebrities such as Beyonce, Bruno Mars, and Robert Pattinson. These frames are a trendy combination of the influence of both old and new styles and have a timeless look that makes them appealing for almost any occasion.  This version of the classic sunglasses features a folding mechanism that allows the frames to fold down – making them more convenient to carry around.
4.  Wayfarer Leather – $300
Crafted in 1952, Ray-Ban has given new life to their  Wayfarer sunglasses with their new leather version of the classic frame.  These new leather sunglasses come in black or brown leather and feature polarized lenses for ultimate sun protection.  Wayfarers have been worn by some of Hollywood's biggest names including James Dean.
3.  Caravan Ultra  Limited Edition – $490
These limited edition sunglasses are made of light-weight titanium and are plated with yellow or white 18k gold and also features an 18k gold Ray-Ban on the temple of the frame.  These sunglasses are also equipped with a high quality polarized lens with a hydro-oleophobic coating which allows water to slide off the lens and also provides  amazing protection from the sun.
2. Aviator Folding Ultra – $500
This luxurious version of the Ray-Ban's classic aviator sunglasses  is made of 18k gold plated titanium and also has italian calfskin wrapped around each ear-piece, providing a comfortable and sturdy feel.  These sunglasses are made with an extra hinge that allows the sunglasses to fold into a more compact size for easier carrying and storage.
1. Ray-Ban Aviator Solid Gold – $3,2000
Ray-Ban's solid gold Aviators are the company's first solid gold sunglasses ever.  These unique sunglasses come with a "jewelry box" leather carrying case and each pair will also be engraved with a serial number at the temple of the frame and a gold hallmark etched into the bottom of the nose bridge.
(Photo by Tim Whitby/Getty Images For Ray Ban)