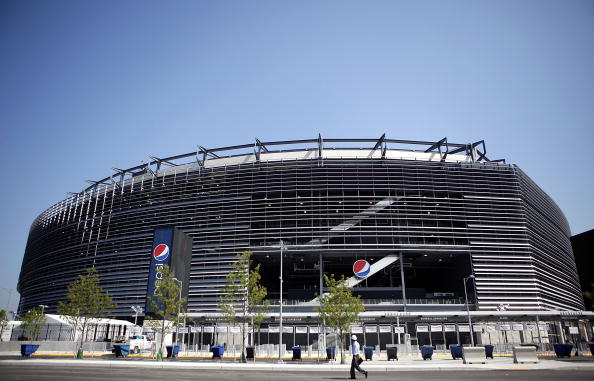 Every single year, there's a new, state-of-the-art sports stadium that finds itself amongst one of the most beautiful in all the world. It's crazy to see the price that these things are getting risen to, but in a multibillion dollar industry like athletics, first-class facilities are necessary to both keep and sign players, as well as provide e great experience for fans. With the Minnesota Vikings the newest on the list of teams dropping close to a billion bucks on new digs, we're giving you the five most expensive stadiums in the world—just to see how they stack up.
5. Wembley Stadium, London – $1.25 billion
The only stadium on this list that doesn't sit on North American soil, Wembley Stadium was rebuilt in 2007 after originally opening in 1923 with some amazing advancements. While the Brits are typically about their great history, they gave Wembley a retractable roof, hybrid grass field and 688 spots to sip on some lagers. Add in the arch that wraps over the stadium, and it's one of the greatest sights in all of sports.
4. AT&T Stadium, Dallas – $1.3 billion
Leave it to Dallas Cowboys owner Jerry Jones to leave his mark—which he certainly did by building this massive stadium. Although Jones doesn't hold the record he once did for the priciest building in the NFL, he still has those enormous, 60-yard HD video screens that hang above the football field for fans in the cheap seats to see the action up-close.
3. Olympic Stadium, Montreal – $1.4 billion
Even though there aren't any current pro sports teams that regularly use Montreal's Olympic Stadium, that doesn't mean it still isn't one of the most expensive places ever built for sports. Originally constructed for the 1976 Olympics, the city's pro baseball team—whom have since relocated to Washington D.C.—and football team—the CFL's Alouettes—did play their home games there, but have both moved.
2. Yankee Stadium, New York – $1.5 billion
Home to America's most prestigious sports franchise, everyone figured that the new Yankee Stadium would be part baseball stadium, part sanctuary when it first opened in 2009. With a seating capacity of 50,000 and 31,000 square feet of past and present Yankees stars, it's no wonder this place is like a cathedral for baseball fans.
1. MetLife Stadium, New Jersey – $1.6 billion
Although it's home of the two New York football teams—the Giants and Jets—MetLife Stadium actually resides in New Jersey.  We can't help but think it's because of costs. But even then, the home of this year's Super Bowl wasn't cut much of a deal, as it lands atop the list of the priciest stadiums in the world, running up the bill to $1.6 billion.
Photo by Jeff Zelevansky/Getty Images