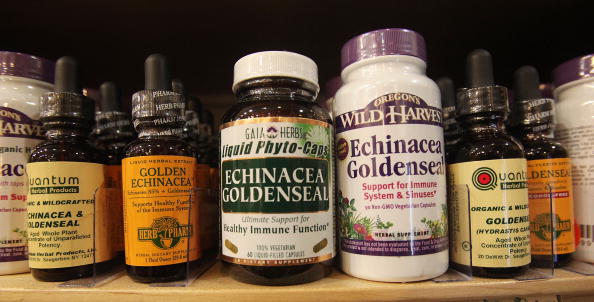 Over the years, Nutritional Supplements have become increasingly popular.  While there are people who think that nutritional supplements are a waste of money, and result in nothing more than "expensive pee." There are also many people at all stages of life and all activity levels who believe that a healthy diet is simply not enough, and choose to consume nutritional supplements on a regular basis.  These supplements can come in many forms such as pills, powders, and gels, and anyone who takes them often knows that they are usually not cheap, with some even being unaffordable for the average person.  While there are many websites that offer nutritional supplements at a low cost, there are still some whose high prices cannot be avoided.  Here is a list of the most expensive nutritional supplements.
5. Sunrider's Chinese Goldenseal Root $46.25
This "cooling herb" has traditionally been used to cure "hot" conditions.  This supplement is supposed to soothe mucous  membranes and the respiratory tract.  This version of the supplement comes in capsules which should be taken at meal time.
4. Sunrider's Joi $61.90
This nutritional supplement boasts that it can help promote a positive state of mind which in turn should promote other forms of healing in the body.  Some of the main ingredients in this supplement are eleuthero (Siberian ginseng), white willow bark, and yeuan wu root.  This supplement can also be taken at meal time.
3. Nordic Naturals – ProDHA Eye $89.95
This supplement contains a unique combination of concentrated omega-3s with natural carotenoids lutein, and zeaxanthin which promotes brain function and healthy vision by providing protection against ultraviolet blue light.
3. Designs for Health XanthOmega Krill Oil w/Astaxanthin $118
This combination supplement allows for " faster and more effective delivery of EPA and DHA in the body, and specifically to the brain, through better absorption and transport when compared to the normal triglyceride form found in fish oil."
1. World Nutrition Vitalzym $164.95
According to WorldNutrition.net, Vitalyzm liquid gels "are the world's leading all-natural, vegetarian systemic enzyme supplement. Vitälzӯm features an unmatched proprietary blend that includes Serrapeptase, Bromelain, Papain, Rutin, Amylase, Protease, Lipase and Amla Extract."  This supplement can be used to promote muscle recovery, joint function, healthy immune and cardiovascular systems, and more.
(Photo by Mario Tama/Getty Images)