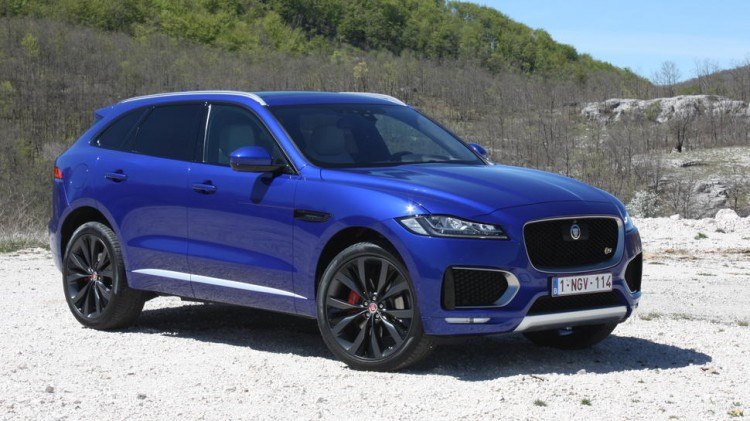 There is nothing like a Jaguar. Just ask one of my very favorite family members who runs a Ferrari dealership and has never driven anything but a Jaguar. Even my husband wants to ditch his bright red, two-seater convertible (or as I like to call it, the midlife crisis that came at 28) for the XF (but he needs an SUV like mine what with all our four kids and stuff). I'm not against it, but perhaps the fact that Jag just rolled out a brand new SUV is a sign that better things have finally arrived in the world of both Jag and luxury SUVs. The all new Jaguar F-Pace is finally here, and it is nothing short of amazing. Trust me, I have excellent taste. If you're on a budget, this SUV is base priced at only $40k. However, you're going to want to spend more like $70k for the fully decked out version.
To begin by being upfront and quite honest, this is one hot car. There, I said it. It's true, though. This car is hot, and it's all the good things that an SUV could ever hope to become. It might just be me, but the Jag has really done itself a favor in the past decade by turn their sort of boxy and angular vehicles into much sleeker designs with so much more aesthetic appeal – don't hate; the old ones are sexy, too. I know it's not always so appealing to hear when a new luxury SUV is added to the mix, especially when it comes to brands such as Jag and Porsche. These are brands, after all, that are known for their fast, sleek cars; you don't want to see kids in these being driven to soccer practice. Well, I do.
The Pace is not an SUV. No, it is an SUV, but it's one that is really just an SUV on the exterior because it is all sedan as far as the interior is concerned. With a V6, 380-horsepower engine that's supercharged, the F-Pace is so not an SUV. You can take your SUV and it's long excel and wave a quick goodbye to this Jag after it reaches 60 mph in 5.1 seconds and leaves you way behind. Even with an engine this powerful, however, this is one smooth ride. You don't hear it, it handles like a charm, and it's smooth. It's also light, thanks to its aluminum body and it's much lighter than other luxury SUVs. It also has dynamic stability control, all-wheel drive and it really drives like a rear-wheel thanks to its design. It handles like a dream come true in inclement weather, perhaps making it one of the most desirable SUVs on the road.
Now let's talk about what's important – the interior. Those are just a few of the special features, but there are a few standard features you'll find in most new luxury SUVs, including WiFi capabilities, remote start, a surround sound system (this one by Meridian). Finally, this is a sport SUV, which means you're taking it out and abusing it on the road, the slopes, the mountains and the beach. That's where the activity key comes into play. It's like your Apple watch in that you wear it. You can get it wet, dirty, whatever you want, and it won't stop working. This means no keys in the pocket, no lost items in the boat and no worries on your mind.
You are not going to find leather more appealing. This SUV seats five quite nicely, and all the models have a two-toned leather that's just sporty and hot. It's not too over-the-top, though, which means it manages to maintain the simplistic luxury that Jag is so famous for. What moms will love when they're carting the kids around in this ride is the InControl Touch Pro infotainment panel. It's got a 10.2 and a 12.3 inch touch screens, it's powered by a quad core Intel processor, and it's not even difficult to use. The premise is that it's a lot like your iPad, so you'll get it with no issues – unless you are my mother and then you'll just have to call me and I'll tell you how to turn it on. My opinion is that you can load up the Yeti right now and head out on your next adventure. You can take the kids, but you can also leave them home for a long weekend with the grandparents and really enjoy this new Jag.