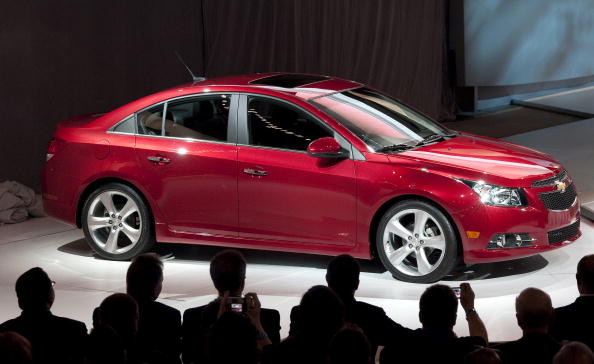 Anyone afraid of 40 needs to reconsider; gas-powered cars are now exceeding more than 40 miles per gallon in an effort to help consumers spend less on gas. Vehicle manufacturers are designing less expensive gas-powered cars that get more miles per gallon so that you'll stop spending money on hybrids and electric cars and buy their vehicles instead. Here are five cars that are powered by gas and have exceptionally high MPG.
Ford Fiesta – 40 MPG
The price of this car is just under $17,000 and the price of gas suddenly makes this little hatchback look all the more appealing. Who needs flash and circumstance when you can spend next to nothing on a vehicle and get the most out of your gas. It's got plenty of high-tech options, and it gets 40 miles to the gallon.
Chevy Cruze Eco – 42 MPG
The Chevy Cruze is actually a stylish little car, and it gets great gas mileage. The price to purchase this small sedan is $18,000. It has every upgrade imaginable if you spring for it, raising the price just a little. However, this little ride is comfortable and has more room than some of the other smaller vehicles on the list.
Hyundai Elantra – 40 MPG
The Elantra has been completely redesigned and it's more stylish than ever before. It's also more fuel efficient, with an average 40 miles per gallon. This ride can be extremely upgraded if you're willing to pay more than the $14,830 base price – and you will be because it's so inexpensive.
Ford Focus – 40 MPG
The Focus sedan is a bit smaller than some of the other cars on this list, but it gets 40 miles to the gallon. The difference is that it costs $18,790 as a base model with no upgrades, making it one of the more expensive vehicles on the list. However, you can afford more car when you don't have to fill up as often.
Honda Civic HF – 41 MPG
The Civic is one of the more stylish cars on the list. It gets 41 miles per gallon, which also makes it one of the most fuel efficient. This sporty little car starts at $18,000 and gets more expensive as you add options, though it now comes with the option of leather interior; something it did not in the past.
(Photo by Steve Fecht/General Motors via Getty Images)