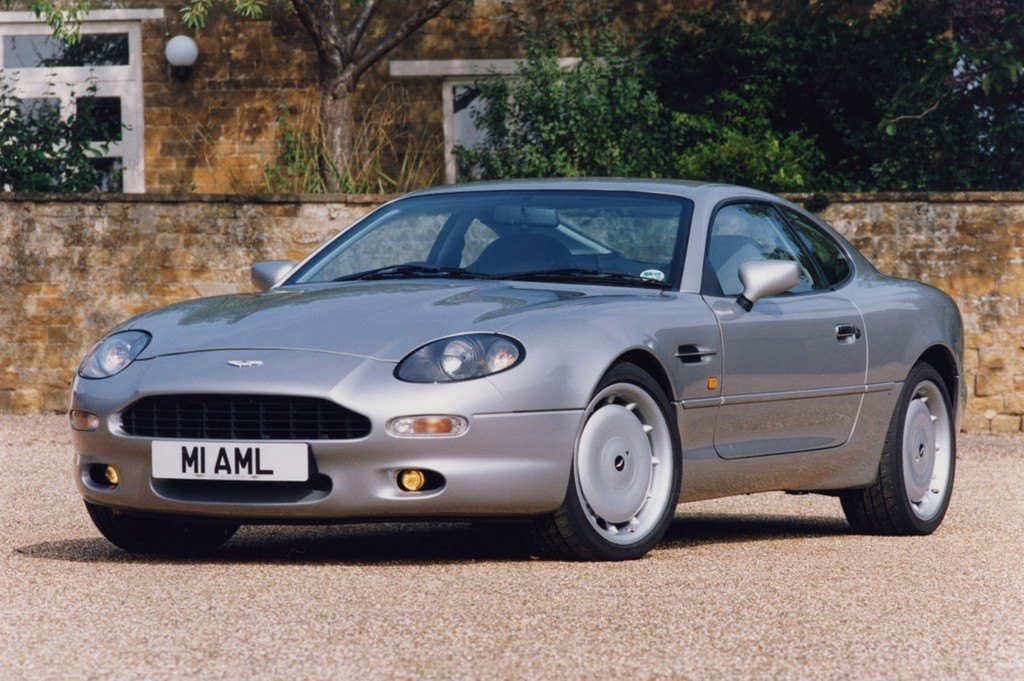 The Aston Martin DB7 is a grand tourer produced by British luxury automobile manufacturer Aston Martin from September 1994 to December 2004. Positioned as an "entry-level" model below the hand-built V8 Virage introduced a few years earlier, the six-cylinder DB7, available as either a coupe or a convertible, was unveiled at the Geneva Motor Show in 1993. Styled by British car designer Ian Callum and native South African Keith Helfet, the high performance luxury automobile was the highest production Aston Martin vehicle ever, with more than 7,000 vehicles built before it was replaced by the DB9. Known internally as the NPX project, the DB7 was made mostly with resources from Jaguar and had the financial backing of the Ford Motor Company, which owned Aston Martin from 1994 to 2007. The Aston Martin DB7's initial platform was an evolution of the Jaguar XJS and began production at Aston Martin's new factory in Bloxham, Oxfordshire, England, where every DB7 would be built throughout its production run. The convertible Volante version of the DB7 was unveiled at the North American International Auto Show in Detroit, Michigan in 1996, while both the coupe and Volante convertible featured a supercharged straight-six engine that produced 335 brake horsepower and 361 lb.-ft. of torque. In the United States, the coupe sold for $140,000 and the Volante for $150,000.
In 1999, the more powerful DB7 V12 Vantage was introduced at the Geneva Motor Show, featuring a 5.9-liter 48-valve V12 engine that produced 420 brake horsepower and 400 lb.-ft. of torque. Aston Martin claimed it had a top speed of either 186 miles per hour with the manual gearbox or 165 miles per hour with the automatic gearbox and would accelerate from zero to 60 miles per hour in 4.9 seconds. Three years later, a new variant of the DB7 was launched, the V12 GT. The V12 GT–or V12 GTA when equipped with an automatic transmission–was essentially an improved version of the Vantage with a V12 engine producing 435 brake horsepower and 410 lb.-ft. of torque for the manual GT. The DB7 GTs and GTAs also featured an updated suspension, a mesh front grille, vents in the hood, a trunk spoiler, an aluminum gear lever, optional carbon fiber trim and new wheels. Only 190 GTs and 112 GTAs were produced worldwide.
A number of special edition DB7 models were built over the years, including 150 "platinum metallic" Alfred Dunhill grand tourers with built-in humidors, 10 special black cars for the 1998 Neiman Marcus Christmas catalogue, six "midnight blue" Beverly Hills Edition DB7s, 50 "jubilee blue" cars made to celebrate the Golden Jubilee of Queen Elizabeth II, and 33 "slate blue" DB7s to celebrate the end of the Vantage's production. Founded in London, England in 1913 by Lionel Martin and Robert Bamford, Aston Martin is a British manufacturer of luxury sports cars and grand tourers that reported a revenue of $744.25 billion in 2010.
For more information on Aston Martin and the Aston Martin DB7, visit astonmartin.com and check out a review of the DB7 below featuring Top Gear's Jeremy Clarkson, courtesy of BBCWorldwide's YouTube channel.
Video by BBCWorldwide/YouTube.com
Photo by mirror.co.uk