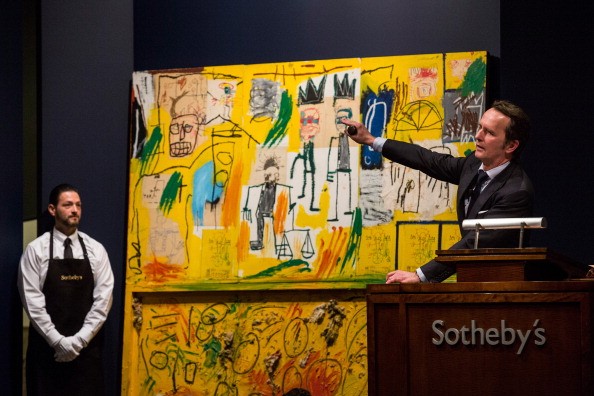 It's pretty safe to say the world of visual art is an expensive one. Every year, art collectors drop millions of dollars on famous works of art. From Andy Warhol's strangest creation to Vincent van Gogh's most beautiful masterpiece, famous paintings are bought by collectors, fans, and museums in both auctions and private sales throughout the world. The most famous paintings, including those done before 1803, are usually owned or held at museums and are considered literally priceless–taking inflation into account, the insurance policy of the Mona Lisa alone would be close to $800 million. Below is a list of the world's most expensive paintings ever sold.
5. Woman III by Willem de Kooning – $137.5 million
One of a series of six paintings done by abstract expressionist painter Willem de Kooning between 1951 and 1953 in which the main theme was a woman, Woman III was sold in a private sale by record executive David Geffen to collector Steven A. Cohen in 2006. The only "woman" painting still in private hands, Woman III is the fifth most expensive painting ever sold.
4. Number 5, 1948 by Jackson Pollock – $140 million
Done on an 8 ft by 4 ft sheet of fiberboard, Jackson Pollock's stunning brown and yellow drip painting is one of the most expensive contemporary paintings ever sold. Sold in a private sale by David Geffen, the buyer of this painting remains unknown, even though it is speculated to be businessman David Martinez, managing partner of Fintech Advisory Ltd.
3. Three Studies of Lucian Freud by Francis Bacon – $142.4 million
Not only is Bacon's Three Studies of Lucian Freud the most expensive painting ever sold at auction–Christie's New York in 2013–but it also holds the record for the most expensive contemporary work of art. Created in 1969 by Irish-born British painter Francis Bacon, this abstract and isolated three paneled oil-on-canvas triptych was sold to an unknown buyer.
2. La Rêve (The Dream) by Pablo Picasso – $155 million
La Rêve, French for "The Dream," is the most expensive Picasso painting ever sold. Created in January of 1932 by the famous Spanish painter at the age of 50, La Rêve is an oil painting portraying his 22-year-old mistress Marie-Thérèse Walter. After $90,000 was spent on repairing a six-inch tear, Las Vegas businessman Steve Wynn sold the painting to Steven A. Cohen in 2013. 
1. The Card Players by Paul Cézanne – $250 million
The last version of a series of five paintings done by French Post-Impressionist artist Paul Cézanne during his final period in the early 1890s, The Card Players is the most expensive painting ever sold. Sold in a private sale by legendary Greek collector George Embiricos to the Royal Family of Qatar in 2011, The Card Players is estimated to have fetched anywhere from $250 million to $320 million.
Photo by Andrew Burton/Getty Images