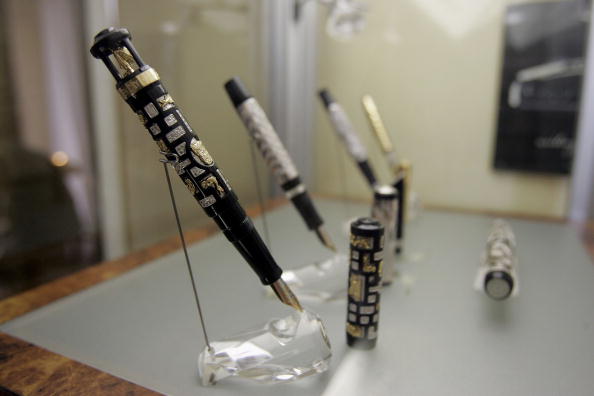 What would you expect to pay for a really good pen? A pen that fits into your hand just perfectly, and glides across the page fluidly? The average person would spend roughly $20 to $50 bucks and call it good. Any more than that and the pen better be encrusted in diamonds and the ink should be liquid gold. Well spending a few hundred dollars on your pens won't get you one encrusted in diamonds, but investing a few hundred thousand to a million dollars sure will. When the rich and famous run out of fancy cars, houses, and clothes to buy, what's left? It only makes sense that the common everyday items like paper clips and pens should be kicked up a notch and "blinged" out to ensure they are only surrounded by the finest of all things. Check out what some of the most expensive pens in the world would cost you.
1. Aurora Diamante Fountain Pen – $1.47 million
In today's world, if you have the money to pay for it, you can have anything encrusted in diamonds. Take this pen for instance; it is currently the only pen in the world encrusted with 2,000 diamonds. The pen itself is 30 carats. There is usually a long waiting list to get your hands on one as the makers only craft one pen per year.
2. Caran d'Ache 1010 Diamonds LE Fountain Pen – $1 million
Based in Switzerland, Caran d'Ache is known for creating some of the best pens in the world. You would think there would be 1010 diamonds on this pen, but that is not so. There are around 850 diamonds and the pen itself is white gold.
3. Heaven Gold Pen – $995,510
If you are a fan of gold then keep this pen in mind. You will definitely be in heaven when you see this pen. Not only are there 161 colored diamonds, but there are also Tsavorite gemstones rumored to be roughly 2 billion year old. Men, this pen is not for you. It is made by a female for a female.
4. Limited Edition Mystery Masterpiece – $730,000
You can customize this pen to your liking. If you don't like rubies, not a problem you can have sapphires. If you don't like sapphires, cool, throw some emeralds on it. Whatever gem you choose, you can expect 840 brilliant diamonds on the body of the pen.
5. Caran d'Ache Gotica Pen – $406,453
The Chinese have an exquisite taste when it comes to pen crafting. This pen has been attributed to Gothic art and is crafted from sterling silver. To date, the company has manufactured less than 1200 pens in 8 years. If you can find this pen consider yourself lucky.
6. La Modernista Diamonds Pen – $265,000
This pen was developed in honor of Antoni Gaudi, a Spanish archetict. It boasts about 5072 Wesselton diamonds and 96 rubies.
7. Prince Rainer III LE 81 Pen -$260,000
Crafted from 18 carat gold, this beautiful pen was designed to honor Prince Rainier III, the prince of Monaco. What an honor it must be to have a unique skeletonized structured pen featuring 996 diamonds and 92 rubies. A pen like that doesn't leave much room for disappointment.
8. LE Boheme Papillon Pen – $230,410
Only 6 pens make up this limited edition collection. You can chose between yellow, white, or rose gold. There is no shortage of bling on these pens either. You will find a little over 1400 Wesselton diamonds with 37 magnificent sapphires adorning this pen. The cap itself is fashioned like a butterfly.
9. Caran d'Ache '1010' Fountain Pen -$174,000
No you are not seeing double, this 1010 fountain pen is different than the one mentioned earlier. The reasoning for the cheaper price is because there are less diamonds. To make up for it they have added sapphire crystals. Only 10 pens are in existence from this collection.
10. Montblanc Boheme Royal Pen – $150,000
Mont Blanc makes the list again with a slightly less expensive pen. Don't let the lower price fool you. You can still expect a pen encrusted in diamonds. 1430 brilliant cut diamonds. The pen itself is crafted in white gold.
11. Ripple HRH LE Fountain Pen – $57,000
If you look closely at this pen you can see the gentle waves of water that the 650 white diamonds are intended to replicate. Most people would still have to take out a small loan to invest in this pen, but at least the prices are coming down a little.
12. Gherkin Diamond & Gold Pen – $42,400
Yep, there are diamonds and gold in the pen. You're not too surprised are you? It's been the trend of this list. Designer Jack Row really out did himself when he created this pen complete with 76 diamonds. The pen is only sold in London and the Netherlands so get online or hop a flight to Europe if you want to add this to your collection.
13. Four Seasons LE Fountain Pen Set -$36,000
Finally some bang for your buck. If you purchase this set created by Ferrarie da Varese, you received 4 pens in the set. The fabulous colors represent the four seasons, hence the name.
14. MontBlanc Statue of Liberty Artisan Edition – $33,143
When you buy this pen you are investing in a small piece of history. While the pen itself is not shaped like the statue of liberty, it is shaped like her torch. Additionally, the cap is crafted to look like her crown.
15. Grayson Tighe LE Foutain and Rollerball Pens -$23,000
For the first time, the rollerball pen has appeared on this list. Expect to pay anywhere from $22,000 to $24,000 dollars for it. The collection consists of 18 of each type of pen. It is made from none traditional elements like Iridium and Rhodium.