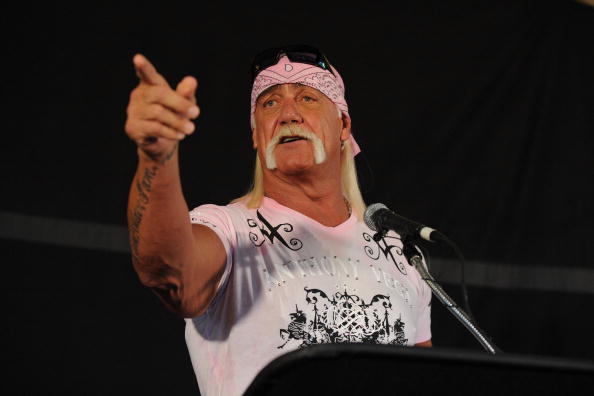 Hulk Hogan is a semi-retired professional wrestler, actor, television personality, entrepreneur, and musician with an estimated net worth of $5 million. Hogan made his name as one of the most famous wrestlers in the history of the World Wrestling Federation (now WWE).
Terry Gene Bollea was born on August 11, 1953 in Augusta, Georgia. His mother, Ruth, was a homemaker and dance instructor and his father, Peter, was a construction foreman. Hogan is a college drop out who left school to pursue music. While practicing his music he spent his spare time lifting and was eventually noticed by members of Championship Wrestling from Florida (CWF) because of his large stature.
After participating in small wrestling leagues in the southeast, Bollea was introduced to Vince McMahon, who was impressed by his stature and charisma, and was given a chance to wrestle for the WWF. This didn't last long as Hogan soon started wrestling for the popular New Japan Pro Wrestling and AWA.
In 1983, Hogan returned to the WWF and the start of 'Hulkamania' began. For 10-years Hogan was a wrestling sensation. He performed against some of the biggest names in the history of the industry including his epic bouts with Andre the Giant. Hogan would leave the WWF in 1993 and join the WCW, which marked the beginning of the end of his 10-year run. He spent some time in the NWO before returing for one final swan song with the WWF in 2002.
To sum up Hogan's wrestling career for the WWF (now WWE) and WCW: he is a 12 time World Champion, he is the third longest combined reigning WWF champion and the longest reigning champion of the 1980s. He holds two of the longest title runs in WWF history. He is also the longest reigning WCW World Heavyweight Champion of all-time. He's also the first man to win back-to-back Royal Rumbles in the history of the event.
During his time as a wrestler, Hogan made a significant sum of money which he used start businesses including Pastamania a restaurant in the Mall of America. Hogan also featured in films including No Holds Barred, Suburban Commando, and Mr. Nanny.
Hogans investment in businesses and real estate make up what's left of his net worth. In 2012, Hogan went through a messy divorce after he was discovered to have an extra-marital affair. The divorce settlement cost him $30 million dollars. He still earns income from merchandise sales and residuals from the Hulk Hogan brand, but his net worth was hammered because of his divorce.
Hogan's net worth is a hotly debated topic now that his divorce has been settled. There are some that project his net worth to be almost non-existent and to be living off of his daughter, while there are others that have revealed that Hogan is in a much better position than he lets (for obvious reasons). With the legend of Hulk Hogan still a commercially liable entity, he should be okay going forward, just don't expect any big numbers from the Hulkster from here on out.