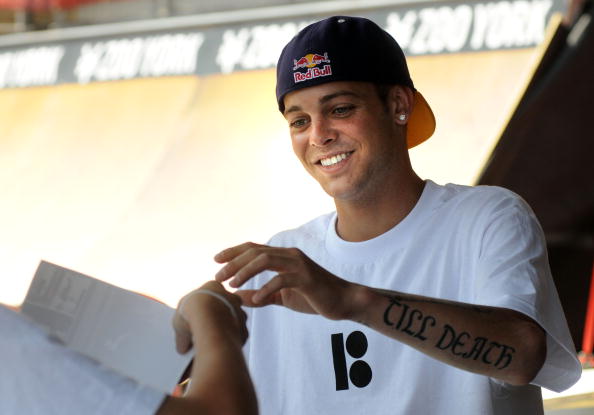 Ryan Sheckler is an American professional skateboarder and entrepreneur with an estimated net worth of $16 million. Sheckler was placed in Fox Weekly's "15 Most Influential Skateboarders of All-Time".
Ryan Allen Sheckler was born on December 30, 1989 in San Clemente, California. He is the oldest of three brothers all of which are skateboarders. Sheckler was introduced to skateboarding at the age of 18 months when he found his father's skateboard. He skateboarded frequently as a child and learned to kickflip at the age of six years old.
In 2004, Sheckler became one of the foundational members of the professional skateboarding company Almost. Sheckler appeared in the Almost inaugural video Almost: Round Three. Later on, it was recognized that Almost would never have made it if it wasn't for Sheckler and fellow inaugural teammate Greg Lutzka.
In 2007, Sheckler joined Plan B skateboard deck and apparel company. The change game Sheckler tremendous exposure and put him on a team of famous skateboarders such as Danny Way, Paul Rodriguez, and PJ Ladd. He appeared in various promotional and tour videos for Plan B.
Throughout his career Sheckler has won six medals, two gold, at the Summer X Games. He's also won numerous times on the AST Dew Tour, and Gravity Games. He's also placed first in the Globe World Cup and first in the World Cup of Skateboarding. He has been a successful skateboarder, but his marketability has driven his net worth throughout the years.
Sheckler is sponsored by Red Bull, etnies, Plan B, Oakley, Nixon, Go Pro, Independent, Grizzly, CCS, Panasonic, Andale, and Ethika. He is also a playable character in almost all of Tony Hawk's skateboarding video games.
He has appeared on television in his own MTV series Life of Ryan and appeared as himself in the films What's New Scooby Doo, Dishdogz, True Jackson, VP and various skateboarding documentaries.
In 2008, Sheckler started the Sheckler Foundation to assist children and injured athletes. The foundation promotes its goal as the empowerment of "our community to be the change!". In 2009, Sheckler launched his own clothing line RS, but as of 2013 the brand was not featured on his personal website nor has a website of its own. In November of 2013, Sheckler was introduced as one of the inaugural 'SkateBOARD' members. Consisting of professional skateboarders Greg Lutzka, Christian Hosoi, Fabrizio Santos, Filipe Gustavo, and Manny Santiago. The group was assembled to help promote the Sheckler Foundation's projects and increase it's awareness.
Overall, Sheckler has built a net worth through his skateboarding success and marketability. He has one of the largest sponsorship portfolios in the sport. However, you often wonder how far it will take him. Sheckler is a relatively unknown guy, but without significant entrepreneurial activity it's hard to believe that his skateboarding and sponsorship income is going to last forever. This is the dilemma that all major athletes face, but there seems to be more opportunities to earn money in the big sports once you've retired than there is in X-Games sports – unless you're Tony Hawk. To be continued..