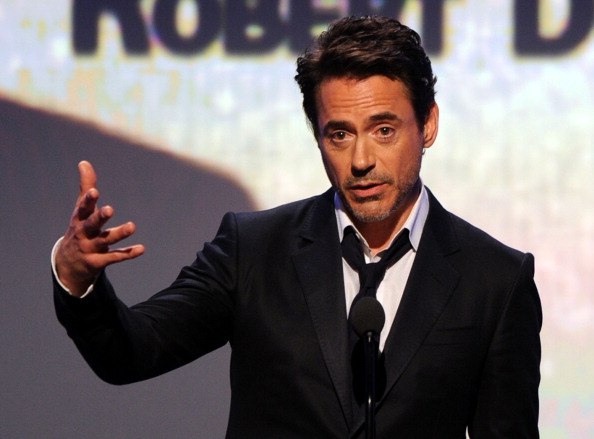 Robert Downey Jr. is an American actor with an estimated net worth of $140 million. Downey tops Forbes list of Hollywood's Highest Paid Actors with an estimated $75 million in earnings in 2013.
Robert John Downey Jr. was born on April 4, 1965 in Manhattan, New York. He is the son of Robert Downey Sr., an actor, writer, producer, cinematographer, and director of underground films, and his mother, Elsie, is an actress who appeared in his father's films. During his childhood, Downey Jr. had small roles in his father's films. He made his acting debut at age five, playing a sick puppy in the absurdist comedy Pound  (1970). Downey Jr. dropped out of high school to pursue acting in 1982.
In the early parts of Downey's career he acted on Broadway. In 1985, after a failed stint on Saturday Night Live, he made his big screen debut as James Spader's sidekick Tuff Turf. His first lead role would come in the 1987 film The Pick Up Artist alongside Molly Ringwald. For the rest of the 1980's, Downey appeared in four more films earning him recognition throughout Hollywood.
Downey Jr.'s breakthrough role came as Charlie Chaplin in the film Chaplin in 1992. For his work he was nominated for an Academy Award. He would on to star in nine more films during the nineties, none of which matching the success he achieved with Chaplin.
In the late 1990s, Downey Jr. went through a series of legal troubles that nearly cost him his career due to substance abuse. Downey Jr. was arrested several times on various charges and forced to check into rehab putting his acting career on hold. In 2000, a week after checking out of rehab he was back acting as a guest on the television series Ally McBeal. Unfortunately, he wasn't fully recovered and relapsed.
After five full years of substance abuse, arrests, rehab, and relapse Downey Jr. finally made his official comeback. Between 2001-2008 Downey Jr. appeared in close to 10 films, none highly successful, but maintained his sobriety and rebuilt his career. In 2006, HarperCollins signed him to write his memoir.
In 2008, Downey Jr.'s career exploded. He hit the lottery with lead roles in Iron Man films, Tropic Thunder, The Avengers films, Sherlock Holmes, and The Due Date. In this time, he starred in six films that have each grossed over $500 million. The Avengers and Iron Man 3 each earned over $1 billion.
Overall, Downey Jr. has appeared in over 30 films. Despite being in the industry for 30 years, his net worth has been driven by the films he's done the past 6 years. Downey Jr. does not have many outside business activities, but he has started a production company, Team Downey, with his wife. They have yet to produce a film.
Downey has truly resurrected his career over the past 6 years. He has gone on record discussing his addiction and time spent in prison. His downfall truly changed his perspective on many things and now he is moving full-steam ahead with roles that are generating hundreds of millions of dollars at the box office – and he doesn't appear to be slowing down anytime soon.
Photo by Kevin Winter/Getty Images