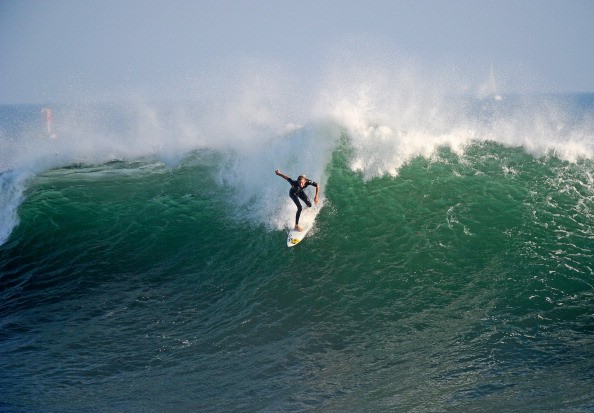 Surfing is a favorite pastime for many, but it's a lucrative career for some. There is a typical stereotype associated with surfing; most assume all surfers are bleach blonde California boys with long hair and no ambition to do anything else in life other than surf and spend time at the beach. While it might be true of some, it's nowhere near accurate in the big picture. Surfers are just as business savvy and ambitious as anyone else, as evidenced by the richest surfers in the world.
Kelly Slater – $22 Million net worth

You recognize his name as the most famous in surfing. His career spans more than 2 decades, longer than some of the surfers on this list have even been alive. At more than 40-years-old, Slater has one of the most successful surfing careers in the world, along with a long-term associated with Quiksilver.
Laird Hamilton – $10 Million net worth
Laird Hamilton is most famous thanks to his career as a professional surfer.  He's also known as one of the most famous big wave surfers on the planet.  He is also an action sportswear model, the owner of a clothing line, and has appeared in many television series and movies.
John John Florence — $5 Million per year

He's a Hawaiian-born surfer with the world's biggest surfing contract. He currently earns around $3.2 million per year under contract and holds some of the most lucrative endorsement deals around. The surfer is endorsed by companies such as Vans, Futures and Pyzel. He's only 21-years-old, but he's already the most successful surfer in the world.
Dane Reynolds — $3.9 Million per year

What makes this surfer stand out among the competition is his lack of formal training. He doesn't even have a coach. However, he does have a net worth of almost $4 million, and he's got several lucrative endorsements. He's sponsored by companies such as Channel Islands, Vans and Quiksilver. He also refuses to train outside of his surfing practices.
Joel Parkinson — $3 Million per year

His biggest claim to fame is his championship titles and his six-year relationship with Billabong. He signed a five-year contract with the company for more than $7.5 million that gives Billabong the right to make major decisions for the surfer. He was paid $1 million by the company in 2012 thanks to his outstanding year on the water.
Mick Fanning — $2.9 Million per year

This Australian surfer is one of the hottest things in the industry today. He's got sponsors in major companies such as Rip Curl, Reef and Red Bull. Everyone wants a piece of the action as he continues to increase his skill and win competitions all over the world. At the moment, his sponsors are increasing their monetary endorsements to keep him on board so he doesn't jump ship at other offers.
(Photo by Kevork Djansezian/Getty Images)