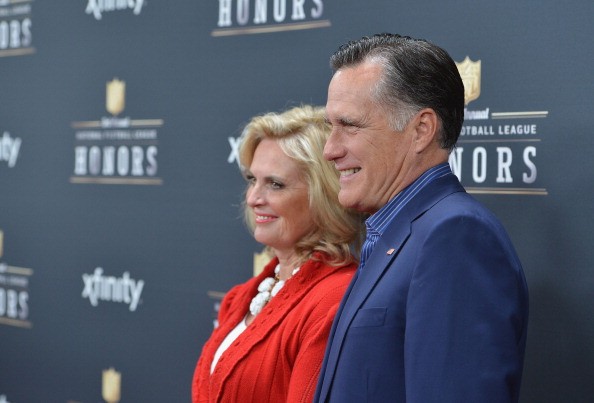 Businessman and former Massachusetts governor Mitt Romney's net worth is $280 million. This makes him the richest person to ever run for U.S. Presidency. William Mitt Romney was born on March 12,1947 in Detroit, Michigan to auto executive, George Romney and Lenore Romney. He is the youngest of three children born to the couple.
Up until the seventh grade, Romney attended several public elementary schools. It wasn't until 1959 that he began attending a private boys' school named Cranbrook preparatory school. While at Cranbrook, Mitt was involved in several school organizations. He was also instrumental in starting his own booster group – The Blue Key Club. Following his graduation from Cranbook, Mitt enrolled at Stanford University. He attended the university for one year before going to France to serve as a Mormon missionary. While in France, he sustained grave injuries when another vehicle hit the car he was driving. One of his passengers wasn't that lucky and died from her injuries.
Upon his return to the U.S., Mitt attended Brigham Young University. He earned a B.A in English with highest honors. Romney was intent on pursuing a business degree; however, and his father advised him that he would be better off with a law degree. As a result, he enrolled into a four year joint Juris Doctor/Master of business program coordinated by Harvard Law School and Harvard Business School. At the end of the four years, he graduated cum laude from Harvard Law School. He also graduated in the top of his business school class at Harvard Business School.
Romney began his business career at The Boston Consulting Group where he worked as a management consultant. He reasoned that this position would provide him more experience if there was ever an opening for Chief Executive Officer. He later left Boston Consulting Group to join Bain and Company – another management consulting firm. He became vice president of the company in 1978 -one year after he was hired. He was viewed as one of the best consultants of the firm and was well sought after by clients.
In 1984 Mitt Romney co-founded Bain Capital which focused on private equity investment. Under his watch, the firm helped start Staples Inc. The company earned a seven fold profit on this investment. In 1990 Bain and Company was facing an obscure future and asked Romney to return.  In less than two years Mitt transformed the company and made it profitable once again. He later returned to his role at Bain Capital.
In 1994 he took a leave of absence from Bain Capital to run for the US Senate. Under Romney's leadership, Bain was poised to become one of the best equity firms in the united States. Mitt announced his intention to leave Bain Capital in 2001. He transferred his ownership to existing partners. Under a signed agreement, Romney was allowed to receive a passive share of the profit. This agreement resulted in him earning an annual income worth millions of dollars.  Most of Mitt Romney's net worth is held in blind trusts. In 2012 Romney's investments in capital gains and dividends amassed exponential interest in the amount of $22 million.
Romney then campaigned for presidential nomination for the Republican Party.
The campaign cost his team $110 million, $45 million of which was his own money. Although he received 4.7 million votes, he lost to his competitor,  Jon McCain. For the second time, Romney again announced his intention to represent the Republican Party in the 2012 presidential election. His campaign was successful and he was nominated to represent the Republicans. However, his dreams for presidency were dashed following the victory of Barack Obama.