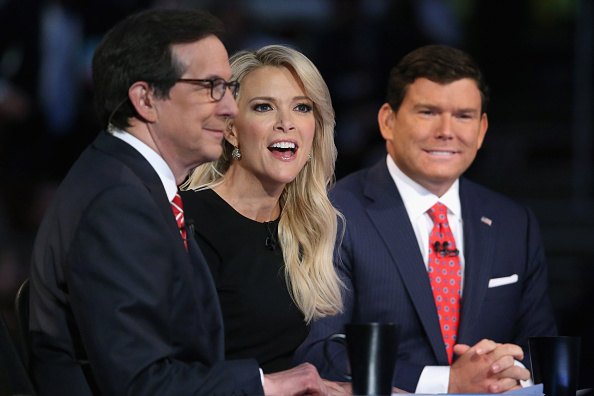 Megyn Kelly Net Worth – $15 Million
Up until about August 6th, 2015 Megyn Kelly hasn't exactly been a household name.  But her star has since risen since the controversial Republican debates that aired on national television.  Kelly is a Fox News host and political commentator who has amassed a net worth of $15 million.  Although we're speculating that in the next year or so that number will surely rise.   In a few heated exchanges with candidate Donald Trump, Kelly has been in headlines due to the questions she's asked as well as attitude that Trump has about her.
If the networks are smart, they'll keep Kelly on the air to battle it out with Trump again.   So where did Megyn Kelly start?  She was born in November of 1970 in Syracuse, New York.  Kelly earned her J.D. from Albany Law school and was an associate editor for the Albany Review.   Going by the name Megyn Kendall (from a first marriage) she then worked as an associate at a law firm in Chicago.   She then worked as an attorney for Experian.
Kelly got her start in the news business as an ABC news affiliate in Washington, D.C. where she was a general assignment reporter.  Kelly started to get recognition in 2004 when she covered the presidential election as well as the Beltway sniper attacks.  That same year Kelly joined Fox and worked as a general assignment reporter in D.C.
For Fox she provided coverage of Supreme Court Justice Samuel A. Alito, Jr. and Chief Justice John G. Roberts' confirmation hearings. She contributed segments for Special Report with Brit Hume, Weekend Live, The O'Reilly Factor, and On the Record. She started hosting the show America Live in 2010 and helped viewership to the show increase by 20%.
Kelly went on to receive more recognition for covering the 2012 United States presidential election.  She left America Live in 2013 for maternity leave and then started hosting The Kelly File.  She has a currently salary of $6 million which is where most of her net worth is coming from.  However, because of her good looks, Kelly receives endorsements.   Her current coverage of the debates and likely coverage of the upcoming election is sure to help her earnings.  We wouldn't be surprised if a book was in her future.
As far as Megyn's personal life, she married Douglas Brunt in 2008 and the couple has three children.