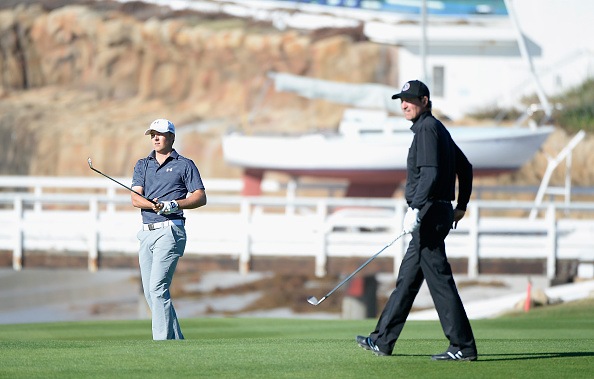 Jordan Spieth Net Worth – $20 Million
Jordan Spieth is a talented golfer from America with a net worth of approximately $20 million. The 22-year-old golfer has impressed the world already with his sheer talent and abilities, and he's amassed a large fortune in his very young life and his very short career thus far. The Dallas, Texas native attended some very prestigious schools in his lifetime, but that is not where he wanted to be. He wanted to be on the golf course, and he proved that when he won the US Junior Amateur Tournament at just 16 in 2009 and again in 18 in 2011. The only other golfer in the history of the game to accomplish this was Tiger Woods, one of the most famous golfers of all time.
At just 17, he was the PGA's number 1 junior golfer. He began attending the University of Texas and made the decision to join the PGA pro tour in 2012. He and Under Armour partnered for his tour, and he was later sponsored in additional by BioSteel Sports Supplements the same year, both of which contribute handsomely to his overall net worth. In 2013, he was voted the PGA's rookie of the year, and his career just took off from there. His career has been impressive to date, but it's been 2015 that really made him who he is today. This is when he has brought in more sponsors and endorsements to help him increase his net worth, and it's all because he accomplished some of the most impressive feats of anyone his age in his line of work.
In 2015, Jordan Spieth not only became the third youngest player in the history of the sport to win the Valspar Championship (only Sergio Garcia and Tiger Woods were younger), he also broke the 36-hole record at the Masters. As if that was not enough for him to really cement his place as one of the most impressive golfers in the world, he also won the US Open 5 under par in 2015, and the year is only half over at this point. His US Open win makes him the youngest golfer to take home the win since 1923. His 2015 Masters win earned him almost $2 million to add to his net worth. Sports run in the family as his younger brother plays basketball at Brown University, and his younger sister has inspired his charity work.
Spieth formed a charity called the Jordan Spieth Charitable Fund in which he works to provide funds and awareness for children with special needs, children who come from military families and children who love youth golf. His younger sister, Ellie, has special needs and Spieth calls her his inspiration and his reason for staying grounded despite all of his success and his fame. He has an impressive $20 million net worth at only 22, so imagine how much he will earn as he only gets better at the game and continues to wow crowds with his abilities and his skill on the golf course. He is a force with which to be reckoned.
Photo by Harry How/Getty Images