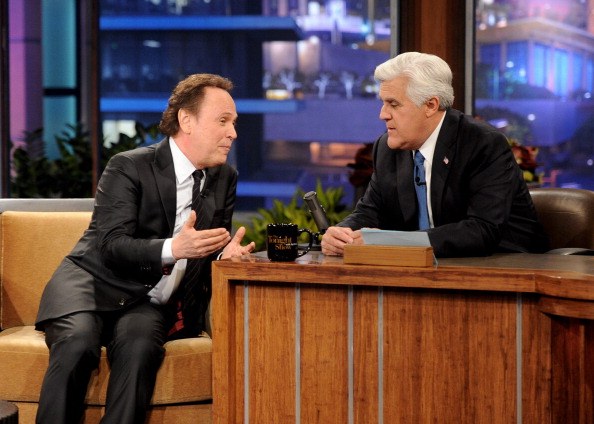 Jay Leno is a native New Yorker, a stand-up comedian and the former long-time host of The Tonight Show, and his net worth is more than $350 million. He's been in the business since the 1980s, taking over The Tonight Show in 1992. Incredibly, the comedian put every penny he earned from The Tonight Show into savings and lived off his stand-up income. He has no manager, and he reportedly earned $15 million per year for The Tonight Show prior to his retirement in 2014 as well as an additional $20 million per year from his stand-up.
James Doulas Muir Leno was born in New York on April 28, 1950. He had an older brother by the name of Patrick who passed away from complications with a cancer diagnosis when he was 62. His mother was a homemaker and his father an insurance agent. He didn't stay in New York long, however, because his parents moved him and his brother to Andover, Massachusetts where they grew up. Leno attended college at Emerson College and graduated with a bachelor's degree in speech therapy.
He began his comedy career when he was young, opening up his own comedy club in 1973. He performed there and in many other places across the country, also making frequent appearances on The Tonight Show beginning in 1977. He was also in several television series in minor roles, a few minor movies, and even he voices one of the characters in the animated show The Fairly Oddparents. Ten years after he made his first of many appearances on The Tonight Show, Leno became a regular sub for Johnny Carson, and was given the job as the new host of the show in 1992. It was widely speculated at the time that talk show host David Letterman would take over, which was a bit of a controversy.
Leno spent the next 12 years hosting the show before signing an additional contract in 2004 that stated he would host the show until 2009. The same year, Conan O'Brien signed a deal with NBC to take over hosting duties in 2009. The deal went as planned, but the ratings were not good. Leno had his own late night show at that point, but both he and O'Brien's ratings were so low that the network eventually paid off O'Brien and his crew and returned Leno to his seat. He returned March 1, 2010. He spent three years and one month hosting again before announcing that he would retire a year later in the spring of 2014. Leno's last night on the air was February 6, 2014.
He's spent much of his career doing stand-up comedy around the country and hosting his show. His personal life is anything but controversial. The comedian is a bit of a wildcard in his industry considering he does not gamble, smoke or drink. He's been married to his wife, Mavis, since 1980. They never had children, and never had any desire to have children. Instead, he spends his time collecting vehicles. He has a garage that's reportedly the largest personal garage in the world and in it he has 886 vehicles of which 117 are motorcycles. His vehicles include classics, new cars and even vehicles with a famous history, such as two previously owned by the infamous Howard Hughes. Leno also lends his love of vehicles to an occasional column for the New York Times as well as a column in Popular Mechanics.
He spends a great deal of time giving to charity. He and his wife regularly make $100,000 donations to charities they feel are important to them, and they participate in raising money and awareness for other charities. He's been the grand marshal for a charity called Love Ride, which has been in existence since 1985, helping the charity raise more than $14 million for muscular dystrophy research, September 11 recovery and Autism Speaks.
Leno has stated on many occasions he does not spend anything he earned from his job at The Tonight Show, which is all in savings. It sounds hard to believe, but when you make $15 to $20 million a year in addition to that, it's not that difficult to believe. He's now retired, married to his wife of more than 30 years, doing stand-up and collecting vehicles.
Photo by Kevin Winter/Getty Images