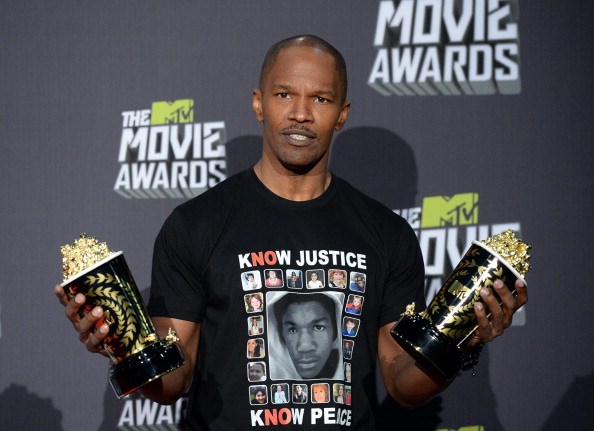 Jamie Foxx is an American actor, stand-up comedian, singer-songwriter, musician, and radio host with an estimated net worth of $85 million. He's an Academy Award winning actor who has earned his money mainly through his movie career.
Eric Marlon Bishop was born on December 13, 1967 in Terrell, Texas. He is the son of Darrell, a stockbroker, and Louise. Shortly after his birth, Foxx was adopted. He did not maintain contact with his birth parents. As a child he was a part-time pianist and leader of the choir. He was a star athlete, but also continued his musical career early on.
He changed his named to Jamie Foxx in 1989 and after performing at a comedy club in Texas. In 1991, Foxx joined the cast of In Living Color. In 1996, Foxx premiered his own show The Jamie Foxx Show. The show ran for five years. During that time, he made his first major film debut in Oliver Stone's Any Given Sunday in 1999. Following that movie, he played a taxi driver in the movie Collateral alongside Tom Cruise for which he received an Academy Award nomination for Best Supporting Actor.
It was around this time that Foxx began to launch his music career appearing in well-known artists' songs such as Twista and Kanye West. Foxx has released four albums none of which earning success. His musical success is solely based on his appearances in other songs.
His biggest acting success came with the 2004 biopic Ray. His role as Ray Charles earned him an Academy Award and BAFTA Award for Best Actor as well as the Golden Globe for Best Actor in a musical or comedy. In sum, Foxx has appeared in over 30 films with mixed reviews.
He is projected to appear in the upcoming film The Amazing Spider-Man 2 as the character Electro to be released in 2014. In perhaps what will be Foxx's biggest role to date, he has been chosen to play Martin Luther King Jr. in an upcoming biopic directed by Oliver Stone and produced by Steven Spielberg. This role represents a game-changer for Foxx. If the movie becomes a wild success you will see his net worth skyrocket. We are looking forward to seeing more news on this role.
Foxx has two daughters one born in 1994 and the second in 2009. In April of 2003 when he was escorted out of Harrah's casino in New Orleans. Apparently, Foxx failed to show proper identification and he was charged with trespassing, disturbing the peace, battery on police officers and resisting arrest. For the incident he received a six-month suspended jail term and a measly $2,000 fine.
Aside from Foxx's film and television career, album and musical collaboration, Foxx has three stand up comedy specials on DVD. The collection of these efforts has earned him a net worth of $25 million. This number is in the spotlight as Foxx is due to appear in two major films in the upcoming year. As mentioned above, if these films are successful, Foxx's net worth could skyrocket to a number more than double what he has now.
Photo by Jason Merritt/Getty Images