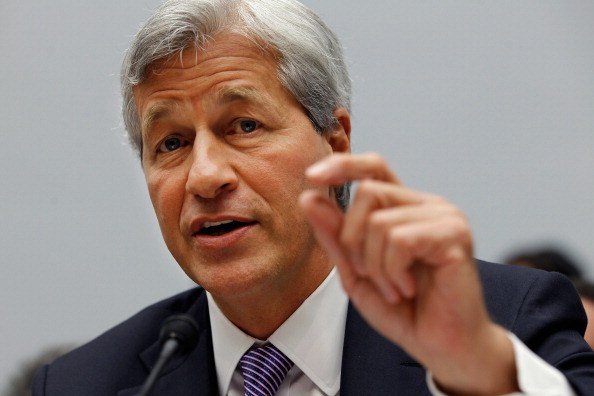 Jamie Dimon is the famed CEO of JPMorgan whose net worth is $1.1 Billion and previously underwent chemotherapy for throat cancer. In a memo to his employees, he announced he was getting ready to undergo eight weeks of intense chemo for cancer that was thankfully caught early and reportedly curable according to Dimon's doctors. You may or may not have known much about the CEO until his announcement, so read on to find out five things you didn't know about Dimon.
He's a Twin
Dimon is one of three boys born to Themis and Theodore Dimon. His eldest brother is Peter, and his other brother is actually his fraternal twin, Ted. Most people don't realize that Dimon is a twin because of the fact that the boys are fraternal, meaning they came from two different eggs and share no more similarities than any other non-twin brothers.
He Majored in Psychology
Despite being one of the most successful businessmen in the country and running one of the four major banks, he did not major in banking or finance in college. He graduated from Tufts University with a degree in psychology, which was his college major. He did go on to apply to the Harvard School of Business and graduate with a Master of Business Administration.
He Turned Down Big Job Offers
What's surprising to many people is the fact that Dimon turned down several lucrative job opportunities in favor of an administrative position at American Express. He turned down companies such as Goldman Sachs, Morgan Stanley and Lehman Brothers to work for Sandy Weill at American Express.
His Political Affiliations
He's a major supporter of the Democratic party, and it was rumored that President Barack Obama would name him the Secretary of the Treasury in 2008. However, rumor was incorrect as he named Timothy Geithner, president of the Federal Reserve Bank for the position. However, he does maintain a close relationship with several men and women in the Obama administration.
He's Worth $1.1 Billion
Most of Dimon's money is from his position as President and CEO of JPMorgan Chase, but he is also the co-founder of Citigroup, and he's been the CEO of companies such as BankOne as well. He's been the CEO of JPMorgan for 13 years, earning an annual salary of more than $20 million as well as handsome bonuses each year for his work.
(Photo by Chip Somodevilla/Getty Images)