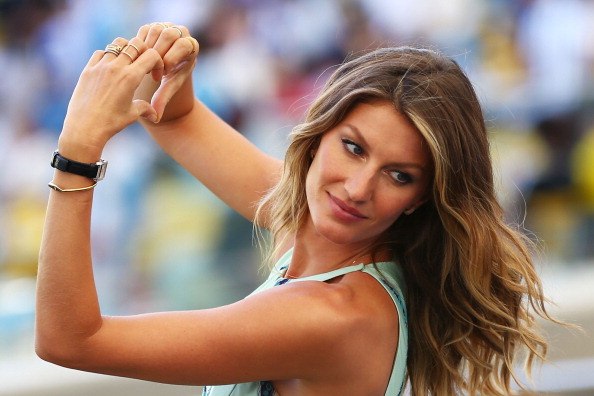 Gisele Bundchen is a Brazilian supermodel, activist and wife of New England Patriots Quarterback Tom Brady, and she has a net worth of approximately $340 million. Her husband's net worth is estimated to be around $120 million, which makes their combined net worth approximately $460 million. To say the least, this successful superstar couple is doing quite well, and their lifestyle does prove that.
Bundchen was born in 1980 in Brazil with her Brazilian-born German parents and her five sisters. Many people are unaware of the fact that Bundchen is a twin. Of course, it's easy not to know this when her twin is fraternal, which means that they are not identical. She is the daughter of a bank clerk and a university professor. She was discovered in a shopping mall in Sao Paolo in 1993 when she was only 13-years-old, and she worked the runway for the first time in her life when she was chosen to model at New York City's Fashion Week in 1996. She later moved to London and was chosen to work on an Alexander McQueen campaign when she was the only model in an audition capable of walking in exceptionally high heels on a wet runway.
From there, her career took off. She broke world records with her Victoria's Secret contract in 2000 and she was the face of many major lines for many years. She earned hundreds of millions of dollars from her work with the lingerie company, especially when she was chosen to be an Angel and wear the most expensive bra of all times. She then posed for the face of many different famous campaigns, some more than once. This led her to be one of the highest paid models in the world. Her work for Got Milk? And Dolce and Gabbana made her one of the most famous faces in the world.
She refused to be a judge on one of the hottest modeling shows of all time, claiming that she did not want to pursue a career on television, though she did have a very minor part in the hit movie, "The Devil Wears Prada." She met and married her husband Tom Brady in 2009 after several very high-profile relationships, including spending more than four years with Leonardo DiCaprio. She married her husband and they have two children, and she is present for most all of his football games.
She's been called the biggest fashion model of all time, one of the most powerful women in the world and she has been called one of the most amazing models in the world in the history of the game. She's had an outstanding career, and it only gets hotter every year. She's been modeling now more than 20 years and she still looks just as young as she did when she began, and that is part of the reason that she is so famous and so successful today. It's not usual that a model is more famous than a designer brand, but she is the exception to that rule.
Gisele Bundchen On Social Media
Instagram.com/gisele

Facebook.com/gisele

Twitter.com/gisele

Gisele Bundchen

Gisele Bundchen Videos
Photo credit Getty Images