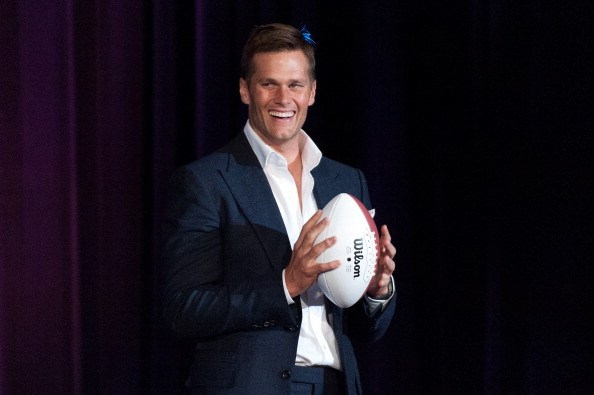 36 year old Tom Brady is one of the most famous American Football players in the world. He currently plays as a quarterback for the New England Patriots, a team that he has played for for almost his entire professional career. As one of the more successful and recognizable football stars he has attracted a variety of sponsorships.  Tom Brady's Net Worth is said to stand at around $120 million. Tom Brady's salary from the New England Patriots is $26.5 million a year.
Brady was born in California in the town of San Mateo in 1977 to parents Tom Brady Sr and Galynn. He was their only son and has three older sisters. On a religious note, he was raised as a Catholic. In his early life he spent a lot of time watching 49ers games, which inspired his love of football.
His first real taste of football came when he attended football camp at the College of San Mateo.   He attended Junipero Serra High School in his home town of San Mateo where he graduated in 1995. He played a variety of sports during this time, including football and baseball.
After high school he attended the University of Michigan where he played for the Wolverines. During his first two years he was the backup quarterback. He struggled to get a place in the team at first but in 1998 he became the Michigan Wolverines regular quarterback, and started every game of the 1998 and 1999 seasons. He set many school records during his time with the Wolverines.
After graduating in 1999 Brady was drafted during the 2000 NFL Draft. He was drafted by the New England Patriots. Some analysts have called the draft pick of Brady as the best draft pick of all time.
During his first season he began as the fourth option quarterback.  However,  by the end of that season he had risen to the second option.  He started his second season as second option, but by mid season became the started after an injury to Drew Bledsoe.
Since ascending to starter in 2001, he has remained the quarterback for the New England Patriots. He has become one of the greatest football players of all time and has become a Patriots legend. He is probably the most famous football player in the world.
He is married to Gisele Bundchen, a Brazilian supermodel who he married in 2006. He has two children with her, Ben Brady born in 2009 and Vivian Lake Brady, born in 2012. He also has a son John Edward Thomas Moynahan, born in 2006 from a previous relationship with actress Bridget Moynahan.
He has several homes.   His main home is a mansion worth $20 million in Brentwood, Los Angeles. He also owns a condo worth $14 million on Manhattan and is building a house in Boston
His extreme success in his sport, along with his likable personality and media profile have meant that he has been able to build his vast fortune of $120 million.  He is currently signed for the New England Patriots until 2018.