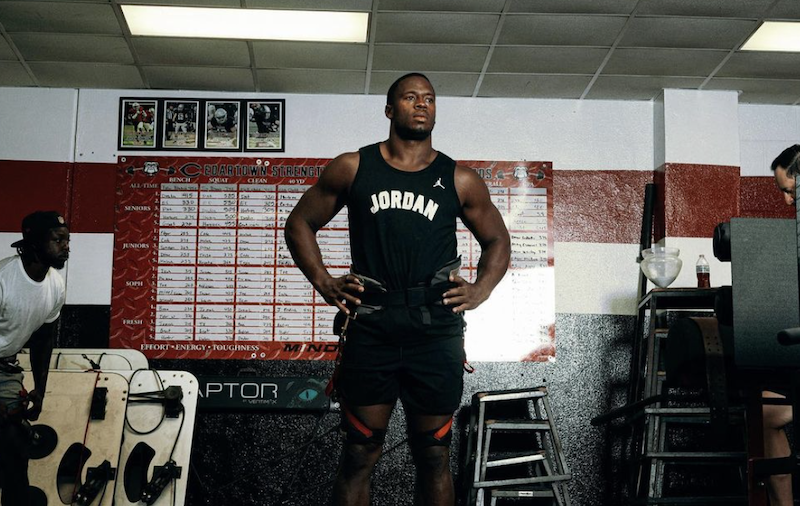 Instagram
Nick Chubb has emerged as one of the premier running backs in the NFL, quickly becoming a crucial player for the Cleveland Browns. With such an impressive trajectory, it's not surprising that many people are interested in his financial success. As of 2023, Chubb's net worth is estimated to be around 15 to 22 million dollars, largely attributed to his lucrative football career and endorsement deals.
Entering the league as a second-round draft pick in 2018, Chubb wasted no time making his mark as a talented player. He has since been a four-time Pro Bowler and was recently awarded a significant three-year contract extension worth $36.6 million, further securing his financial future.
In addition to his on-field earnings, Chubb also benefits from various endorsement deals, adding to his overall net worth. His growing popularity and skill in the NFL are likely to increase these opportunities and keep his net worth on an upward trajectory. The Browns' star running back is a prime example of how dedication, talent, and a strong work ethic can lead to financial success in professional sports.
Net Worth
Nick Chubb, a talented running back for the Cleveland Browns, has accumulated a significant net worth thanks to his successful NFL career. As of 2023, Chubb's estimated net worth is around $15 million.
His financial success started when he was chosen by the Browns in the 2018 NFL Draft. Chubb signed a rookie contract that offered an average annual salary of $1.8 million and guaranteed earnings of $5.9 million. However, one of the major contributors to his net worth is the recent $36.6 million extension he signed with the team, ensuring his commitment for the upcoming years.
Chubb's performance on the field has been exceptional, earning him four Pro Bowl selections so far in his career. His prominent role within the Browns' offense has not only aided the team on the field but has also significantly boosted his financial portfolio.
In conclusion, Nick Chubb's impressive career and lucrative contracts have solidified him as one of the NFL's premier running backs while simultaneously amassing a noteworthy net worth. With continued success on the field and strategic financial decisions, Chubb's net worth is expected to rise further in the coming years.
Early Life
Nick Chubb was born Nicholas Jamaal Chubb on December 27, 1995, in Cedartown, Georgia1. He is the youngest child to parents Henry Chubb and Lavelle Chubb2, and has two elder brothers, Zachary Chubb and Henry Chubb Jr., and one younger brother, Neidra Chubb3.
Chubb attended Cedartown High School where he was a notable two-sport athlete, excelling in football and track4. In football, Chubb demonstrated his extraordinary skills as a running back. As a junior, he led the state of Georgia in rushing yards, with 2,721 yards and 38 touchdowns under his belt5. He continued to impress during his senior year, accumulating 2,690 yards and 41 touchdowns6. His high school career concluded with a remarkable 6,983 rushing yards and 102 rushing touchdowns7.
Having proved his exceptional skills in high school, Chubb committed to playing college football for the University of Georgia8. His athletic achievements helped pave the way for his successful football career, and have significantly contributed to his current net worth of $22 million9.
Career
Nick Chubb, a talented running back for the Cleveland Browns, boasts an impressive career since joining the NFL. Chubb played college football at the University of Georgia before being drafted by the Browns in the second round of the 2018 NFL Draft. Since then, he has made significant contributions to his team's success and earned a reputation as one of the league's top running backs.
Throughout his career, Chubb has amassed 6,341 yards, scored 48 touchdowns on the ground, and caught four touchdown passes. These statistics reflect his exceptional ability on the field, propelling him to become a three-time Pro Bowler. Additionally, his lucrative contract with the Browns reflects his value to the team.
In July 2021, Chubb signed a three-year, $36 million contract extension with the Cleveland Browns, marking a significant milestone in his career. This contract solidified his position as one of the highest-paid running backs in the league, illustrating the team's confidence in his skills and contributions.
Chubb's remarkable career has led to substantial earnings, with his net worth estimated to be around $15 million to $22 million, depending on various sources. This noteworthy financial standing testifies to his success on the field and the high demand for his abilities in the NFL.
Personal Life
Nick Chubb, a talented and successful football player for the Cleveland Browns, has garnered significant attention for his skills on the field. Off the field, he is quite private about his personal life. Chubb was born on December 27, 1995, in Cedartown, Georgia. He is the son of Lavelton Chubb and Henry Chubb and has three siblings. As a family, they remain close, supporting each other in their respective endeavors.
At the University of Georgia, Chubb studied Agriculture and Applied Economics. While there, he not only excelled in his academic pursuits but also became a standout player in the football team. His commitment and passion for the sport have led to his impressive NFL career.
Though Chubb is highly focused on his professional life, he has been involved in charitable endeavors. He uses his fame and financial success to give back to the community. For instance, he has participated in charity events to raise funds for various causes. Such efforts display his dedication to making a meaningful difference beyond the football field.
Much like his philanthropic pursuits, personal relationships are kept away from the public eye. As of now, there is little information about Chubb's dating life or potential partner. He maintains his privacy, allowing him to concentrate on his career and make a name for himself as one of the NFL's top running backs.