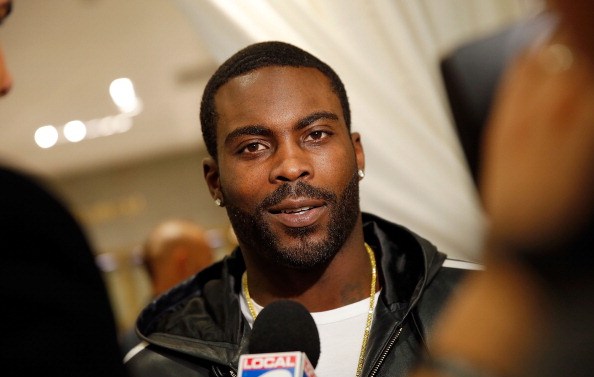 Michael Vick is an American professional football player with an estimated net worth of $15 million. Vick despite his impressive athletic feats will be forever-recognized for being convicted  running an illegal dog-fighting network on his property.
Michael Dwayne Vick was born on June 26, 1980 in Newport News, Virginia. He is the son of Brenda Vick and Michael Boddie, unmarried teenagers. Vick came to prominence in high school as one of the top quarterbacks in the country. He would accept a scholarship to Virgina Tech where he would play two seasons and be invited to The Heisman Trophy presentation his sophomore year.
Vick was drafted by the Atlanta Falcons first overall in 2001. He would go on to play 6 successful seasons with the Falcons in which he made three Pro Bowls and lead them to the playoffs twice. Vick became known as the first real duel threat quarterback because of his ability to run and pass. He became the first quarterback ever to rush for 1,000 yards in a season.
From 2007 to 2009, Vick served two years in jail for his involvement with Bad News Kennelz, an illegal gambling and dog-fighting ring. After getting out of prison, Vick was signed by the Philadelphia Eagles on a one-year deal worth $1.6 million. At this point, Vick's net worth was negative due to the money he owed from his legal troubles. Despite making millions with the Falcons and having several lucrative endorsements totally about $25.4 million annually, Vick lost everything and even owed millions after his conviction. It was dire enough that Vick sought Chapter 11 Bankruptcy while in jail.
Vick rebounding and played well with the Eagles, which lead to a 6-year, $100 million contract with the Eagles in 2011. The contact was a savior for Vick, who reportedly paid over $30 million in taxes, creditors, lawyers, and accountants between 2008-2012.
Currently, Vick is a free agent after restructuring his contract in February of 2013.According to the latest reports, Vick has had interest from the Raiders, Vikings, Bengals and more. The current market value for Vick is around the $4-5 million a year range.
He does have a clothing line which he launched in 2012 called V7 to be sold exclusively at Modell's. Par of the proceeds from the line go the Boys & Girls Club of Philadelphia. He also has two foundations The Michael Vick Foundation and The Vick Foundation. Despite his own financial troubles, Vick has raised hundreds of thousands of dollars to help underprivileged children and families.
Vick's net worth is just $15 million despite his $100 million contact signed in 2011. Vick is still digging himself out of an incredibly deep hole and due to his legal troubles is not a marketable athlete at this time. He desperately needs to latch on to an NFL team and perform well over the next few years in the hopes he can stash away enough money to sustain himself for the rest of his life. He simply just doesn't have many options outside of football. His $15 million net worth sits in a precarious position.