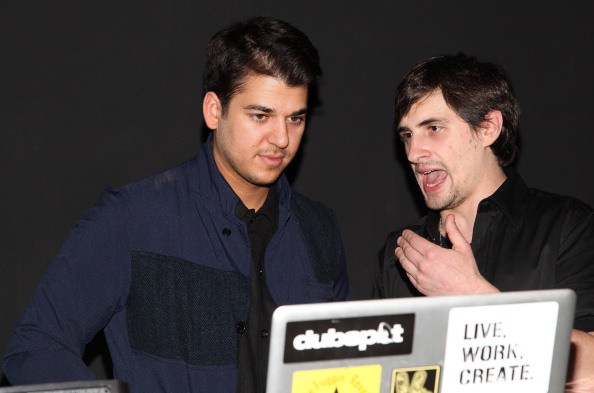 Rob Kardashian is an American television personality, businessman, and model with an estimated net worth of $2.75 million. Kardashian is most-well known for his appearance on his family television show Keeping Up With The Kardashians.
Robert Arthur Kardashian was born on March 17, 1987 in Los Angeles, California. He is the son of famous attorney Robert Kardashian, and Kris Jenner. His father, who gained fame as O.J. Simpson's defense attorney, died when Rob was sixteen years old from esophageal cancer. Rob has three famous old sisters from her mother's first marriage, Kim, Kourtney, and Khloe. His mother remarried former Olympian Bruce Jenner, and has two-half sisters Kendall and Khloe as well.
Rob's fame has come from his family's immense net worth and sisters' rise to prominence. Kardashian is most well-known for being on the hit E! television series Keeping Up With The Kardashians and Khloe and Lamar. Rob has also appeared on the dancing competition Dancing With the Stars. Rob performed well on the thirteenth season of the show and ended up finishing in second place.
Aside from his appearances on these television shows, Rob has made his name as a model and businessman. Rob began his business career as a talent agent. His most successful project was the formation of the successful pop group BG5. The group was originally managed by his mother, Kris, than taken over by Rob himself.
Rob has taken on other business initiatives as well. He has worked with PerfectSkin, Rival Spot, and most recently working on his own sock line, Arthur George. He is currently working on a men's line with Scott Disick as part of the Kardashian Kollection to be stocked in Sears.
Rob's other activities include being one of the final judges of the Miss USA 2012 pageant and being on the dating show The Choice. Kardashian gained recognition for dating Adrienne Bailon from 2007 to 2009. Their relationship was documented on the show Keeping Up With the Kardashians.
Rob's net worth is a product of inherited wealth, his contract on reality television, and his business ventures. It'll be interesting to see how Kardashian grows now that Keeping Up With the Kardashians is losing its pulse. He's never going to be suffering for money because of his family, but growing his net worth on his own could prove difficult for him after the show ends. His sisters will most likely have spin-offs, but what is to become of Rob. He's positioned himself nicely with some business ventures, but they haven't taken off just yet.
As it stands right now Rob's current net worth is $2.75 million. To put that in perspective of his family – Kim's net worth is $40 million, Kourtney's is $18 million, and Khloe's is $20 million. It'll be interesting to see if Rob can make up some space between him and his sisters or if he's going to be a product of the family assets and nothing on his own. Clearly, we're not rooting for his sisters so maybe that means we're rooting for him!