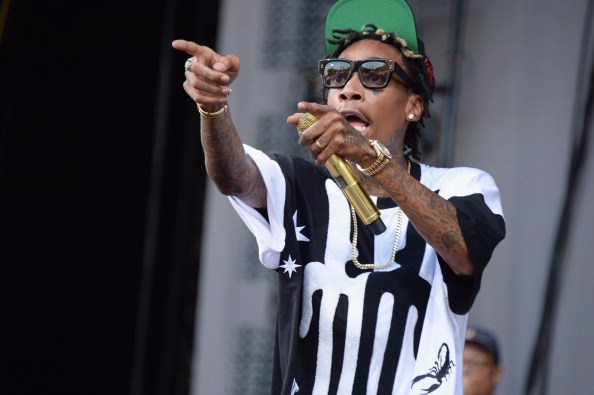 Wiz Khalifa is an American rapper and singer-songwriter with an estimated net worth of $20 million. He is known for his single 'Black & Yellow' which peaked at number one on the Billboard 100.
Cameron Jabril Thomaz was born on September 8, 1987 in Minot, North Dakota. His father served in the military and because of this he moved frequently as a child. He lived in Germany, United Kingdom, and Japan before settling in Pittsburgh for high school.
Wiz made a name for himself contributing to various rappers' mix tapes in the Pittsburgh area. His first label was Rostrum Records in which he released his first full-length album, Show and Prove, in 2006. The album was good enough to get him recognition and an eventual contract with Warner Bros. Record. He continued to release mix tapes with Rostrum and due to his lack of success with Warner Bros. lead to him leaving and continuing to produce popular remixes and mix tapes with Rostrum.
In 2010, he signed with Atlantic Records, and released 'Black and Yellow' with Atlantic and his first and second studio albums as well. His work has been met with success. Altogether he has 5 albums and has been a wild success with his mix tapes and remixes. Khalifa's collaborations with big name artists is a huge driver for his net worth and success.
He is currently married to model Amber Rose. The couple has one son together.The Pittsburgh City Council declared 12-12-12 to be Wiz Khalifa day in the city, an awesome honor for the rapper. Wiz has been upfront and honest about his regular use of cannabis. He has told reporters that he spends over $10,000 a month on cannabis and uses it daily.
Wiz's net worth is strictly related to music and his collaborations. He's  one of the few rappers that hasn't encountered many legal troubles throughout his career, however his regular use of cannabis is alarming and will most likely lead to trouble for him. Khalifa's next album is a big one for him. In February of 2014, he released the single from the album, Blacc Hollywood, entitled "We Dem Boyz". There has been very little response following the release of the song, which could spell trouble for Wiz's immediate future.
As it stands now his net worth is at a solid $20 million with very little in outside business activity. Wiz has mentioned he would like to be more involved in film and television so we may see an uptick in his non-music income. The key will be his 2014 album if he's going to take the next step in terms of growing his net worth. As mentioned above, right now we don't have any indication as to how the album is doing, but we expect it to be solid. Wiz will be a solid member of the hip-hop game for some years. At the age of 26, he still has some significant earning potential ahead of him. Whether he capitalizes on that or now still remains to be seen right now.