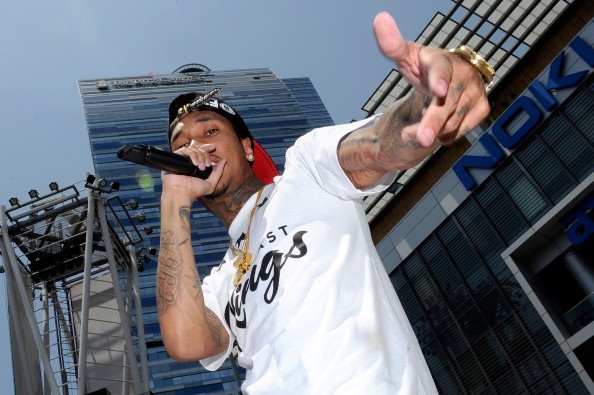 Tyga is an American rapper with an estimated net worth of $8 million. In 2011, he was nominated for a Grammy along with Chris Brown and Kevin McCall in 2011 for the song "Deuces".
Michael Ray-Nguyen Stevenson was born on November 19, 1989 in Los Angeles, California. He grew up in Compton listening to Lil Wayne, Cam'ron, Eminem and others and quickly fell in love with it. He started officially rapping when his cousin (Travie McCoy) got a hold a mix tape he made.
No Introduction was the first independent album released by Tyga in 2008. One of the songs from his album, 'Diamond Life', was used in the video game Need for Speed: Undercover and Madden 2009. He would go on to release many mixtapes and build his name up enough to get a record deal with Lil Wayne's Young Money Entertainment. In 2010, he released the track "Deuces" with Chris Brown and Kevin McCall, which became a huge hit. It was nominated for a Grammy and reached #1 on the Billboard Hot 100 Rap/Hip Hop.
With Young Money, Tyga would go on to release 4 more albums including his major label debut, Careless World: Rise of the Last King in 2011. Most of his music was met with moderate success. His highest total of first week album sales was 54,000 with the 2013 album, Hotel California. Tyga has been much more successful in the mixtape game collaborating with other artists, including a pairing with Justin Bieber.
Tyga's only major other business activity outside of music was he produced and co-directed a multi-AVN award winning crossover adult film titled Rack City: The XXX Movie. He appears in the move, in a non-sexual role.
Tyga is engaged to model/stripper Blac Chyna. Together they have a son, King Cairo. They live in a $6.5 million mansion in Calabasas, California. In September of 2013, Tyga was sued by a Beverly Hills-based jeweler for allegedly not paying for roughly $91,000 worth of jewelry. Tyga ended up having to pay double the sum of money for the cost of the jewelry and late fees. He was also sued in 2012, but this case involved dancers in his music video never resulted in Tyga having to pay money.
Tyga has a modest music career without much in terms of outside business activity. He still boasts a net worth of $8 million, with a $6.5 million home.
At the age of 24, we expect his net worth to continue to grow into the 10-20 million dollar range over the next couple of years. Tyga is currently associated with a strong label and reputable artists in the world of hip-hop. He's positioned to grow his net worth substantially over the next few years if he can produce good music. Tyga is another hip hop star that has also faced legal troubles that could severely hurt his potential earnings. It'll be interesting to see how his album does in 2014. He declared the album to be way less commercial and 'straight rap'. It'll be interesting to see if he grows as an artist in popularity or if he fades away. Like we said, he's positioned with the right people so it seems like the former may hold true.