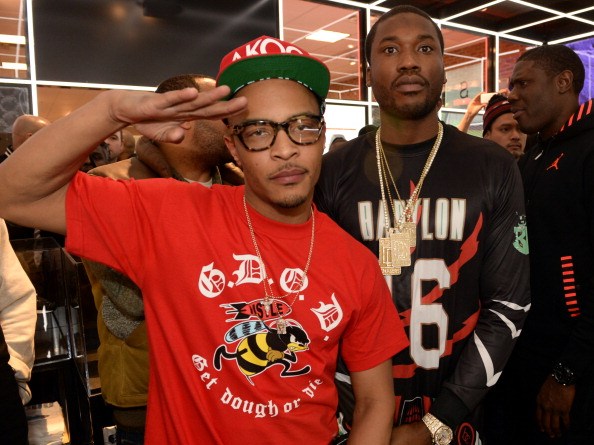 T.I. is an American rapper, record producer, actor and entrepreneur with an estimated net worth of $50 million. In 2009, Billboard ranked him as the 27th music artist of the 2000s decade. He is the founder and CEO of Grand Hustle Records, which he launched in 2003.
Clifford Harris Jr. was born on September 25, 1980 in Atlanta, Georgia. He was raised by his grandmother in the Bankhead neighborhood of Atlanta. T.I. began rapping at the age of 8. As a teenager he dealt drugs and was given the nickname Rubber Band Man for the number of rubber bands he would wear around his to denote wealth of a drug dealer. In 1996, T.I. was discovered by signed him to the record label Ghet-O-Vision Entertainment. He would changed record labels shortly to Arista Records, a change that was noted with a name change to T.I. from Tip out of respect for rapper Q-tip.
In 2001, T.I. released his debut album I'm Serious. Despite having big names on the album like Pharrell Williams of The Neptunes and Lil Jon, the album was a horrible failure. It struggled enough to get T.I. dropped from Arista Records. He then formed Grand Hustle Entertainment and begin releasing mixtapes, which eventually got him a major record label deal with Atlantic Records.
His next two albums were much more successful than his first. Trap Muzik and Urban Legend were released around T.I.'s arrest and probation, but the albums were still successful. He would go on to sell over a million copies and gain name recognition through his various collaborations with Lil Wayne, Destiny's Child, and Swizz Beats. In 2006, T.I. would release another album titled, King, which featured the hit single 'What You Know' a Grammy-award winning hit. T.I.'s success also landed him the lead on DJ Khaled's 'We Taking Over', one of the biggest songs of the year.
T.I. would go on to release four more albums and participate in several more collaborations that earned him millions of dollars. He would extend his career beyond music with six roles, three main roles in films. He would also have a hand in directing films during this time. He would eventually launch his own production company Grand Hustle Films, a compliment to his record label Grand Hustle Records, in 2007.
T.I.'s other business ventures include his own nightclub in Bankead, Club Crucial. It's considered one of the most popular clubs in Atlanta. He has an endorsement contract with Chevrolet and the social networking website StreetCred. He is also a Global Creative Consultant for Remy Martin Cognac.
T.I. has persevered through several arrests to generated a net worth of $50 million. His music, film career, and other business ventures have allowed him to grow his brand and build a semi-empire with his name on it. Ultimately, the success of his major hit singles is the number one driver of his net worth, but T.I. continues to expand his business meaning his worth will continue to grow despite some hiccups in the past