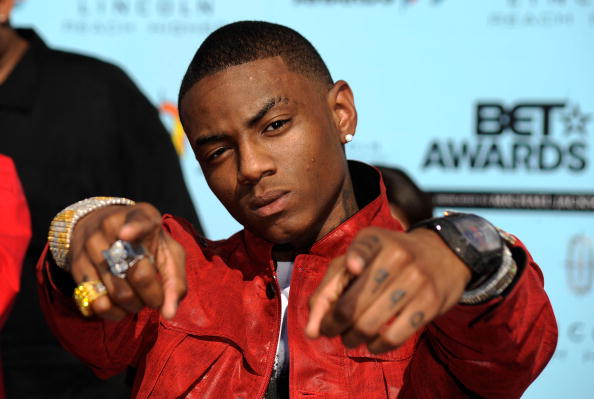 Soulja Boy is an American rapper, record producer, actor and entrepreneur with an estimated net worth of $23 million. Soulja Boy launched his career with the hit single "Crank That (Soulja Boy)".
DeAndre Cortez Way was born on July 28, 1990 in Chicago, Illinois. At the age of six, Soulja Boy became interested in rap. At the age of 16, he moved to Mississippi where his father provided him with a recording studio to work on his music. In November 2005, Way posted some of his music on the website SoundClick. He continued to post songs on the internet to positive reviews. In March 2007, he created the song 'Crank That' and released his first independent album Unsigned & Still Major: Da Album Before Da Album. He also released a video demonstrating the 'Crank That' dance that became a wild success. It wasn't long before he was signed by Interscope Records.
'Crank That (Soulja Boy)' was a wild success. It was nominated for a Grammy Award for Best Rap Song, but many worried he'd be a one-hit wonder. He wasn't. His next major single 'Kiss Me Thru The Phone' with Sammie sold over 2,000,000 digital copies. His third major single 'Turn My Swag On' topped the Billboard Rap Charts and eclipsed the 1,000,000 digital copy sales quickly.
Overall, Soulja Boy has released three albums with three huge singles. His last album was released in 2010 and since than he's been featured on collaborations and various mixtapes while planning his next album. He's still touring despite not releasing an album in three years. He's been on tours the past four years that have generated over $100 million collectively.
While Soulja Boy's music has been successful, he hasn't stopped there. He founded his own record label Stacks on Deck in 2004. He also produces music other than his own. He's produced music for Bow Wow, 50 Cent, and Lil Wayne.
Outside of music, Way his own clothing line 'S.O.D. Clothing'. In 2008, he also released his own brand of shoes called "Yums". He also has three other minor clothing lines that can be found in Los Angeles. He's worked with fashion designer D. Young to create a line called 'Ocean Gang' that hasn't taken off just yet.
Soulja Boy also has worked on his acting career as well. He created a documentary about himself with director Peter Spier entitled Soulja Boy: The Movie. The movie was direct-to-video released in 2008 and was absolutely panned for coming off as a compilation of YouTube videos. That hasn't stopped Soulja Boy from continuing to pursue acting. As of 2013, he was scheduled to make a guest appearance in the movie Officer Down.
Soulja Boy's net worth was built off of the success of three incredible singles. He was able to ride that momentum and, not only develop himself as a formidable hip-hop artist, but an entrepreneur and actor as well. His net worth, to this day, is still a product of his successful music more than anything else. He's another artist who will continue to grow because he's still relatively new to the game.