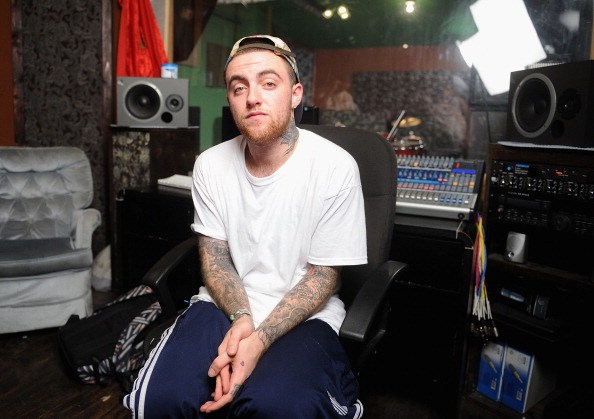 22 year old Rapper Mac Miller (born Malcolm James McCormick) was born on 19 January 1992 and since his breakout onto the music scene in 2011, Mac Miller's Net Worth has risen to a staggering $6 million. Miller was born in Pittsburgh, Pennsylvania to Karen, who is a photographer and Mark, who is an architect. In terms of religion he comes from a mixed background, with his mother being Jewish and his father being a Christian. He was raised Jewish however and has had a Bar Mitzvah.
He attended elementary school at Winchester Thurston School and then went to Taylor Allderdice, which is where he decided to focus on his rap career. He taught himself how to play various instruments, including the guitar, drums, bass and the piano.
After beginning his rap career at high school he began recording and releasing mixed tapes, between 2007 and 2009 he released several mixed tape, including 'But My Mackin' Ain't Easy', 'How High', 'The Jukebox: Prelude to Class Clown' and 'The High Life'. After being noticed because of these mixed tapes, he was signed in 2009 to Rostrum Records.
After signing with Rostrum Records he made another mixed tape, which was released in 2010 – it was called K.I.D.S. He then embarked on his first tour, which was called the Incredibly Dope Tour. This tour was a big success for Miller, he sold out every location. 2010 became an even better year for Miller when he won big at the Pittsburgh Hip Hop Awards, taking home two awards.
Between 2010 and 2011, Mac Miller released several more mix tapes, including 'Best Day Ever' which had several hits including 'Wear My Hat' and 'All Around The World'. He then released an EP, named 'On And On And Beyond', which was a success too.
In July 2011, he took his career to the next level by announcing the release of his debut album 'Blue Slide Park. During this time he also featured on a remix of Maroon 5's hit song 'Moves Like Jagger'. In the fall of 2011 the debut album 'Blue Slide Park' was released. It was a commercial success, deputing at number one on the US album chart, selling 145,000 copies in the first week and 344,000 copies overall. It also had several singles in the top 100 singles chart.
In between releasing his first and second studio album, Mac Miller released several more mixed tapes. Including Run On Sentences Vol 1, an entirely instrumental mix tape.
His second album Watching Movies With The Sound Off, was released in early 2013. It was also a commercial success, debuting at number three on the US album charts, selling 101,000 copies in the first week, and 167,000 copies overall in the United States.
In late 2013, Miller started his own record label, called REMember Music, it is named in memory of a friend who died. He says that he is now working on his third studio album.
He has had a few problems in his personal life, including an addiction to codeine and promethazine. He was also arrested for possession of marijuana.
In terms of a love life, he recently broke up with a long term girlfriend of four years, who he met in high school. He released a song on his latest album about this breakup.
With two successful albums, many successful tours and several mix tapes, it is not hard to see how Mac Miller increased his net worth to $6 million.