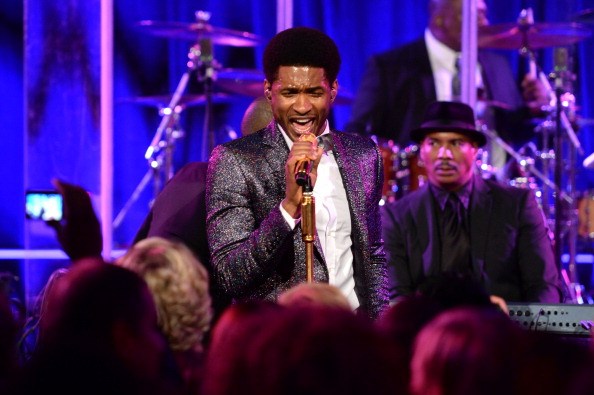 At the age of 35, American singer-songwriter, dancer, philanthropist, businessman and actor Usher Raymond IV, known commonly as Usher had accumulated a net worth of $110 million. Usher was born in Dallas Texas, growing up with his mother, step-father and step-brother after his father left the family when he was a year old. He spent most of his young life in Chattanooga, joining a local youth choir where his grandmother discovered his ability to sing, and at nine years old his family decided to move to Atlanta, Georgia where he could further his abilities in a more conductive environment.
Usher had shown real potential to become a professional singer and at age eleven joined a local R&B quintet named NuBeginnings, recording ten songs with group in 1991. At age thirteen, Usher competed on Star Search and was subsequently signed to a contract with record company LaFace. Upon signing with the record company his mother left her job as a medical technician to manage his career full time.
In 1994, aged 16 Usher released a self-titled album, reaching number twenty-five in the Billboard charts and accompanied by three singles. After the album's release, Usher completed his high school education while laying the foundation for a second album by developing his skills as a stage performer.
Usher's career was kick started upon the release of his second album in 1997 titled 'My Way'. The lead single from the album 'U Make Me Wanna' became Usher's first UK number one and was a platinum single in the US. It also won R&B/Soul Single at the Soul Train Awards. The second single 'Nice & Slow' was Usher's first US number one and sealed Usher's arrival in the music industry.
Usher didn't release his third album until 2001, making guest appearances in TV show 'Moesha' and landing a film role in 'Faculty' in between releases. The third studio album was initially titled 'All About U' but the first single form the album flopped and the decision was made to push back the release. A few months the later the album was released with the new name '8701' and went on to be certified four times platinum in the US.
The fourth studio album 'Confessions' was released in 2004 after its lead single 'Yeah!' had topped the charts in the US for six weeks. The album sold 1.1 million copies within its first week of release and has since gone on to sell over 20 million copies worldwide. The album won numerous awards including American Music awards, MTV Europe honors and three World Music prizes.
In 2008, Usher released his fifth studio alum 'Here I Stand'. The album sold five million copies worldwide, however it was nowhere near as popular as 'Confessions'. His sixth studio album 'Raymond Vs Raymond' followed in 2010 and the popularity of the third single 'OMG' restored Usher's reputation somewhat.
Usher set up his own record label 'US Records' in 2002 which has had huge success with signups such as Justin Bieber and Rico Love. He also owns several restaurants and is part owner of NBA team the Cleveland Cavaliers. He has recently appeared on talent shows such as 'American Idol' and 'Britain's Got Talent'.
In his personal life, Usher was married to stylist Tameka Foster, the marriage lasting two years and producing two sons, Usher 'Cinco' Raymond V and Naviyd Ely Raymond. The divorce featured a long and drawn out battle for custody of the two children which Usher eventually won. He is also a vegan, adopting the diet shortly after his father died of a heart attack. Usher has won many awards for his music and has featured on and off the Forbes list consistently since his rise to fame.