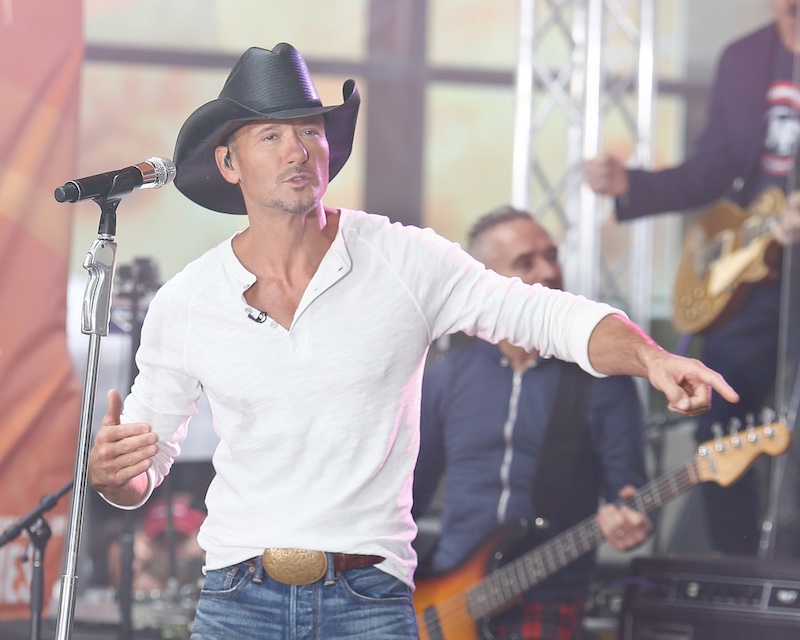 Tinseltown / Shutterstock.com
Tim McGraw, a renowned American singer and actor, has made a remarkable impact on the country music scene throughout his career. Born in Delhi, Louisiana, McGraw has not only become one of the most prominent names in country music, but also has established himself as a successful actor in the entertainment industry. With multiple awards and chart-topping hits to his name, McGraw's financial success is undeniable.
As of September 2023, Tim McGraw's net worth is estimated to be around $200 million, which includes a combined net worth with his wife of two-plus decades, Faith Hill. This staggering figure is a testament to McGraw's hard work and dedication in both the music and film industries. His impressive career has not only brought him fame and fortune but has also paved the way for other aspiring country musicians.
Throughout his time in the spotlight, McGraw has consistently delivered memorable performances and an impressive body of work. His achievements and immense net worth are indicative of his remarkable talent and the enduring appeal of country music as a genre.
Net Worth
Tim McGraw, a renowned country singer and actor, has amassed a significant net worth throughout his career. Together with his wife, Faith Hill, the couple's combined net worth reaches a staggering $200 million.
On his own, Tim McGraw's individual net worth is approximately $85 million. Having achieved immense success in the music industry for more than two decades, it is no surprise that his wealth has followed suit. Some of the factors contributing to his net worth include album sales, concert tours, and endorsements.
In comparison, Faith Hill's net worth is estimated at around $80 million. Both artists have enjoyed noteworthy careers individually, which, together with their joint projects, have resulted in a substantial combined wealth.
The couple's financial success also demonstrates their ability to navigate and maintain relevance in the ever-changing country music scene. Their net worth is not only a testimony to their musical talent and dedication but also their business acumen and longevity as artists.
Early Life
Samuel Timothy McGraw was born on May 1, 1967, in Delhi, Louisiana. He was the only child of Elizabeth "Betty" Ann D'Agostino, a waitress from Jacksonville, Florida, and Frank Edwin "Tug" McGraw Jr., a pitcher for the minor league Jacksonville Suns and future star pitcher for the New York Mets and the Philadelphia Phillies 1. Growing up, Tim McGraw had a modest upbringing, with his family relying on his mother's income to get by.
As a child, Tim developed a strong passion for music. He particularly enjoyed listening to country music and was influenced by artists such as George Jones, Merle Haggard, and Charley Pride. Throughout his adolescence, he pursued various interests, including playing baseball and football in high school.
During his time at Northeast Louisiana University (now known as the University of Louisiana at Monroe), Tim McGraw followed in his father's footsteps and played baseball. It wasn't until he suffered a knee injury that he began to focus more on his music career. He picked up a guitar and started performing in local clubs, honing his craft and building a following in the area.
In the early 1990s, Tim McGraw decided to move to Nashville to chase his dreams of becoming a country music singer. He worked various odd jobs to make ends meet while networking and showcasing his talents to anyone who would listen. His persistence and passion for music eventually led to a deal with Curb Records, where he released his first singles 2.
With the release of his first album in 1993, Tim McGraw's career started to take off. He became one of country music's most beloved artists, gaining fans and recognition around the world. Tim's talent and determination turned him into a household name, and as a result, he was able to amass a significant net worth throughout his career 3.
Career
Tim McGraw is a prominent Louisiana-born singer and actor, well-known for his successful career that spans over two decades in the country music industry. The talented artist has released numerous hit songs and albums throughout his career, earning him a significant net worth of $200 million, which is a combined net worth with his wife, Faith Hill.
McGraw's big break came in 1994 with his album "Not a Moment Too Soon," which topped the country charts and gained him widespread recognition. Over the years, he has released multiple chart-topping albums and singles, collaborating with various artists and even incorporating different music genres into his work. His successful career in the music industry has contributed significantly to his impressive net worth of around $85 million.
Apart from music, Tim McGraw has also ventured into acting, appearing in successful films like "Friday Night Lights," "The Blind Side," and "Tomorrowland." His movie roles have not only showcased his acting prowess but also added to his income and overall net worth.
Over the course of his career, Tim McGraw has received numerous awards and accolades for his work, including multiple Grammy Awards, Country Music Association Awards, and Academy of Country Music Awards. These achievements speak to his talent and dedication, solidifying him as one of the richest and most accomplished country music artists of all time.
Personal Life
Tim McGraw, born Samuel Timothy McGraw on May 1, 1967, is an accomplished American country singer, songwriter, record producer, and actor. He has been married to fellow country superstar Faith Hill since 1996. Together, they have three daughters: Gracie, Maggie, and Audrey.
The couple often shares glimpses of their family life with fans on social media. Tim has been seen posting behind-the-scenes images of his family during special events and award shows. The family's closeness is evident in these moments, reflecting their dedication to supporting one another in both their personal and professional lives.
Financially, both Tim and Faith have achieved considerable success in their careers. Tim McGraw's net worth is estimated to be $200 million, an impressive combination of his earnings from music, acting, and other ventures. This combination of wealth and talent has made the couple one of the most prominent and successful in the entertainment industry.
Tim and Faith are also known for their philanthropic efforts, regularly using their platform for various charitable causes. They have supported organizations such as the Red Cross, the Community Foundation of Middle Tennessee, and the Tug McGraw Foundation. These efforts demonstrate their commitment not only to their family and careers but also to giving back to those in need.
In summary, Tim McGraw's personal life is a reflection of his devotion to family, love for his spouse, and dedication to making a positive impact on the world. His success, both financial and personal, is a testament to the hard work and passion he brings to all aspects of his life.