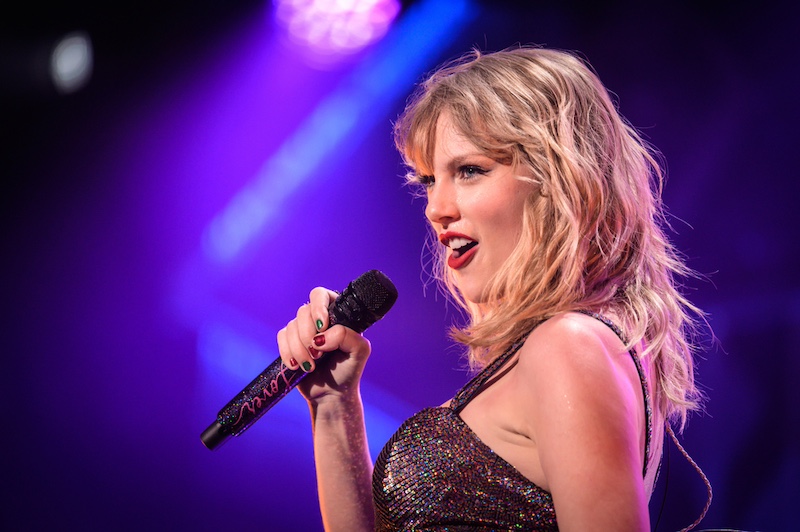 Taylor Swift, a global superstar and highly acclaimed singer, songwriter, and actress, has amassed a significant fortune throughout her illustrious career. Known for her catchy tunes, heartfelt lyrics, and her ever-evolving style, her fan base and popularity have only continued to grow since her debut in 2006. With numerous chart-topping albums, sold-out tours, and various lucrative endorsements, it's no surprise that her net worth has reached staggering heights.
Swift's financial success can be attributed to her consistent dedication to her craft and to strategically exploring various income streams. Establishing herself as an influential figure both inside and outside of the music industry, Taylor's savvy business moves and hard work have translated into an impressive accumulation of wealth.
In this article, we will delve into the details of Taylor Swift's vast net worth, examining her earnings from various sources, including music, tours, endorsements, and other business ventures. This exploration will offer insight into the financial landscape of one of the world's most successful and famous artists.
Early Life of Taylor Swift
Taylor Swift was born on December 13, 1989, in Reading, Pennsylvania. She is the daughter of Scott Kingsley Swift, a financial advisor, and Andrea Gardner Swift, a former marketing executive. Taylor has a younger brother named Austin.
Growing up, Swift developed an interest in music at a young age. She started performing at local events and took vocal and acting lessons. Her family moved to Hendersonville, Tennessee, when she was 14 years old to support her pursuit of a career in country music.
While in Tennessee, Swift began working with experienced songwriters and eventually signed a development deal with RCA Records. However, after a year, she left the label to join Big Machine Records, founded by Scott Borchetta. This move proved to be critical in shaping her future career, as she found more artistic freedom and support under Borchetta's mentorship.
Swift's debut self-titled album was released in 2006, and it quickly gained attention and sales. She was just 16 years old at the time, but her talent and maturity were evident. The album featured a mix of country and pop sounds, setting the foundation for her evolving musical style.
Over the years, Taylor Swift has continued to grow in popularity and success, earning numerous awards and accolades for her music and philanthropy efforts. Her net worth has also increased significantly as a result of her talent, hard work, and business ventures.
Career Journey
Taylor Swift began her musical journey at a young age, learning to play the guitar and writing her own songs. In 2006, she released her self-titled debut album, which included the hit single "Tim McGraw." The album achieved multi-platinum status, establishing her as a country music star.
In 2008, Swift released her second album, "Fearless," which further solidified her success. The album included hits like "Love Story" and "You Belong with Me." "Fearless" won Album of the Year at the Grammy Awards, making Swift the youngest recipient of the prestigious award at the time.
As her career progressed, Swift transitioned from country to pop music. In 2014, she released the pop-centric album "1989," which featured chart-toppers like "Shake It Off" and "Blank Space." The album's innovative sound and broad appeal earned Swift multiple awards, including her second Album of the Year Grammy.
Swift's subsequent albums, "Reputation" (2017), "Lover" (2019), and the surprise releases of "Folklore" (2020) and "Evermore" (2020), continued to showcase her evolving musical style and lyrical prowess. The albums received widespread critical acclaim and further propelled her status as a global superstar.
Throughout her career, Swift has achieved numerous milestones and accolades, including:
11 Grammy Awards
2 Brit Awards
1 Emmy Award
29 American Music Awards
23 Billboard Music Awards
Additionally, she holds several Guinness World Records and is recognized as one of the best-selling music artists in history.
Music Sales Revenue
Taylor Swift's net worth can be largely attributed to her music sales revenue. As one of the world's best-selling music artists, she has sold over 50 million physical albums and 150 million singles worldwide. Her debut album, Taylor Swift, released in 2006, laid the foundation for her successful career. It sold over 7 million copies worldwide and spent over 250 weeks on the Billboard 200 charts.
Swift's subsequent albums continued to soar in sales, with Fearless (2008) selling over 12 million copies and Speak Now (2010) selling over 6 million copies globally. Red (2012) and 1989 (2014) strengthened her position as a music industry powerhouse, with both albums surpassing 7 million worldwide sales.
Swift's revenues further increased through streaming platforms. As of 2022, she was ranked as the 9th most-streamed artist on Spotify. Her album Lover (2019) alone amassed over 1 billion streams within its first week of release.
Another source of revenue comes from her live performances, which have generated millions. Her "Speak Now World Tour" grossed over $123 million, while her "1989 World Tour" earned an impressive $250 million. Furthermore, the "Reputation Stadium Tour" holds the record for being the highest-grossing tour in US history, with total earnings exceeding $345 million.
Overall, Taylor Swift's music sales revenue has significantly contributed to her staggering net worth, highlighting her success and undeniable impact on the music industry.
Endorsement Deals
Taylor Swift has been involved in numerous endorsement deals throughout her illustrious career. These deals have played a significant role in boosting her net worth. Some of her most notable partnerships include those with multinational corporations such as Coca-Cola, Apple, and Keds.
In 2013, Swift signed a deal with Diet Coke, a product of The Coca-Cola Company, which included promotional campaigns and exclusive content. This partnership has been prominently featured in her music videos and concert tours.
In 2015, she partnered with Apple Music, starring in a series of commercials for the streaming platform. This collaboration strengthened after the company agreed to change their policy on compensating artists, following Swift's open letter to the company.
Keds, a popular shoe brand, has also been associated with Swift since 2012. Their partnership led to the creation of limited-edition sneakers featuring Swift's signature style and personal touches.
Besides the aforementioned deals, Swift has also endorsed products from companies such as Sony, CoverGirl, Elizabeth Arden, and AT&T. These endorsements have not only increased her overall net worth but also contributed to her strong presence in the entertainment industry.
Real Estate Investments
Taylor Swift has a well-diversified real estate portfolio, including properties in a variety of locations. In Nashville, she owns a 5,601 square-foot home bought for $1.99 million in 2010. It has four bedrooms and four-and-a-half baths. This investment showcases her roots in the country music industry.
In Beverly Hills, she bought a mansion worth $3.97 million in 2011. She later acquired another Beverly Hills estate, dubbed the Samuel Goldwyn Estate, for $25 million in 2015. This landmark property has seven bedrooms, ten baths, and spans over 10,982 square feet. The house is an excellent symbol of her success in the music world.
Adding to her property collection, Taylor owns a penthouse in the Tribeca neighborhood of New York City. She purchased this 8,309 square-foot property for $19.95 million in 2014. Additionally, she bought a townhouse in the same neighborhood for $18 million in 2017. These properties cement her presence in the Big Apple, where she's often seen walking the streets and interacting with fans.
One of Taylor's most recent noteworthy acquisitions is a $17 million mansion in Watch Hill, Rhode Island. This 11,000 square-foot oceanfront estate spans over 5 acres and is adjacent to a private beach. The property seems to be the perfect escape from the city for the singer-songwriter.
In summary, Taylor Swift's real estate investments are diverse and well-thought-out, reflecting her success and personal interests.
Philanthropy
Taylor Swift is well-known for her philanthropic efforts. Over the years, she has donated significant amounts to various causes and organizations, making a lasting impact in different areas.
One of her most substantial contributions was a $1 million donation to Louisiana flood relief in 2016, following the catastrophic floods that affected thousands of people in the state. She also donated $500,000 to Tennessee flood relief efforts in 2010.
Swift actively supports education initiatives, which is evident in her $4 million donation to the Country Music Hall of Fame and Museum in 2012. The Taylor Swift Education Center, created as a result of her donation, offers an array of educational programs in areas such as songwriting, music history, and instrument instruction.
Her humanitarian efforts extend beyond the United States. In 2015, she pledged $100,000 to The V Foundation for Cancer Research. Additionally, she donated $50,000 to the Children's Hospital of Philadelphia's music therapy program, creating a studio with state-of-the-art technology to help young patients express themselves through music.
Taylor Swift's philanthropy also includes smaller, yet meaningful gestures. She has made surprise visits to children's hospitals and foster care homes, bringing joy and support to the patients and families. Additionally, Swift has continuously participated in charity concerts and events to raise funds for various causes.
In conclusion, Taylor Swift's generosity and dedication to philanthropy highlights her commitment to making a meaningful difference in the lives of those in need.
Forbes Rankings
Taylor Swift has consistently appeared on Forbes' lists of the highest-earning celebrities. In 2019, she topped the annual Celebrity 100 list as the highest-paid celebrity, earning $185 million that year. This massive revenue was primarily fueled by her successful "Reputation" stadium tour and endorsement deals with companies like Apple and AT&T.
In 2020, Taylor's earnings dipped to $63.5 million, ranking her 25th on the Forbes Celebrity 100 list. Despite the lower earnings, she remained one of the highest-paid female musicians. The release of her surprise album "Folklore," and continued sales from her previous works, contributed significantly to her income in that year.
Forbes' 2021 rankings saw Taylor claiming the 69th position with a net worth of $80 million. The decrease in earnings was a result of the pandemic, which affected the live music industry. Nonetheless, Taylor continued to bring in revenue from her music, primarily from the sales of her two 2020 albums, "Folklore" and "Evermore." Additionally, her re-recorded album "Fearless (Taylor's Version)" and various investments contributed to her net worth throughout the year.
Forbes' rankings are a testament to Taylor Swift's consistent success as an artist, with her ever-evolving musical style and smart business ventures. Her savvy moves ensure she remains a mainstay on these lists, as she continues to grow her wealth and influence in the entertainment industry.
Comparisons with Other Celebrities
Taylor Swift's net worth has been a topic of interest for many years. As a top musician, she has undoubtedly earned financial success, but how does her wealth compare to other celebrities in the entertainment industry?
When comparing her earnings to other musicians, it's essential to note that Taylor Swift's net worth is estimated to be around $400 million. In comparison, Justin Bieber has an estimated net worth of $285 million, and Ariana Grande's net worth is approximately $180 million. Taylor's wealth not only surpasses these artists but also makes her one of the highest-earning female musicians globally.
In the world of acting, Taylor's net worth outshines many Hollywood actresses. For instance, Jennifer Aniston has a net worth of approximately $300 million, while Angelina Jolie's net worth is close to $120 million. Swift's fortune is significantly higher than both of these successful actresses.
Taking a look at successful entrepreneurs and business magnates, Taylor Swift's net worth competes well with high-profile individuals like Kim Kardashian. With Kardashian's net worth being around $1 billion, Taylor is not too far behind.
It's important to remember that net worth can fluctuate due to various factors such as career changes, investments, and more. Although Taylor Swift's net worth stands out among many celebrities, it showcases her hard work, talent, and determination throughout her career.
Taylor Swift's Financial Future
Taylor Swift's financial future looks incredibly promising. With her long-standing success in the music industry, she has achieved a vast fortune, primarily from record sales, tour revenues, and endorsement deals. Her income streams include multiple revenue sources, such as merchandise sales and streaming royalties.
In recent years, Taylor has prioritized retaining the rights to her music catalog. Swift's decision to re-record her earlier albums demonstrates her commitment to maintaining control over her intellectual property and ensuring a steady flow of income from her work. This strategic move will undoubtedly contribute to her growing net worth in the coming years.
Swift is known to make substantial real estate investments, owning properties in multiple cities across the United States. These assets not only contribute to her financial portfolio but also ensure a diversified wealth accumulation strategy.
Additionally, Taylor Swift's philanthropic pursuits have garnered her positive media attention and reinforced her image as a socially responsible celebrity. While her charitable activities may not directly impact her net worth, the publicity can lead to more lucrative offers and business opportunities.
Given the versatility of her income streams and her thoughtful approach to managing her career and assets, Taylor Swift's financial future seems secure and poised for further growth.