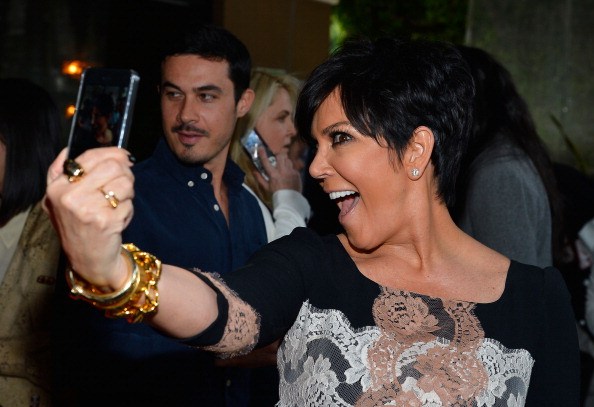 Kris Jenner is a self proclaimed "Momaager". She manages the careers of her Kourtney Kardashian, Kim Kardashian, Khloe Kardashian, Rob Kardashian, Kendall Jenner, and Kylie Jenner. She also manages the career of her estranged husband Bruce Jenner. Earning a cool ten percent of every deal that she negotiates for her family, Kris Jenner's personal net worth is $20 million.
Kris Jenner was born on November 5, 1955 as Kristin Mary Houghton. When Kris's parents divorced when she was 7 years old, she moved to Clairmount, CA with her mother and her sister. When she graduated from Clairemount high school, Kris was more interested in finding a husband and having a family than she was in going to college.
Kris married Robert Kardashian on July 8, 1978. Robert was a very successful lawyer. They had four children together. Unfortunately however, it was not wedded bliss for the Kardashians and they divorced in 1989.
In 1994, Robert Kardashian gained national fame by serving on the defense team for what had been deemed, "trial of the century". OJ Simpson, a close family friend of the Kardashians had been accused of brutally murdering his ex wife and her friend. Even after Kris's divorce from Robert, they remained close. That all changed when Robert Kardashian represented Simpson. Kris was very close to Nicole and after the murder, the former couple took sides. Robert Kardashian took Simpson's side when representing him and Kris was "team Nicole".
In 2003, Robert Kardashian died of esophageal cancer, only a few months after being diagnosed. When Robert Kardashian passed away, he left Kris an incredible $100 million dollar estate trust for his family.
In 1991, Kris remarried. She married former Olympic gold metal winner Bruce Jenner. Bruce won the gold for the decathlon. She became the step mother to Bruce's children Burt, Casey, Brandon, and Brody Jenner. A few years later, the couple had two daughters of their own.
When Kris and Bruce married, she became his manager. She began managing his endorsement deals and promoting his career as a race car driver. Through the years, Kris has been trying to develop a family franchise using the Kardashian name. The first venture was a clothing store called Dash which is owned by Kourtney, Kim, and Khloe. Over the years, the girls have opened several stores and Kris gets ten percent for everything she negotiates when it comes to the Dash stores.
In 2007, Kris approached producer Ryan Seacrest with an idea for a reality television show revolving around her crazy family and their crazy lives. This just happens to be around the same time that Kim Kardashian's infamous tape with singer Ray J was leaked. It made the Kardashian family a household name. The E! Network liked Kris's idea and "Keeping up with the Kardashians' was born. Since then, there have been several seasons of "Keeping up with the Kardashians" as well as multiple spin-offs and Kris gets a piece of the pie for all of it.
Since the Kardashians became a household name, they have come out with clothing lines, fragrance lines, sock lines, and book deals. They are also paid for personal appearances. Kris has branded the family name and she always gets her ten percent. Even Kris's younger children are getting in on the family business. Kendall Jenner has a modeling contract and has been incredibly successful.
Kris Jenner doesn't just make her money off her children. She makes $5, 000 for every tweeting endorsement that she sends out. To make a personal appearance on the red carpet, Kris gets $50,000. She has also published a very well received book in 2011, Kris Jenner…And All Things Kardashian.
In 2013, Kris got her own daytime TV talk show. Unfortunately for Kris, the show did not do as well as the network hoped and it was canceled. Around the same time, the Jenner's announced that they had separated. It's clear that if the separation does lead to divorce, Kris will manage financially on her own.