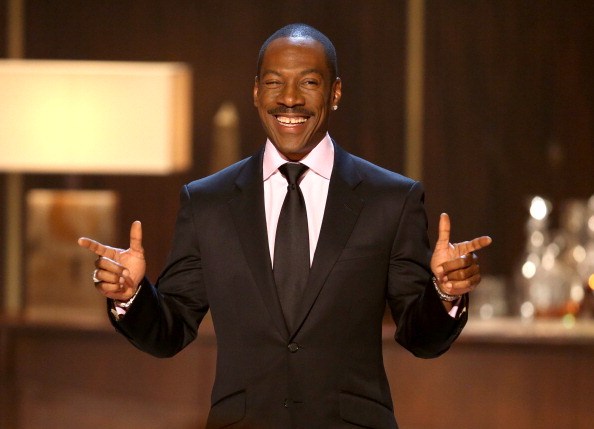 Eddie Murphy is a comedian, actor, writer, singer, director and musician with an estimated net worth of $85 million. Murphy's duel threat as a comedian and successful film actor is largely responsible for building his net worth over a career of close to thirty years.
Edward Regan Murphy was born in Brooklyn, New York on April 3, 1961. He and his older brother, Charlie (who is also an actor), were the only two children of Charles Edward and Lilian Murphy. Murphy's father died when he was very young. Shortly thereafter his mother became ill and he and his older brother were forced to spend a year in foster care. He credits his experience there as helpful in developing his sense of humor. The siblings eventually returned to live with their mother and stepfather, Vernon Lynch. By the age of 15, the future comedian was writing and performing his own routines.
In the early 80's Murphy began making a name for himself as a stand-up comedian. This eventually landed him a spot on Saturday Night Live and the start of his career. Murphy was an immediate success on SNL and by 1982, he was cast in his first major film role, 48 Hours alongside Nick Nolte. The movie proved to be a hit during the Christmas season of 1982. The following year Murphy began his successful partnership with film director John Landis when he was featured in the film Trading Places alongside SNL alumnus Dan Aykroyd. Once again, the young Murphy was a riveting success. With two very strong movies to start his career, it was obvious that his next movie would be his first starring role.
In 1984, Beverly Hills Cop was released. It would mark Murphy's first starring role and the launch of a very popular film franchise. The movie would go on to gross $230 million at the box office making it fourth among "R" rated films as of 2012. From 1984 to 1986 Murphy would continue to appear in movies including the supernatural comedy Golden Child. None of the movies were as successful as 48 Hours, Trading Places and Beverly Hills Cop, but they did well in their own right. Murphy's box office success lead him to sign an exclusive contract with Paramount Pictures, which released all of his early films. He's one of the last actors to do so.
Murphy is a worker. He stayed busy in the 1990's to present. His most notable films were Coming to America, Dr. Doolittle and Shrek. In total, Murphy has received Golden Globe nominations for his performances in 48 Hours, Beverly Hills Cop, Trading Places and The Nutty Professor. He received an Academy Award nomination for his portrayal of James "Thunder" Early in Dreamgirls.
In 2011 it was reported that Murphy was scheduled to host the 84th Academy Awards in 2012. However, Murphy dropped out of his hosting duties because of the Brett Ratner scandal. Murphy is in the process of making/releasing a fourth installment to the Beverly Hills Cop series as well as a movie with Boomerang co-star Halle Berry. In a June 2014 interview, Murphy discussed the plot of the new Beverly Hills Cop movie. Murphy said filming of the movie would take place in Michigan and bring an estimated $56.6 million to the state.
On a personal side, Murphy married longtime girlfriend Nicole Mitchell in 1993. Together the couple has five children. In 2005, the comedian announced he and Mitchell were separating citing 'irreconcilable differences'. The divorce was finalized in 2006. Murphy has a sixth child by Tamara Hood and a seventh child with Paulette McNeely. Murphy has another child by Spice Girl Melanie Brown. This child was a hotly debated topic as Murphy denied being a father to the child. DNA tests eventually showed he was the father and he's subsequently tried to pursue a relationship with the girl. Finally, Murphy has exchanged wedding vows with film producer Tracey Edmonds. Though they never had an official ceremony the two are committed to each other.
Outside of stand up comedy, music, acting and fathering children, Murphy is an active philanthropist. He's donated money to the AIDS Foundation, cancer research, education, creative arts, family/parent support, healthy and homeless charities.
Murphy's net worth is largely a product of his immense film portfolio and comedic career. He figures to maintain his net worth going forward as there are no signs of his acting career slowing down.
Photo by Christopher Polk/Getty Images