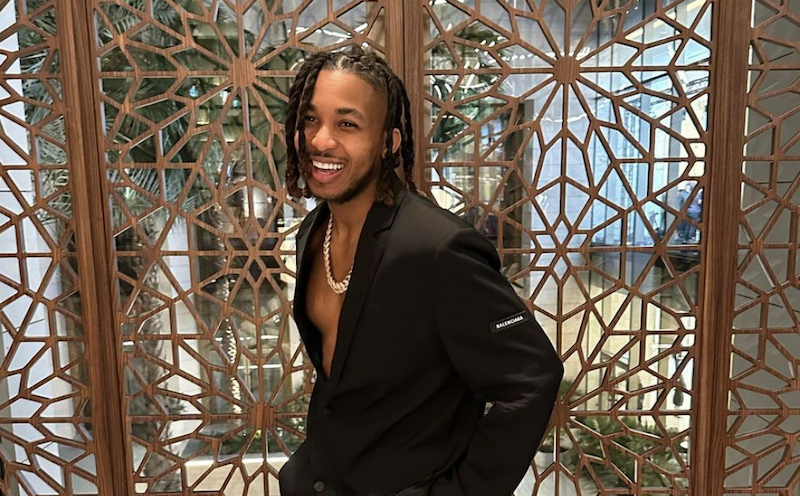 Instagram
Darryl Dwayne Granberry Jr., better known as DDG, is a multitalented rapper, singer, and YouTuber who founded his own record label, Zooted Music, in 2020. Apart from his musical endeavours, he has established a strong presence on YouTube, which played a significant role in his rise to fame. As his prominence grew, fans and industry insiders alike became increasingly curious about DDG's financial success and net worth.
Sources estimate that DDG's net worth ranges from $2 million to $8 million as of 2023. With such a wide variation in estimates, it's clear that his wealth has been closely tied to a variety of revenue streams. These streams encompass album sales, streaming platforms, live performances, and, of course, his vast YouTube following.
The impact of DDG's growth on the music industry is hard to overlook. From humble beginnings as a vlogger and reaction video creator, he has certainly made his mark as a rising star in the rap world. As his career continues to flourish, it will be interesting to see how his net worth evolves in the coming years.
Net Worth
DDG, also known as Darryl Dwayne Granberry Jr., is a multi-talented individual who has gained significant success in the realms of music, YouTube, and entrepreneurship. As of 2023, his net worth is reported to be around $8 million USD. This impressive value is a result of the various sources of income that DDG has cultivated over the years.
Initially making a name for himself on YouTube, DDG began his career by creating vlogs and reaction videos in 2015. With his engaging content and unique on-screen presence, he eventually went viral, helping him accumulate a net worth of $2 million in previous years.
In 2020, DDG expanded his career by founding his own record label, Zooted Music. This venture into the music industry allowed him to showcase his talents as a rapper and singer. Since then, he has gained over 1 billion streams for his music, contributing significantly to his growing net worth.
Born in Pontiac, Michigan, DDG's journey to success is a testament to his dedication and hard work. At just 25 years old as of 2023, he has achieved a level of financial stability that many people strive for throughout their entire lives.
Early Life
Darryl Dwayne Granberry Jr., professionally known as DDG, was born on October 10, 1997 in Pontiac, Michigan, United States. Growing up in a humble family, DDG's parents, Darryl Granberry and Tonya Yvette, played a significant role in shaping his aspirations.
From a young age, DDG showcased a flair for creativity and entrepreneurship. As a child, he often dreamt of achieving fame and success through his talents. With Libra as his zodiac sign, DDG is known for his focused and determined personality. DDG's African-American ethnicity has also contributed to his unique artistic style, making him stand out in the entertainment industry.
As DDG grew older, his passion for music and digital media propelled him to venture into the world of YouTube, ultimately setting the stage for a remarkable career that now spans across multiple platforms. With his continuous hard work and dedication, DDG has amassed a net worth of approximately $2 million as of 2023.
In conclusion, DDG's early life has played a crucial role in shaping his career trajectory. The support from his family, combined with his personal drive for success, has allowed him to become a multi-talented artist and an inspiring entrepreneur in the world of music and digital media.
Career
DDG, whose real name is Darryl Dwayne Granberry Jr., began his journey in the entertainment industry by moving to Hollywood, California, in pursuit of becoming a full-time entertainer. He started his career by uploading videos to YouTube in 2014, showcasing his comedic skits and reaction videos. Over time, his channel gained substantial popularity, and he decided to explore the music industry.
DDG's music career took off with the release of his single "Arguments" on April 15, 2020. The song was well-received and eventually certified Gold by the RIAA. This success marked the beginning of his transformation from a YouTuber to a professional rapper, singer, and songwriter.
Having built a strong following on YouTube, DDG was able to leverage his audience for his music career. As a rapper, he has since released multiple singles and collaborations with other popular artists. His hard work, combined with his online presence, has contributed to the growth of his career and estimated net worth of approximately $2 million as of 2023.
In addition to his music and YouTube careers, DDG has also ventured into brand endorsements and partnerships. These collaborations have further expanded his income streams, solidifying his position as a successful entertainer in the industry.
Personal Life
DDG, born as Darryl Dwayne Granberry Jr., was born on October 10, 1997, in Pontiac, Michigan, USA1. He grew up in Michigan with his four siblings, and his father was a sound engineer in a music studio2. This might have been an exposure that influenced his passion for music later in life.
In his early career, DDG gained recognition as a YouTuber and went on to use his platform to introduce his rap career3. His decision to shift focus into the entertainment industry stemmed from the realization that he could earn a significant income from being a content creator4.
DDG's personal life has also been involved with other social media personalities like Kennedy Cymone and Riley Simpson, with whom he was in relationships. However, not much is known beyond these public relationships as DDG tends to be private about his personal life outside of his public content.
Having ventured into the music industry, DDG has managed to increase his net worth in recent years. As of 2023, his estimated net worth is around $2 million5, a considerable increase from his earlier estimated net worth of $4 million in 20216. This growth can be attributed to his successful music career, YouTube revenues, and various other entrepreneurial pursuits.