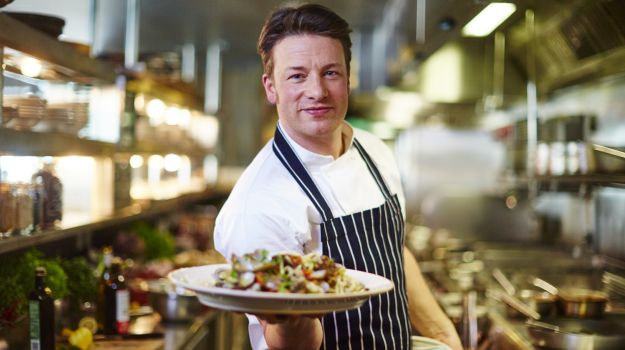 There was a time when top chefs were highly acclaimed the world over, but they didn't have their own TV shows, product lines, and celebrity status. These days the best chefs in the game are brands that represent more than cooking. They represent a lifestyle and something to aspire to, which is how they're able to sell so many cookbooks, gain their own talk shows and television series, and open new restaurants year after year.
While most chefs at the height of their careers can expect to earn $70,000 per year or so, the richest chefs earn millions of dollars per annum. Not only are they wealthy millionaires, they're considered elite experts in their field and they don't have to actually step into a restaurant kitchen to make big bucks. Here are the five richest chefs in the world.
5. Rachael Ray – $60 million
Her bubbly personality and penchant for whipping up quick and tasty dishes helped propel Rachel Ray to stardom. She started out on the Food Network with 30 Minute Meals and then branched out with Rachael Ray's Tasty Travels and $40 a Day — the latter showed her going to top vacation destinations all over the world and only budgeting $40 for breakfast, lunch, and dinner. It didn't take long for Rachel to become a major celebrity chef, and today she has a net worth of $60 million.
In addition to winning multiple Daytime Emmy Awards, she's launched a range of cookbooks that have become bestsellers. You can also find Rachel Ray branded cookware, kitchen gear, and magazines in stores. Before starting her career as a chef, the native New Yorker worked at the candy counter and fresh foods department at a Macy's in NYC. She also used to manage The Sagamore's pub and was a buyer at gourmet market Cowan & Lobel. Rachel Ray's first contract with the Food Network was inked in 2001.
4. Wolfgang Puck – $75 million
One of the most well-regarded and well-loved chefs in the world is Wolfgang Puck. The charming Austrian cook and TV personality has been in the spotlight for decades, and he shows no signs of slowing down well into his 60s. Wolfgang Puck first learned to cook from his mother, who worked as a pastry chef. After honing his skills he opened his own restaurant, which then turned into several locations.
These days Wolfgang Puck is a pop culture icon and a major figure in the world of celebrity chefs. His 20 restaurants feature incredible fine dining menus and he also has a catering business. Along with his quick stop off-shoot Wolfgang Puck Express — which has 80 locations worldwide — these restaurant ventures have allowed the chef to attain a net worth of $75 million. Products bearing the chef's name include cookbooks, canned and packaged foods, and kitchen products. He's also had a slew of cameo appearances in popular movies and television shows in addition to his own TV cooking series.
3. Gordon Ramsey – $175 million
He may be brash, but his unique approach to running a kitchen has created a fortune for Gordon Ramsey. Ramsay was born in Scotland and grew up in Stratford-upon-Avon. Before he started on his journey in the culinary industry he was a footballer — injuries doomed that career path, but it didn't stop him from venturing into cooking. He studied hotel management in college and then worked as a commis chef at Wroxton House Hotel. After moving to London Gordon Ramsay worked at various restaurants and started studying French cuisine.
Thanks to his determination and tenacity, Ramsay now has a slew of restaurants around the world and a collection of highly acclaimed and well loved books. He is most famous, however, for his hit television series including Kitchen Nightmares, Hell's Kitchen, Hotel Hell, MasterChef, and The F Word. Not only is Gordon Ramsay one of the richest chefs in the industry, he's one of the highest earning celebrities in the world.
2. Paul Bocuse – $185 million
You can't talk about modern French cuisine without mentioning Paul Bocuse, one of the most well respected and richest chefs around. Now in his 90s, Bocuse has a long and storied history in the culinary and restaurant industries. He became one of the first French chefs to adopt the nouvelle cuisine style of cooking, which emphasizes super fresh and high quality ingredients over richness and calorie laden dishes. Perhaps more important is the number of chefs who studied under Paul Bocuse's tutelage and went on to make marks in the food world on their own. Three Michelin star chef Eckart Witzigmann is just one example of someone who was taught by Bocuse and went on to have incredible success.
The icon started The Institute Paul Bocuse Worldwide Alliance to help up and coming students learn about wine selection, table arts, pastry techniques, and French Regional cuisine. In 1961 he received the prestigious Meilleur Ouvrier de France title, and since then a number of accolades and honors have been bestowed upon him. Along with bestselling books, Bocuse has a collection of fine dining restaurants.
1. Jamie Oliver – $400 million
British fare hasn't always had a popular reputation, but this Brit has climbed his way to the top and become the wealthiest chef on the planet. What's incredible is that Jamie Oliver is the youngest person on this list, but he's still the most financially successful. His first culinary job was as a pastry chef at Neal Street, which is where he first caught the eye of BBC executives. In 1999 Jamie's popular show The Naked Chef first aired, and he was well on his way to stardom. Product endorsements followed as well as bestselling cookbooks.
Jamie Oliver's rise to fame happened so quickly that he was honored by becoming a Member of the Order of the British Empire in 2003. One of the things Oliver is most well known for these days is his campaign to help children in public schools get access to healthier, well prepared meals. He started this mission in 2005 with the British-based Feed Me Better campaign.