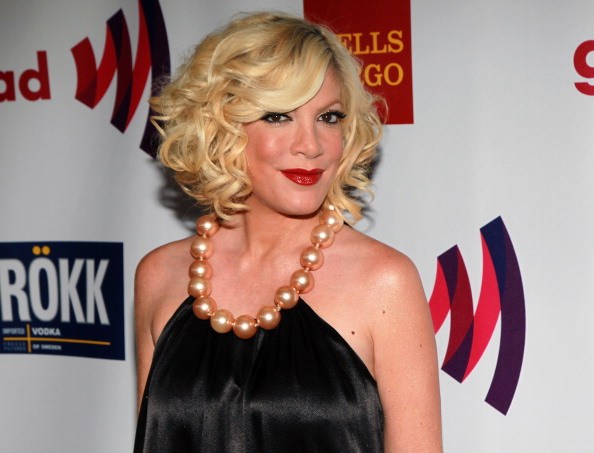 Tori Spelling is an American actress and author with an estimated net worth of $1.5 million. Spelling is most famous for her role as Donna Martin on the hit 1990s television show Beverly Hills, 90201.
Victoria Davey Spelling was born on May 16, 1973 in Los Angeles, California. She is the daughter of Candy and famous television and film producer Aaron Spelling. Tori was destined to be in acting in some capacity due to the immense success her father had in the industry. At age 6, she was given acting lessons and subsequently earned roles on television shows like The Love Boat, Fantasy Island, Vega$, and Saved By The Bell.
At the age of 17, Spelling was cast as Donna Martin on the show Beverly Hills, 90210, a series that her father's production company would have a hand in producing. The show was one of the most popular series in the 90s and because of its success, Spelling was given other roles particularly in made-for-television movies. She starred in three tv movies and 2 independent films between 1992 and 1997, none of which won her critical acclaim for her work.
In 2006, Spelling was featured in the VH1 sitcom So Notorious, in which she parodied herself. A year later, she and her second husband Dean McDermott purchased a bed and breakfast in California and became the subject of the reality show Tori & Dean: Inn Love. She would feature in two more reality series with her husband until she reprised her role as Donna Martin for two episodes on the CW show 90210.
Spelling's income-generating activity outside acting include her own fashion and jewelry line on the HSN. She has also written six books including: her autobiography, published in 2008, Mommywood, published in 2009, and uncharted terriTORI, published in 2010. Spelling has also appeared as a guest host in a variety of events and series.
Perhaps the most interesting part of Spellings' net worth is her inheritance from her father's $500 million estate. Upon her father's death in 2008, his estate was to be split between her, her mother, and her brother. Candy was the estate executor, but her and her mother were estranged. Tori and her brother each inherited $800,000. It was reported that Candy created a $10 million trust fund in the name of Tori's son, Liam.
In her final book, Spelling admitted to having financial troubles due to her reality show getting cancelled, poor real estate decisions, and a very difficult fourth pregnancy. She has admitted to embracing a less-lavish lifestyle, yet has trouble dealing with her real estate obsession.
The daughter to the Aaron Spelling would be in line for a healthy inheritance, but that was not so with the case of Tori Spelling. She received less than a fraction of a percent of her father's $500 million estate. It'll be interesting to see what happens when her mother passes away, surely she will be in line to boost her $1.5 million net worth. As for now, she must rely on herself and what little income opportunities she currently has going.
Photo by David Livingston/Getty Images