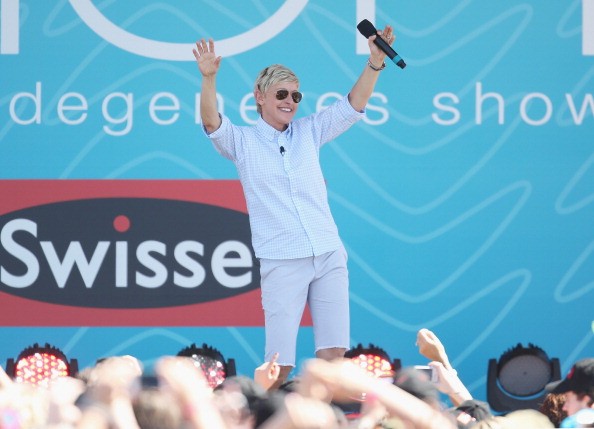 Ellen DeGeneres is an American stand-up comedian, television host, and actress with an estimated net worth of $250 million. DeGeneres has accumulated most of her wealth through the syndicated talk show The Ellen DeGeneres Show since 2003.
Ellen Lee DeGeneres was born on January 26, 1958 in Metairie, Louisiana. Her mother Elizabeth, was a speech therapist, and her father, Elliot was an insurance agent. Ellen started her career by performing stand-up comedy at small clubs and coffee houses. In the early 1980's she began to tour nationally and was named Showtime's Funniest Person in America in 1982.
Ellen received her big break in 1993 when producers Neal Marlens and Carol Black created a pilot for her. The sitcom Ellen became a popular show based upon DeGeneres' comedic work. The show was widely popular for 4 years, but experienced a sudden ratings drop in the fifth season and was cancelled.
DeGeneres launched her successful daytime talk show in September of 2003. Despite a saturated daytime talk show market, Ellen's show rose to the top and began a run of what would last over a decade and is still going. While her main focus has been her talk show, Ellen has done other activities that have contributed to her net worth as well. She's been a judge on American Idol, she's hosted various award shows, and has a ride at Disney World's Epcot Center titled Ellen's Universe of Energy.
DeGeneres has already build a successful career on just two television shows with her as the feature role. Her daytime talk show is one of the most popular shows on television. She's added hosting duties on the Academy Awards, Grammy Awards, and the PrimeTime Emmys. She has authored three books that were wildly successful and appeared on the New York Times Best Seller list. She's also started her own record company, Eleveneleven. She's won 13 Emmy's and 14 People's Choice Awards plus other awards for her work and charitable efforts.
DeGeneres is a very prominent figure in Hollywood and an advocate for homosexuality. She's currently married to longtime girlfriend Portia de Rossi. She's also an active humanitarian and was named a special envoy by Secretary of State Hilary Clinton for Global Aids Awareness.
DeGeneres' wealth is built largely upon her successful talk show. She has a minor endorsement portfolio and has appeared in films as well. Her voice as Dori the fish in Finding Nemo is perhaps her most famous film work. As an active vegan, her charitable efforts include animal rights such as the Humane Society.
There's no doubt that Ellen has become a force to be reckoned with when it comes to net worth. Her $250 million was built by the success of her sitcoms, but has really taken off in the past 5-7 years when her daytime talk show skyrocketed. All the compliment of outside business activity to those strong income drivers and Ellen is well-positioned to be one of the wealthiest celebrities for quite some time. There's no chance that changes anytime soon with the way things are going.