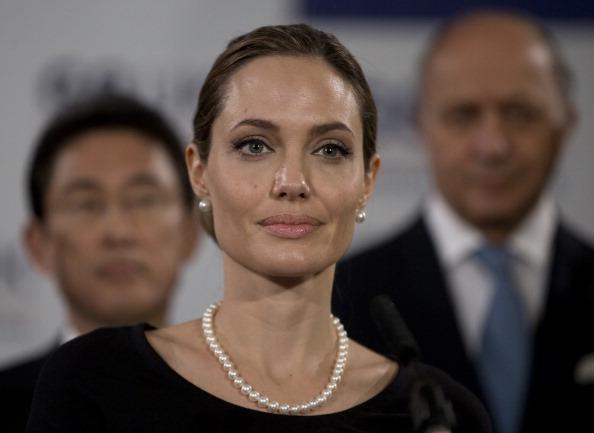 Angelina Jolie is an American actress, film director, screenwriter, and author who has accumulated a net worth of $145 million in her career. Jolie has received an Academy Award, two Screen Actors Guild Awards, and three Golden Globes Awards. She has also been named Hollywood's highest-paid actress by Forbes in 2009, 2011, and 2013.
Angelina Jolie Voight was born on June 4, 1975 in Los Angeles, California to father, Jon Voight and mother, Marcheline Bertrand both actors. Jolie spent much of her early life acting and modeling. She suffered from depression much of her high school life often resorting to cutting herself. Jolie and her father have had an on and off relationship due to her father's infidelity. She has been estranged from him for extended periods several times.
Jolie's first major role came in the 1993 sci-fi thriller Cyborg 2. She followed that up with the cult success Hackers. It wasn't long after those films that Jolie became one of the most sought after actresses in Hollywood. She was recognized for her work as model Gia Carangi for which she won her first Golden Globe Award. Perhaps Jolie's most recognized performance was her role in Girl, Interrupted for which she won the Golden Globe, Screen Actors Guild Award, and her first Academy Award. Jolie earned big time fame with her role as Lara Croft in Lara Croft: Tomb Raider in 2001. She would soon establish herself as one of the highest paid actresses in the sequel The Cradle of Life in 2003. Overall, Jolie's tops films have earned $478 million, $341 million, and $293 million. Considering Jolie is one of the highest paid actresses in Hollywood, she's yet to hit a real home run at the box office with her films.
Jolie has shifted her focus from acting to her humanitarian efforts. She is a Goodwill Ambassador for the United Nations High Commissioner for Refugees. She has also initiated the Millennium Village and various other projects to help others.
Jolie has been in several relationships. She was married to Hackers co-star Jonny Lee Miller, actor Billy Bob Thornton, and is now engaged to actor Brad Pitt. Together they have a biological kid together among the children Jolie has adopted over the years. They also have started the Jolie-Pitt Foundation together.
Jolie is a highly public figure, who has been recognized around the world for her acting and humanitarian efforts. She carries a small endorsement portfolio, but has largely accumulated her wealth through movies. Among her endorsements includes a $10 million deal with Louis Vuitton. Her most successful movie to date has been Shark Tale and Kung Fu Panda, which have accumulated over $630 million worldwide. She's also recognized as one of the most influential celebrities in Hollywood with one of the highest Q Scores among other celebrities.
At age 37, Jolie underwent a double mastectomy after learning she has an 87% chance of getting breast cancer because of a detective BCRA1 gene. This decision became wildly publicized in mass media and even initiated momentum in moving others to get screened for the disease.